What is the Atkins Diet?
The Atkins Diet is popping up everywhere. You've heard about it in the news, splashed across magazine covers, and endorsed by your favorite celebrities. Do you know what the Atkins Diet is really about?
This diet is named after its creator, Robert Atkins. It's a nontraditional weight loss meal plan that restricts net carbohydrates aka. carbs. Fewer carbs mean that each meal has more protein, fats, and fiber. The Atkins Diet claims to boost your metabolism, encourage weight loss, and delay hunger.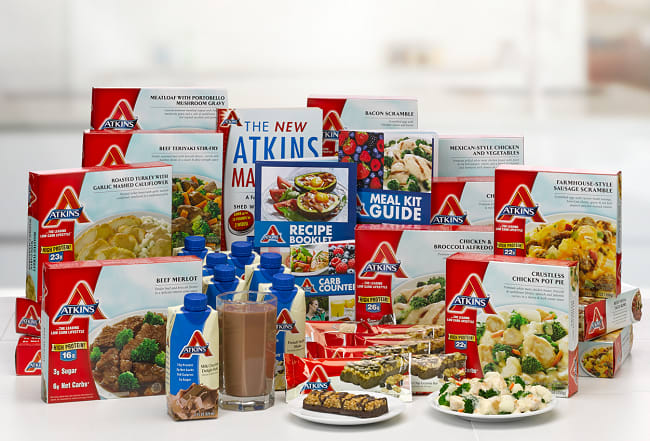 The Atkins brand has put out a number of meal products for people who follow the diet. These include:
and, of course, Atkins Meal Replacement Shakes
These shakes are supposed to make weight management both tasty and convenient. Are they worth it? This review will break it down so you can decide.
What Are the Atkins Ready to Drink Meal Replacement Shakes Made From?

In short:
Water, milk products and milk protein, soy protein, artificial flavors and colors, and preservatives. These shakes are enriched with a wide selection of added vitamins and minerals. Certain flavors may include ingredients like coffee flavoring or cocoa powder.
Atkins Shakes Ingredients:
Here is the full ingredients list for their Milk Chocolate Delight option. Other shakes may have slightly different blends of flavors and coloring agents.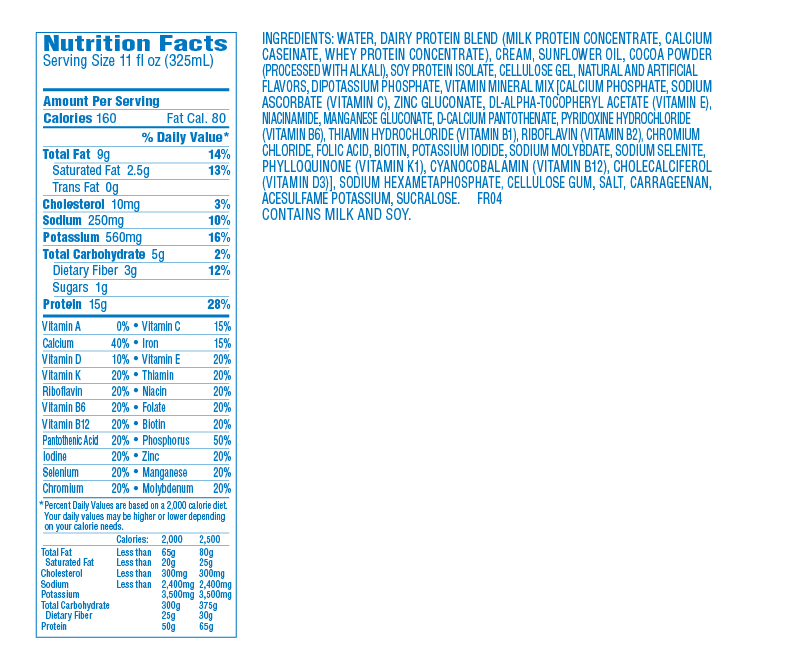 *** Milk Chocolate Delight Nutrition Label – Click here to View & Compare All Flavors
Ingredients: water, dairy protein blend (milk protein concentrate, calcium caseinate, whey protein concentrate), cream, sunflower oil, cocoa powder (processed with alkali), soy protein isolate, cellulose gel, natural and artificial flavors, dipotassium phosphate, sodium hexametaphosphate, cellulose gum, salt, carrageenan, acesulfame potassium, sucralose. 1032 01 vitamin & mineral blend: [calcium phosphate, sodium ascorbate (vitamin c), zinc gluconate, dl-alpha-tocopheryl acetate (vitamin e), niacinamide, manganese gluconate, d-calcium pantothenate, pyridoxine hydrochloride (vitamin b6), thiamin hydrochloride (vitamin b1), riboflavin (vitamin b2), chromium chloride, folic acid, biotin, potassium iodide, sodium molybdate, sodium selenite, phylloquinone (vitamin k1), cyanocobalamin (vitamin b12), cholecalciferol (vitamin d3)]. Contains milk, soy.
Allergy Warnings and Side Effects
These shakes contain milk and soy.
The company does not create vegan or certified gluten-free options.
Some blends contain artificial flavoring and coloring agents.
You may experience gas, bloating, or digestive issues as your body adjusts to the fiber and protein in these shakes.
If you eat below your body's basic calorie needs, you will become fatigued. These shakes are designed as a snack or to replace a meal, but not every meal. Relying on just these shakes will not give your body enough energy for the day.
Meal shakes may increase thirst for some people. Make sure to drink 8 glasses of water a day.
These Atkins shakes were designed to blunt hunger. However, it can take 20-30 minutes for 'satisfaction' signals to travel from the stomach to the brain. If you chug a shake quickly, you may still feel hungry in that time period right after drinking it.
Key Facts
Flavors and Nutrition Information
The 'standard' size shakes are all 160 calories per serving. They also contain 15 grams of protein and 1 gram of sugar per serving.
However, their fiber and carb counts vary slightly. The carb counts are important to keep an eye on when you're following the Atkins Diet.
Strawberry. 1g fiber, 1g net carbs.
Mocha Latte. 2g fiber, 3g net carbs.
Milk Chocolate Delight. 3g fiber, 2g net carbs.
French Vanilla. 1g fiber, 1g net carbs.
Dark Chocolate Royale. 4g fiber, 2g net carbs.
Cafe Caramel. 1g fiber, 2g net carbs.
Cookies and Creme. 1g fiber, 2g net carbs.
These shakes also come in two exclusive flavors for their larger sized portions. Each serving has 23 grams of protein, 1 gram of sugar, and 3 grams of net carbs.
Creamy Chocolate. 4g fiber, 240 calories.
Vanilla Cream. 1g fiber, 230 calories.
How Do They Taste?
With this many flavors available, Atkins followers have options. Here are a few ideas:
Fighting dessert cravings? Cookies and Cream and Milk Chocolate Delight offer a sweet taste with low sugar content.
Coffee addict? You may enjoy Cafe Caramel and Mocha Latte.
Want deep, rich flavor? Dark Chocolate Royale is a less sweet option with a hint of dark chocolate bitterness.
Love making smoothies? French Vanilla is a mild and creamy smoothie base.
Many reviewers mention the shakes are thickest and taste best when ice cold. A few reviewers have reported chalky tastes with the vanilla-based flavors.
Preparation
Shake to mix and enjoy straight out of the container. You can also pour it into a blender with some ice to make a frozen ice cream substitute or smoothie. If you're stuck for Atkins-approved recipes, check out one of their cookbooks or ask on an Atkins Diet message board.
Satisfaction
These shakes mimic a light meal or a larger snack. They may leave you energized, not weighed down. If you want a meal to fuel you for a long time, look for the larger sized options which have more calories and hunger-fighting protein. Customers have found their hunger was curbed for multiple hours depending on the shake size and how active they were.
Atkins Shakes Reviews: What are Customers Saying About These Shakes?
These reviews were sampled from Amazon and show a variety of customer reactions.
Positive:
"I love the Atkins shakes, they're in easy to store small cardboard containers. They have very low carbs with high protein, which is hard to find in shakes. The flavor is delicious & one fills me up for hours."
Mixed:
"I like this flavor and like all premixed shakes they're super easy, my only "complaint" is that they're so small – I think I'd rather have a product that's not quite so thick but more of it. They do have a little bit of an aftertaste (sweetener? Vitamins?) but not a lot, very bearable."
Critical:
"I bought two cartons. I finished the first carton and I had to throw away 3 full shakes out of it because they were sour tasting. I'm going to contact Atkins with the UPC code. I've been drinking Atkins shakes for over 12 years and this is a first for me. I've had trouble with the meals before but never the shakes."
Pros and Cons of Atkins Shakes and Food
Some people swear by the Atkins Diet, but these shakes aren't for everyone. Are they right for you?
Pros:
Convenience. Prepackaged shakes are a grab and go food. You can keep these in the car or in the minifridge at work. This makes it easier to stick to your eating plan if you forget to prepare snacks ahead of time.
Low Carbs & Low Calorie. These shakes are portion-controlled and formulated to have the calories and carbs of a moderate snack or light meal.
No Prep. No microwaves, blenders, other preparation needed. Just shake up the bottles.
No Calculations Needed. This is a great option for people who get confused by the Atkins Diet carb requirements or find reading labels and measuring ingredients a headache. Everything is prepared for you.
High Protein. Many meal replacement shakes on the market are high in sugar, low in protein, and may not have much fiber. These shakes flip that ratio around. High-protein and high-fiber foods help you beat hunger longer.
Low Sugar. People with diabetes or anyone who is trying to avoid blood sugar spikes and crashes may prefer these shakes.
Price. 'Affordable' varies from person to person. However, these shakes are one of the cheapest meal replacement shakes in the industry considering it is ready to drink, high protein and low carbs.
Widely Available. These shakes are stocked in stores across the country, as well as available from online retailers.
Community. There are a whole weight loss and maintenance community built around the Atkins Diet. Many people like the support of recipe books, meal options, and other dieters participating in the same eating plan.
Cons:
Low Calorie. Yes, this is both a pro and a con. Even the larger sized shakes don't have the calorie counts of a robust meal. If you replace all three daily meals with these shakes, you'll consume a dangerously low amount of calories. (We strongly recommend sticking to 1 to 2 shakes a day).
Consumed Quickly. It's easy to gulp the whole shake in a few minutes. You may still feel hungry for 20-30 minutes until fullness signals have time to travel from your stomach to your brain.
No Special Diet Options. These shakes don't come with vegan, kosher, or certified gluten-free options.
How to Purchase Atkins Shakes
You can buy these shakes in a wide variety of supermarkets. If you strike out at local stores, stock up on your favorite flavors at Amazon or directly at https://www.amazon.com/atkins-ready-shakes. Atkins Ready To Drink Shakes prices vary based on flavors.
What Do You Think?
Have you tried the Atkins' brand of Ready to Drink Meal Replacement Shakes? We'd love to hear what you think!
What's your favorite flavor? Have you invented a great smoothie recipe that uses the shakes as a base? Would you recommend other people try the Atkins diet?
Drop a comment down below!