Everyone dreams of having that Victoria's Secret model's body. However, people tend to fear the pain that comes with exercise strains, and they end up giving up.
You do not have to jump, strain, and grunt and punish your body in the name of keeping fit and having a healthy body. With PiYo everything becomes easy for you.
The best way to describe Beachbody's PiYo program is to term it as a combination of yoga and Pilates but with some significant differences. The difference is that unlike the Pilate and yoga, PiYo does not subject you to too much force and does not make you perform little core movements. Also, it does not require long, strenuous poses. Instead, you enjoy a dynamic and flowing sequence of short workouts but leaves you relaxed and with satisfying results.
There are many PiYo reviews online. The reviews aim at sharing with you the details about this program and how it works to lose fat. This, in turn, helps you determine whether the program is right for your type of body.
Who Is Right For Beachbody PiYo Workout?
This workout program has the broadest appeal across the fitness community. It can play a significant role if you are a beginner who is walking on the journey to getting a better body shape. PiYo is also fit if you are a seasoned fitness veteran. You can use PiYo together with other weightlifting workouts. PiYo is recommended for the following groups of people:
Those who are new to fitness and are looking for a simple entry level program
Those who have been in the fitness program for a while but are interested in trying out yoga and Pilates
Individuals who are avoiding high-impact exercises or are avoiding strains
People who are trying to lose fats fast but are avoiding going to extremes
Workout veterans that are looking to supplement other training programs
In general, PiYo is designed for any individual who wants to improve their flexibility, posture, strength and it is also effective to help in breathing. It can be done by anyone whether a professional athlete or anyone looking forward to dropping over 100 pounds.
The program is a little impact workout thus it is efficient for people at an older age who still want to look amazing but do not want to risk getting injuries or joint dislocation. However, this does not mean that a young person who is in their 20's and healthy body shape cannot try it.
What's Included in the

PiYo

 Workout Program?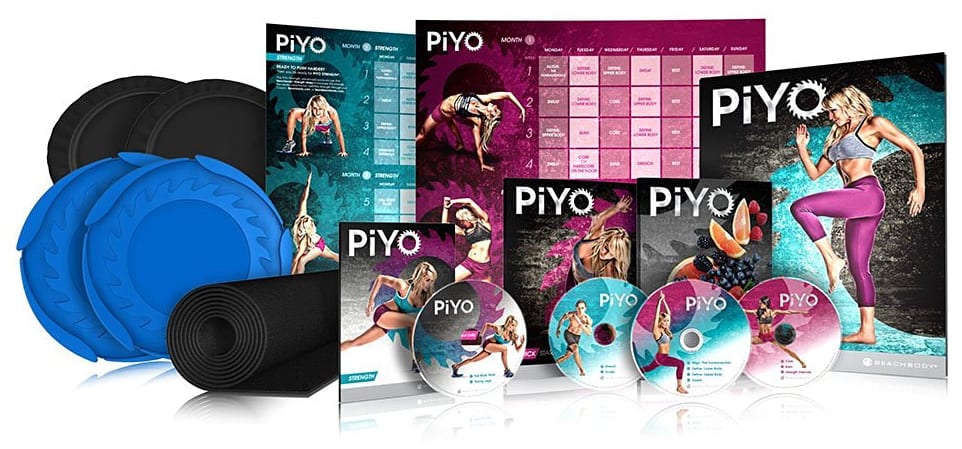 Ten workouts on 3 DVDs
A quick start guide
A 60-day calendar with

PiYo

workouts
Healthy eating plan
Tape measure
Bun workout
Ten workouts on 3 DVDs
PiYo workout program is a 60 days exercise program performed six days a week. Every workout targets at a particular fitness aspect. The workouts include cardio, body sculpting, strength training and abs. Anyone who is new in Pilates and yoga finds some of the movements in this program a bit confusing at first. As a beginner, you will find yourself looking at the screen more often but as time goes by you will be used to the moves, and you will not have to rely on the screen anymore.
Every video has a designated cast member who is a modifier for every workout. The person does an excellent job of demonstrating natural movements for every exercise. It is advisable that for each workout, you stick to the pace that is healthy for you since injuries will only prevent you from moving forward.
A quick start guide
The guide is exactly as the name states. It is a course on what you should learn to get started with the program. The guide is essential, and it is nice for every person who is new to PiYo to read it well before starting the first work out.
A 60-day PiYo workout calendar
This is a wall calendar with a list of exercises to be done each day for the 60 days required to complete the program. It is advisable that you mark off every day on the calendar after completion. This tool is useful and motivational.
***PiYo Workout Calendar & Schedule (Basic Version)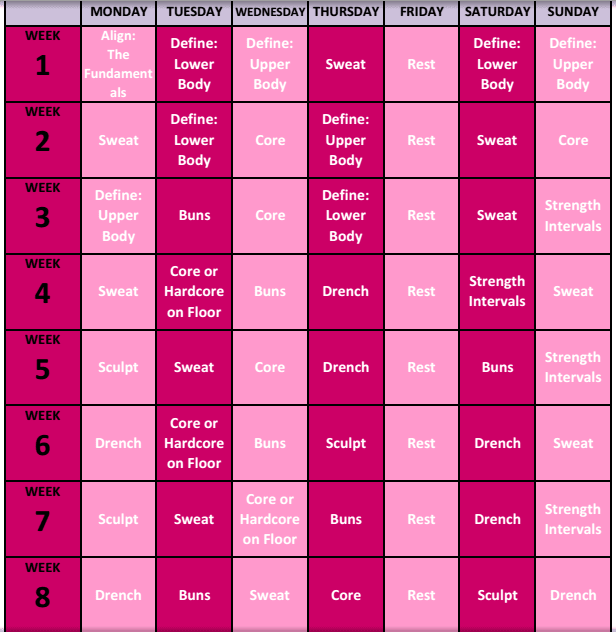 A healthy eating plan
Also known as the Get Lean Eating Plan is a PiYo's nutrition guide. This guide is similar to the other guides used on the Beachbody's program. This plan is an excellent reference for anyone who is not sure of what and how much to eat. The plan has a good reference for healthy meals and the ideal portions.
Tape measure
The program's package comes with its tape measure meant for keeping track of your body changes throughout the program. You can check measurements to see if you are making progress. This will help you to know if you are doing the right things and whether the program is working for your body type.
The buns workout
This part of the workout is optional, and it focuses mainly on the booty, quads, and hamstrings. Just like the rest of the PiYo workouts, buns workout also uses your body weight and increase the resistance to tighten your lower body.
PiYo

program comes with different exercises which include;
PiYo aligns – This is one of the easiest training systems to follow since you start with the fundamentals. Here you will learn many principles of PiYo, Yoga, and Pilate so that you can understand why every move is important and the things you should focus on most through the workout.
PiYo drenches – This is a 45-minute workout which makes you drenched and increases your metabolism level. It is divided into many sections to ensure you get the most out of your workouts. You need to go through warm-up and stretch followed by a power section to get your heart race and focus on the lower body. This aids in improving balance, muscle endurance and flexibility.
PiYo buns – This is a bonus workout given to you when you purchase the workout from Beachbody and get a nice coach. It takes about 25 minutes, and it is very effective. It is great for burning calories since it focuses most on burning fat and toning your butt to ensure you get the best butt shape. It lifts and redefines your whole backside.
Strength intervals – Now this is the best workout if you are looking for a non-stop interval workout. It takes about 25 minutes, and it is nice since it uses neither weights nor equipment for you to be strong. You alternate between heart elevation moves, in particular for athletes and weight resistance workout. It gives you long and lean muscle look.
PiYo sculpts – If you are seeking to gain muscular endurance, then this is the best solution for you. It's a 30 minutes workout which uses many tempos to put your muscles under tension for a long time to utilize your body weight.
PiYo Define; lower body – This program is for the lower body. It defines and shapes your quads, calves, glutes and hamstrings helping you to get smooth and lean legs.
PiYo defines; upper body – Get that chest you have always wanted with PiYo define; upper body. It also gives you nice shoulders and makes your arms strong. It is a 35 minutes workout which gives you excellent results.
PiYo Core – Your body core is among the most important parts of your body. PiYo Core is intended to work on your body powerhouse from all angles. With this, you will not have to hurt and strain your back to get strong and sexy abs. This workout not only helps you get incredible abs but also contributes to strengthening your back.
PiYo Sweat – This workout will have you soaked with sweat from head to toe, and it is very effective. It takes about 35 minutes, and you can combine it with an effective body weight resistance training, conditioning, athletic movements, yoga flows and core work all within the 35 minutes. After doing this workout, you are ready to take any exercise that is put on your way.
Why

PiYo

?
Convenience
PiYo workout does not need equipment since the exercises are done using your bodyweight which makes it convenient for everyone. Moreover, all the workouts duration range from 25 to 45 minutes done for six days a week.
Many people who have bought this program have confirmed how effective it is and how fun it is that they did not even realize as time passes by.
Usability
PiYo is suitable for all type of people regardless of their age, fitness level or body type. It is a low-impact exercise thus there are no jump movements, and this makes it the easiest workout program offered by Beachbody.
Although PiYo is effective as a standalone program, it is still great if it is blended with other Beachbody workouts like P9OX or P90.
Additional Financial investment May Be Required
PiYo is very economical since the only item you need to buy with it is a yoga mat and probably a pair of athletic shoes. A comfortable yoga mat goes for about $15 from a sporting item store near you.
Beachbody PiYo Reviews & Results
PiYo's effectiveness lies in its strength due to the blending of Pilates and yoga which gives you a boost regarding the ability to endure and burn fun.
PiYo is a fat burning program hence if you are aiming at strength building; you better consider taking another program.
Results from PiYo official website
PiYo has received great reviews – receiving a ranking of 4 out 5 from 120+ users who had tried PiYo. The average weight loss is 26.74 lbs and some users experience greater weight loss when combining PiYo with another workout program.
Note: Although the majority of the reviews are from women, which should indicate PiYo target audience. I will definitely recommend this program to men who are possibly looking for an effective low impact workout – PiYo will be great for that!
Results from Users
The customer's results are surprising from the PiYo reviews. One of the customers stated that she had lost 30 lbs. and 31 inches within 90 days and had not combined PiYo with any other program.
Another user lost 15 lbs. and 4 inches off her waist. Others have reported losing 10 lbs. within the first few weeks, 8 lbs. in the last week, and upwards of 20 lbs. or more after 60 days.
The majority of reviews we have researched are overall positive. Of course, there were a few mixed piyo reviews which mainly involved receiving defective DVDs, workouts being programmed in another language, etc.
That is why we highly recommend not purchasing PiYo or any other workout DVDs through marketplaces such as eBay, Amazon, etc.
Always ordered through the official Beachbody website which ensures you are getting an authentic PiYO Workout program and the support of Beachbody and so many other perks that this company offers.
Pros and Cons of

PiYo
This program comes with both benefits and some disadvantages which include;
Pros
It is ideal for starters. The program can be used by anyone regardless of their age or body type
It is a low impact workout. There are no jarring moves like jumping, and the movements are natural and flowing
The workouts are quick. The maximum duration spent for each workout is 45 minutes
Increased body flexibility. Thanks to the yoga in the program, your body will have greater flexibility.
Modifiers – Great to use for those that haven't exercise in a while or possibly those with minor knee & lower back related issues or even individuals that may have suffered from a herniated disc in the neck.
Cons
Unbalanced workouts. In a few videos, you will realize that the right side of the body gets more attention than the other.
Fast transitions. This makes it hard to keep up with the changes, and it gets more complicated for some workouts – even worse when there are no cues when transitioning.
How to Buy Beachbody 
PiYo

 Workout

It is recommendable to purchase PiYo from the Beachbody official website

Cost of PiYo base kit= $59.85

Cost of shipping and handling= $12.95. This is exclusive of the free shipping for 3-5 business days

You also have a three months payment option where you pay $19.95 each month for three months.
Your Feedback?
We will appreciate if you get back to us and let us know what you think about PiYo. If you have used this program before, tell us if it was effective for you and if you loved it.
Share it with us and our readers in the comments below!