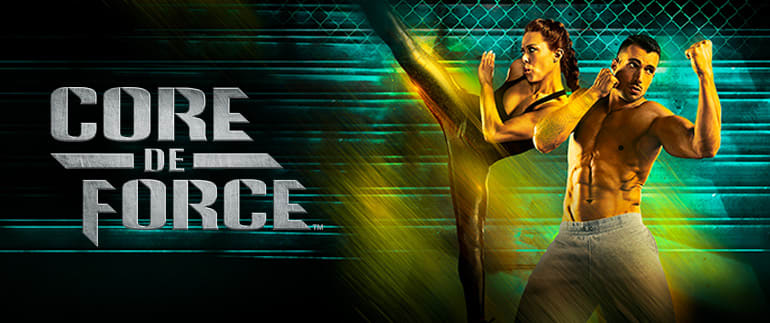 Some of us, though we're active, still have some bulge hanging around our bellies that we would like to lose.
We may not necessarily be in the shape needed to do Insanity or P90X, but we are up to doing an energetic, intermediate-level exercise program.
And while the prospect of tightening our abs is attractive, not everyone can work up the confidence to make it to the gym, nor can we afford to buy expensive equipment to tone our abs.
In addition, the prospect of doing endless sit-ups and crunches isn't always the best motivator.
Core de Force allows you to skip the gym, grueling situps, and expensive equipment all while getting a great workout. If you are a person who needs to lose some pounds around the midsection, Core de Force is the workout for you.
Who is the Core de Force Workout For?
The moves are inspired by boxing, Muay Thai, and kickboxing, so if you have a passion for mixed martial arts, you will enjoy the style of this program. Many users will find this program to be a challenge, as the moves and the pace can be intense.
This workout is high octane like Beachbody's Turbofire program, and there are modified moves for the beginner to get a great workout and to gradually build up their level of endurance.
The intermediate user can get a great tummy blast and can work off those extra few pounds, and the expert-level athlete can have some fun switching things up and working their core. This program is offered as a base kit and as a deluxe edition that provides extra workouts that give the lower body attention and that provide more overall sculpting.
This program is for people who:
Enjoy a workout regime that offers modified moves
Want to build up their level of fitness
Enjoy mixed martial arts and would like to do a workout inspired by them
Those who are not yet ready for programs like Insanity but have moved past programs like Hip Hop Abs
People who do not want to learn fancy dance steps
What Do You Get with the Core de Force Workout Program?
There are two versions of the Core de Force program, the Base kit and the Deluxe Kit.
With the Base Kit you will receive: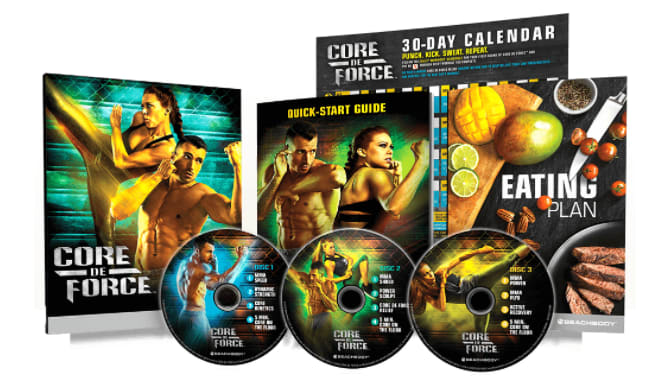 3 DVDs featuring 10 workouts inspired by mixed martial arts
Calendar for tracking your progress
With the Deluxe Kit you will get: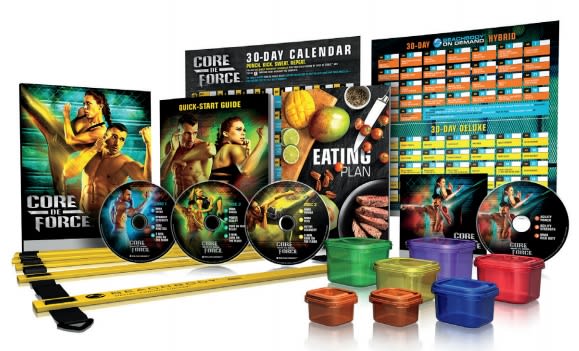 An Agility Ladder to help you with your footwork while getting a great workout
Color-coded containers to help you with your portion control
Eating plan to help you in the kitchen
30 Day Calendar to help you track our progress
Quick-Start Guide to boost your results into overdrive
10 sizzling workouts on 3 DVDs
3 bonus workouts that target the lower body using the Agility Ladder
10 Workouts on 3 DVDs
The 10 ab-sculpting workouts are divided into 3-minute rounds. The workouts included are:
MMA Speed: At six rounds and 27 minutes, this brisk workout will get you sweating in no time. You will be focusing on your core, and your upper body will get in on the action too with boxing-inspired moves.
MMA Shred: A little longer than the previous routine, you'll be shredding it with Muay Thai-inspired kicks for 9 rounds and 37 minutes. You'll work your entire body, and you'll torch those calories.
MMA Power: At 12 rounds and 47 minutes, you will build up your stamina with this quick-paced cardio workout. You'll tighten and tone as you make defensive-style maneuvers.
MMA Piyo: This combines plyometrics with boxing and Muay Thai for 12 explosive rounds and 47 minutes of pure calorie burn shred.
Power Sculpt: This workout is a little shorter than the last one, at 9 rounds and 37 minutes, and it uses interval training to get you to peak performance while building your core strength and endurance.
Dynamic Strength: This 12 round and 47-minute session will be low impact, and it employs bodyweight exercises to put the polish on your abs.
Active Recovery: This facet of the program is designed to help you recharge on your rest day, and it is designed to help you combat muscle soreness. This is because many people will struggle to continue to work out when their body is stiff, and by taking care of your muscle,s you will have a greater chance of success.
Core de Force Relief: This 5-minute stretch is an investment that will pay dividends. Done every night before you go to bed, this will help your muscles stay loose and ready to work out every day.
Core Kinetics: This workout clocks in at just 15 minutes and will help you work your core using dynamic movements inspired by the mixed martial arts.
Core on the Floor: These will push you to go for it, as you rise to the challenge of doing 5 different plank movements that will strengthen, tone, and sculpt your midsection.
Deluxe Kit
The three workouts included with the Deluxe Kit will target the lower body to give you the physique you've always dreamed of. The workouts are as follows:
Agility Strength: This segment of the workout lasts 37 minutes and is 9 rounds of bodyweight resistant exercises and drills involving fast footwork using your Agility Ladder.
Agility Power: Don't be fooled by the length — at six rounds and 27 minutes you are going to use every muscle group to blast through the fat and get into shape.
MMA Kick Butt: Work on your gluteal muscles and on sculpting your legs by doing powerhouse kicks and spikes. You'll blaze through this workout for 9 rounds and 37 minutes.
Quick-Start Guide
You can get a jump start on your results by following the tips outlined in this helpful guide. It provides you with the three steps you'll need to take to make sure you maximize the effect of this program.
Eating Plan
This helps to take the guesswork out of figuring out what to eat. Many well-intentioned people mistakenly sabotage their efforts by choosing the wrong foods to eat. Stay a step ahead of the game with this eating plan.
30 Day Core De Force Calendar
Your calendar is a tool to help you know what workout you have scheduled that day.
***Core de Force Workout Calendar & Schedule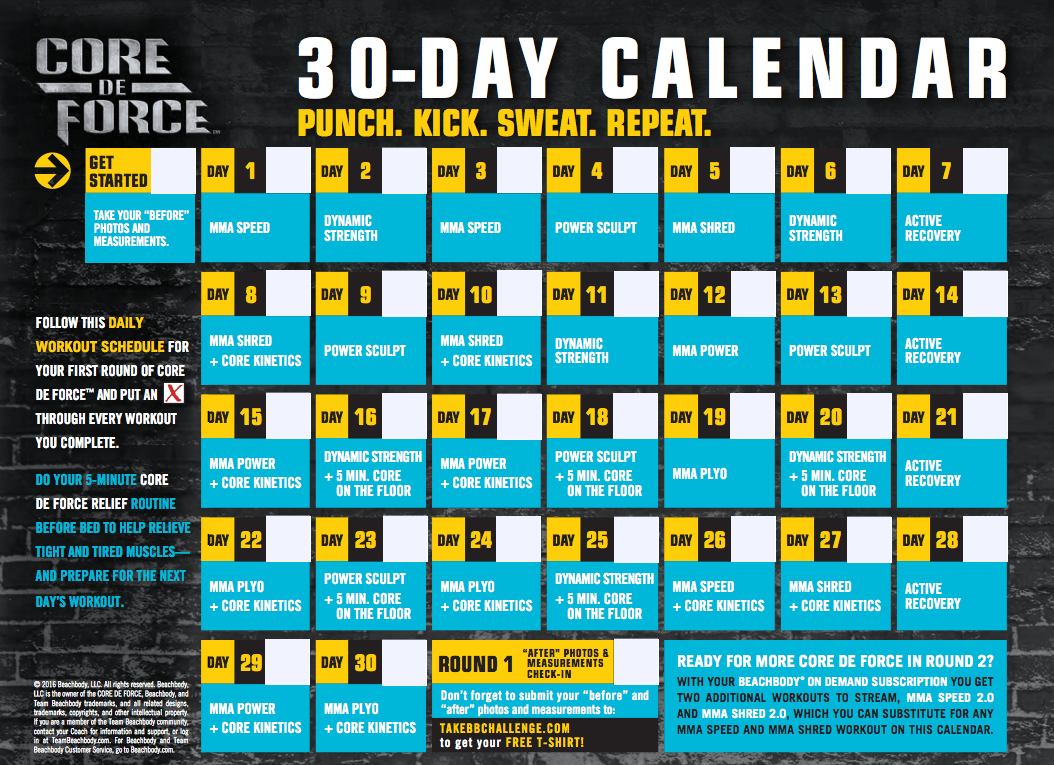 Agility Ladder
This is essential for completing the Deluxe Kit, and it will help you to develop your coordination, speed, and stamina.
Color-Coded Containers
Food prep will be a breeze with these pre-proportioned containers.
Core de Force Convenience and Ease of Use
How Long Does it Take To Do the Workout?
The workouts begin at 27 minutes long, and they progress to 47 minutes in length. There is also a 5 minute stretch period to be done in order to alleviate soreness.
Are the Workouts Complicated?
There are some complex compound movements in this workout, but they are designed to be easily understood by the user. Mixed martial arts, by its very nature, is a sophisticated form of movement, and each exercise is broken down by the instructor into its base components, so you can see how it should be done. Modified moves are also demonstrated.
Can You Repeat This Workout For a Long Period of Time?
This is a workout program that you could do for a long while before becoming tired of it, especially if you get the deluxe version. It only lasts 30 days, so it would start over again relatively quickly, but the program is challenging enough that it could hold your interest for a long while before you would need to move on to something else.
How Much Does Core de Force Cost?
The Core de Force Base Kit can be purchased for $59.85, and the Deluxe Kit can be had for $146.60. There is no additional financial outlay in the form of equipment, but you may have to factor in the money it will take to procure healthier food.
Beachbody Core de Force Reviews & Results
Will Core de Force Help Me Tighten My Abs and Lose Weight?
People who have used this program report both losing inches and weight. The following testimonials can be found at www.beachbody.com/coredeforce/reviews:
A 34-year-old female lost 5.5 inches from her waist and 12 pounds in 60 days
A 37-year-old male lost 3 inches from his midsection and 10 pounds in just 30 days
A 52-year-old female lost 8.5 inches from her middle and 32 pounds in 150 days
And Many More!
Core De Force has received good reviews – receiving a ranking of 4.3 out 5 from 40+ users! The average weight loss is about 15 lbs.
Overall, Core De Force is one of highest ranking MMA style workout programs in the market at the moment. However, there are some cons in which we will list in the section below.
Core De Force Pros and Cons
Pros
Targeted Approach: You will be able to trim inches off your waistline without resorting to tiresome or painful crunches.
It is Guaranteed: You have 30 days to change your mind and get your money back with no questions asked.
Workout MMA Style: If you are a fan of mixed martial arts you will enjoy getting to learn moves inspired by the sport.
Workout Time is Short: You'll be done in under an hour, so the workout will be easy to schedule and complete.
You Can Get Started Right Away: There is no need to purchase anything additional in order to begin getting in shape.
It Has Several Levels: The beginner level can be modified, and the pro can use the Deluxe Kit.
It Prevents Soreness: The added 5 minute stretch before bed can be done quickly and will help keep you limber.
Variety of moves: You will get a wide selection of moves in Core De Force such as push-ups, kick and punch combos, and the mix of cardio.
Cons
It is Just 30 Days: You will not be doing this workout long before it will be time to start over again.
Few Inconsistencies: You may find yourself getting a good cardio portion than all of sudden transitioning to a super slow paced combo, making it hard to keep a good sweat going.
You Won't Learn MMA Technique: If your goal is to learn defensive moves from Muay Tai or kickboxing, this is not the program for you.
It Is Very Challenging: A complete beginner may not be able to keep up with this workout.
Doesn't Alternate Sides Often: Which may cause more pain on one side than the other and/or better results on one side than other.
How to Purchase Core de Force
You can purchase Code de Force at the official website at Beachbody.com/coredeforce. Beachbody also gives you the option of paying for the program in payments of $19.95 a month for three months or a one-time payment of $59.85 plus (12.95 for shipping and handling).
The Core de Force Deluxe can be purchased for an additional $29.95 or 3 payments of $9.95.
What Do You Think?
We'd love to hear about your experiences with this workout program, and you can leave a Core de Force review of your own. Let us know if you've dropped inches, lost pounds, or both!

Share it with us and our readers in the comments below!