The South Beach Diet was developed in the early 2000's by cardiologist Arthur Agatston, MD, director of the Mount Sinai Cardiac Prevention Center in Miami Beach, Florida. It was designed as an alternative to both low-fat and low-carb diets.
Dr. Agatston's original purpose for the diet was to prevent heart disease in his own patients, but word of the diet spread quickly, and it gained enormous popularity as a means to lose weight.
***South Beach is offering our readers 40% off on All South Beach Diet plans plus Free FedEx Shipping Today!
What Is the South Beach Diet?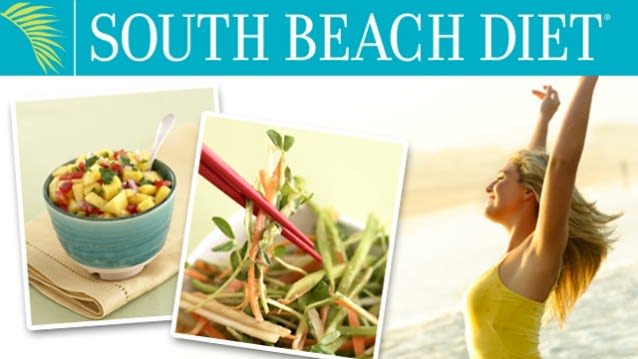 The South Beach Diet is basically a "diet meal delivery service". Unlike Home Chef, Hello Fresh, etc. which mainly focus on meal delivery services,  the South Beach Diet combines the ease of a meal delivery service with a weight loss regimen.
While there are other popular diet meal delivery services available, like Nutrisystem and Medifast, the South Beach Diet approach is different. They've figured out a way for their users to lose the most amount of weight, in the quickest time possible, without crossing an unhealthy threshold.
There is even a vegetarian version of the popular diet, as the original version calls for a good deal of protein. The vegetarian version allows for such protein substitutions as beans, milk products, eggs, tofu and meat substitutes like Tempeh, soy and veggie burgers.
How can the South Beach Diet Help You?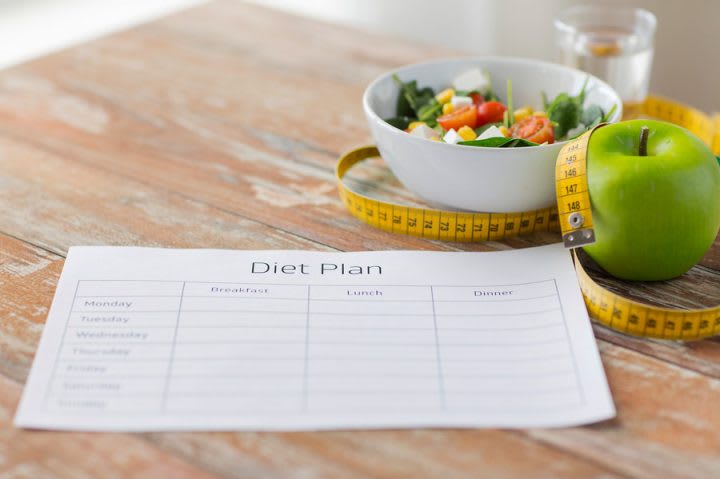 The South Beach Diet can help you lose weight simply and easily. There are no calories to count, no points to keep track of, no trends to follow. You'll experience quick weight loss without the fear of high cholesterol or increased risk of heart disease because the diet focuses on healthy fats and lean meats.
The diet helps keep you feeling full, so you won't overeat. This is because you fill up on the right kinds of food, not processed foods or sugars. The South Beach Diet restricts both refined and highly processed carbohydrates like white bread, pasta, cakes, and cookies. These are all foods which are quickly digested and they make you feel hungry faster.
What Does the South Beach Diet Include?
The South Beach diet encourages lots of snacking, so dieters will not go hungry. The diet consists of stages.
The first stage is one week long and is an induction phase "Reboot Stage". In this stage, dieters are able to eat normal meals of chicken, beef, turkey, fish, or shellfish and lots of vegetables.
You can also eat eggs, cheese, nuts, and garden salads, but can only use 100% olive oil for their salad dressing. There are three well-balanced meals each day and a snack between breakfast and lunch, and a snack between lunch and dinner.
In this first phase, dieters cut out all alcohol, sugary sweets, potatoes, fruit, bread (all baked goods), cereal, rice, pasta, beets, carrots, and corn.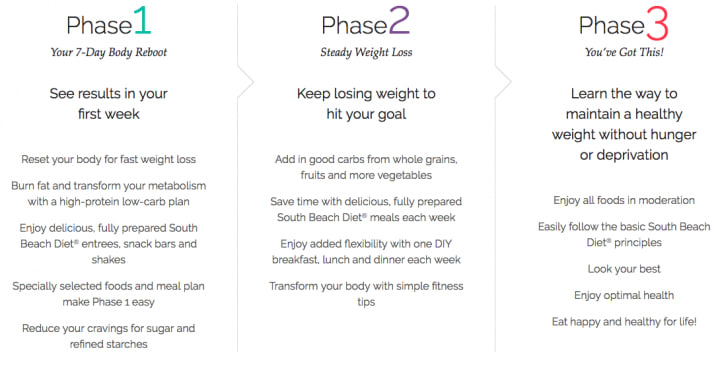 *** Learn More About the South Beach Diet Phases here
The second phase is longer than the first, as it lasts until dieters reach their goal weights. In the second phase, some of the foods that were excluded in the first phase are added back in, but only in moderation. If a dieter wants chocolate cake, they are encouraged to have it—but just a bite. The theory behind the diet says this is enough to satisfy your cravings, so you will not need to eat the whole piece.
The final stage is the 'Diet for Life.' You will eat normal foods in normal portions, following basic guidelines put into place by the diet. The diet revolves around the idea of changing your body's chemistry so that by the final phase, you will not crave the wrong foods. During this stage, the diet also says that if you find yourself gaining weight, you should return to phases one and then two, again.
South Beach Diet Plans
South Beach Diet has four main diet plans. They are the "Silver", "Gold", "Platinum" and "Diabetes Gold" plan. All plans include free counseling, free customization over food menu and frozen entrees.
With the Gold plan, you'll receive more food menu options and snacks. With the South Beach Platinum plan, you'll receive everything from the Gold plan but with more menu options to choose from as well as 20 New South Beach Simply Fit shakes.
Note: For all plans, you'll receive 5 free Simply Fit shakes during your first week of body reboot. 
***South Beach Diet Silver, Gold & Platinum Plans

***South Beach Diet Diabetes Gold Plan

***View and compare South Beach Diet Plans
South Beach Diet Food Menu
South Beach Diet's food menu will vary based on the plan that you choose.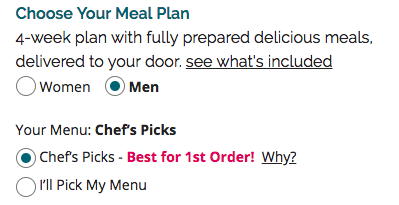 Choosing "I'll Pick My Menu" at checkout is the only way to choose, view and customize your food menu.
If you pick the "Chef's Picks" menu, South Beach Diet will send their most popular food menu items.
Note: During Phase 1 Body Reboot, meals are specially selected to deliver fast weight loss in your first week and are not customizable. After your first week on South Beach Diet, you'll then transition into the plan you've chosen at sign up.
In South Beach Diet FAQS, you can see what type of food items will be sent out if you pick the "Chef's Picks" menu.
If you have chosen the "I'll Pick My Menu" option, you will see a section similar to below. South Beach gives you a variety of food items to choose from. You must make several selections for Breakfast, Lunch, Dinner and Snacks.
South Beach Diet Menu Breakfast Sample (Partial)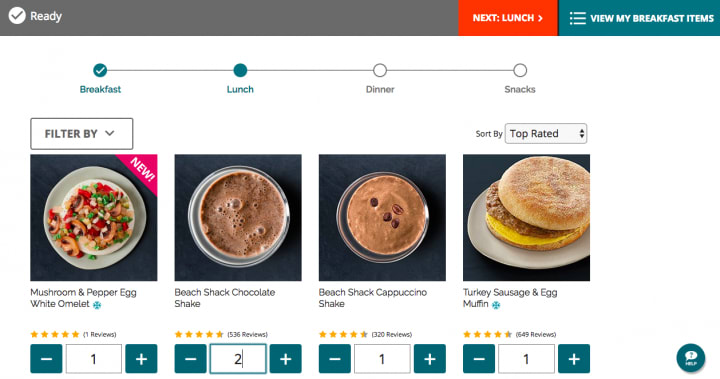 .
South Beach Diet Menu Dinner Sample (Partial)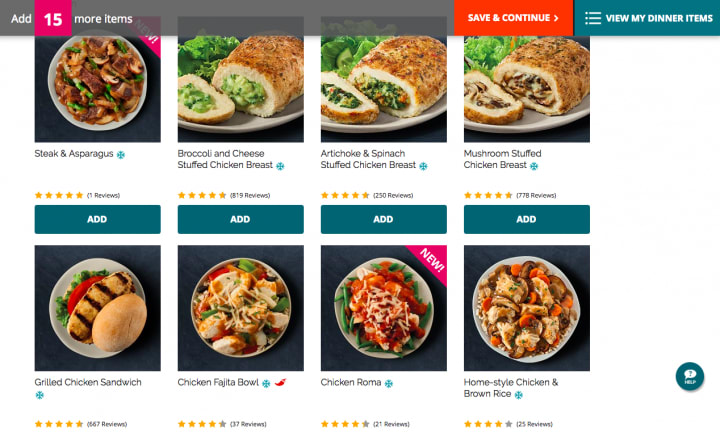 South Beach Diet Menu Snack Sample (Partial)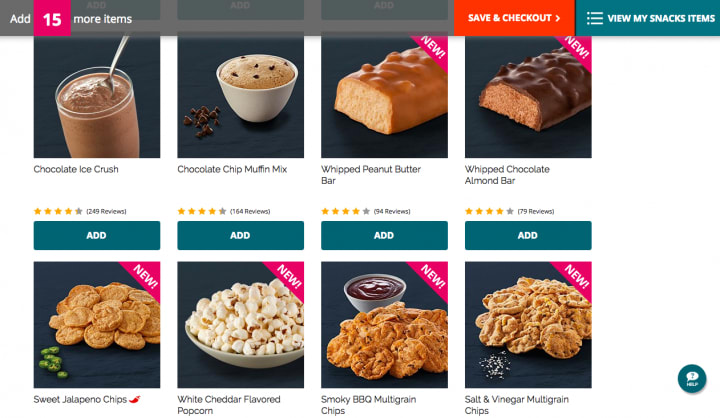 You can read South Beach Diet food reviews on each item before you choose it. You can also view the nutrition facts of the food item before adding it. Also, South Beach has "Filter By" which is a great feature that allows customers to sort by preference or top rated.
Once you are done choosing all of your menu items, you can review these options and make any necessary changes before checking out.
South Beach Diet Recipes & Foods
Before we jump to South Beach Diet recipes and foods, there are a few things worth noting.
Note: You will be eating up to 6 times a day which includes Breakfast, Lunch, Dinner and 3 homemade snacks. You must provide your own snacks and sides from the South Beach Diet grocery list of approved foods.
You can view South Beach Diet Food menu here (These are the food that is provided to you by South Beach) 
You can also add some of your own fresh grocery foods – these can be used as side dishes to the main entrees and for your homemade snacks. 
South Beach Diet Phase 1 Foods (Grocery List for Sides & Snacks) Part: 1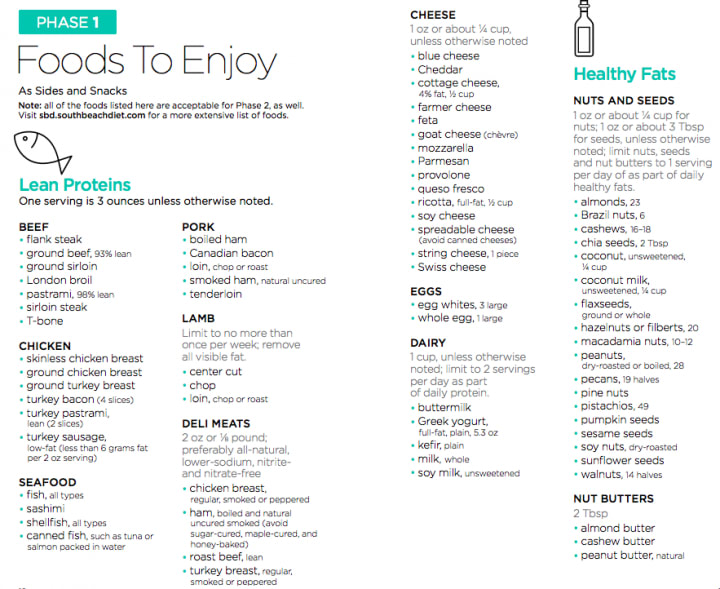 South Beach Diet Phase 1 Foods (Grocery List for Sides & Snacks) Part: 2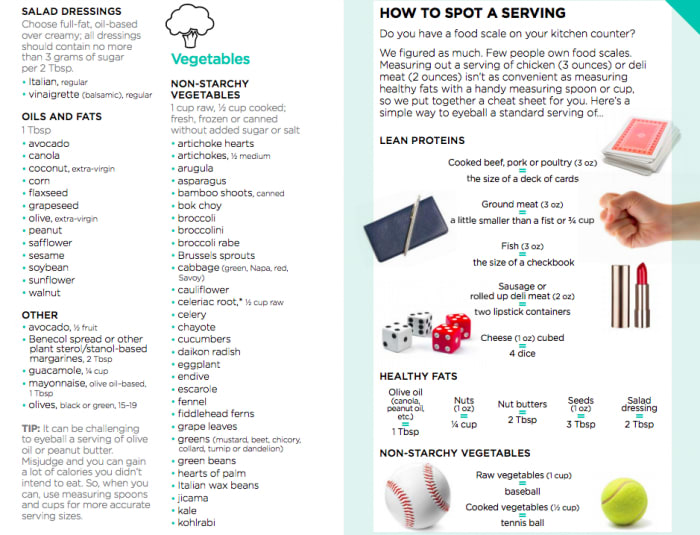 South Beach Diet Phase 1 Foods (Grocery List for Sides & Snacks) & (Foods Not Allowed) Part: 3

South Beach Diet Phase 2 Food Details:
During Phase 2, you will be eating 5 days worth of meals that are supplied by the South Beach Diet with 2 practice days. You will need to add/supply your own snacks and side dishes from the South Beach Diet approve grocery list just like in Phase 1.
Also, in Phase 2, you'll start making meals on your own with the help of South Beach Diet recipes. Their dedicated page of recipes is extremely helpful and you have the option of filtering by choices. All recipes include ingredients, directions, nutrition facts, etc.
During your 2 practice days, you're allowed to eat these Foods and Amounts for 3 Meals and 3 Snacks:
• 3 lean protein servings (5 for men)
• 3 healthy-fat servings
• 5 vegetable servings (6 for men)
• 2 fruit servings
• 2 good-carbohydrate servings
South Beach Diet Phase 2 Foods (Grocery List) Part: 1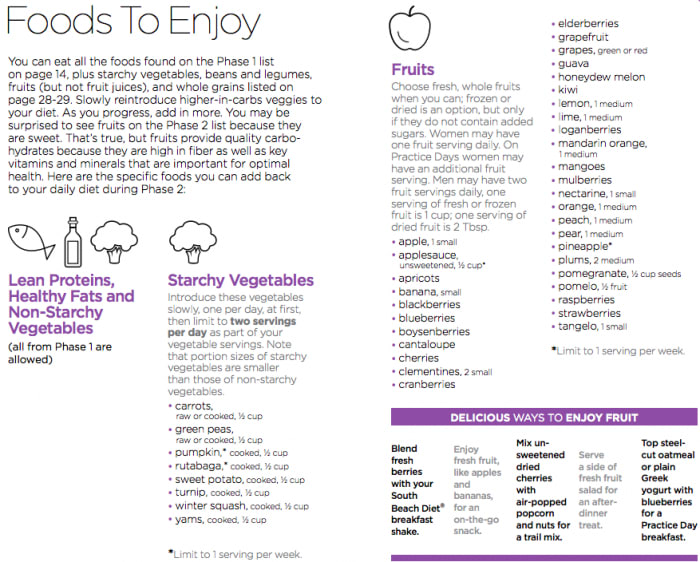 South Beach Diet Phase 2 Foods (Grocery List) & (Foods Not Allowed) Part: 2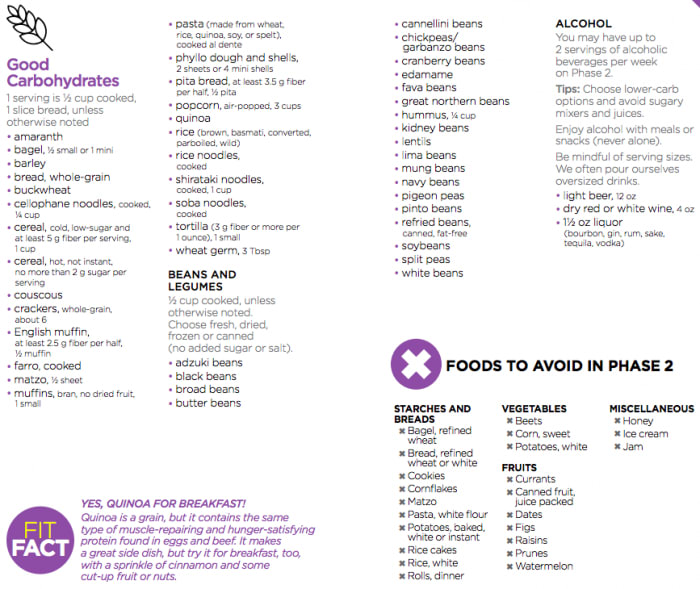 Does the South Beach Diet Really Work?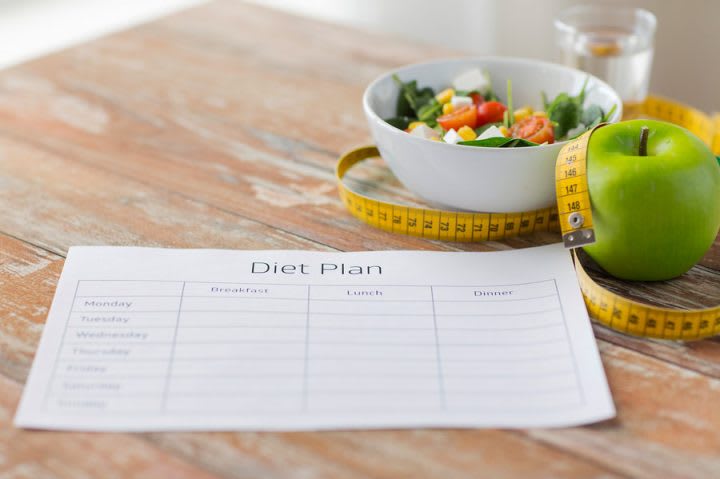 Cindy Moore, RD, Director of Nutrition Therapy at the Cleveland Clinic, Ohio, stated that the South Beach Diet "…really does meet several criteria for a health-promoting diet" and that "…it appears to be scientifically based." She also mentions that it's rich in vegetables, fruits, whole grains, and lean protein, and most importantly, it doesn't leave out any major food groups.
Experts also warn, though, that the rapid weight loss in the first phase is actually water weight. This rapid loss of water weight can actually set your body off balance, so it may be good to work with a nutritionist during the first phases of the diet.
To date, millions of people have purchased the South Beach Diet plan, and the majority of users say it's working for them.
Who Is the South Beach Diet For?
This diet is very good for those who may think they have a food allergy, for instance, an allergy to gluten. By taking foods out, and then adding them back in one by one, you will see which foods react negatively with your body, and therefore you can cut them out completely.
The diet is also very good for anyone looking for a long-term change, who wants to learn how to gradually make these changes.
The diet is also good for anyone who is looking for a diet that will allow them to see changes in their body right away, as the diet does invoke change very quickly.
What are the Pros and Cons of the South Beach Diet?
South Beach diet reviews wouldn't be complete without an overview of the pros and cons of the program. So here are our key takeaways on the highlights and drawbacks.
Pros
One of the biggest advantages of following the South Beach Diet is the fact that it helps you make better lifestyle choices. These are the choices that will lead to healthy weight loss, and that will help you maintain that same weight loss over time.
Because the diet is a balanced one, you'll eat better than you probably ever have before. The diet includes lean meats, healthy fats and nutrient-dense sources of 'good' carbohydrates like whole grains and vegetables.
When you follow the plan, you'll learn how to eat right on your own. You'll learn the difference between healthy and unhealthy fats and refined and unrefined carbs. You'll become educated enough to make good choices when you go out to eat and go grocery shopping.
Because this is a delivery service, there is really no cooking or prep work involved with South Beach Diet meals. Most of their entrees can be prepared in the microwave or on the stove top and take just 3 to 5 minutes to get ready. However, this can be a con as well because most of South Beach Diet meals come in pre-prepared frozen boxes which might sacrifice the flavor/taste profile of the meal. (South Beach Diet does allow you a few days out of the week to prepare and cook your own meals using their exclusive recipes).
Understand, the majority of "diet" meal delivery services have the issue of their meals not tasting like restaurant quality. This is the sacrifice you'll have to make when you taking the approach of diet and meal delivery. If this may be an issue, you may want to look at strictly meal delivery services whereas the meal may be of restaurant quality due to the fact that their market is really not geared for consumers looking for weight loss but those that are looking for food variety; busy moms and dads and those that really don't like to or know how to cook.
Cons
One of the drawbacks of the diet is phase one. It has dieters excluding all fruit from their diets, even though fruit is essential to any healthy eating plan. Fruit isn't a bad carb, it contains a great deal of fiber which helps keep you satiated and it supplies us with essential vitamins and minerals.
Additionally, the prepackaged South Beach Diet meals don't come with fresh veggies or fruits. You'll need to supply your own. You will also need to add/supply your sides and snacks in-between meals. Note: If you opt-in to receive snacks from the South Beach Diet, then this won't be a big issue but you will still need to provide your sides.
And while it's not a huge drawback, you will receive all of your food items from South Beach Diet in one shipment every 4 weeks. It can be an issue when you are trying to store a month's worth of prepared frozen food in your freezer. It would be nice to see an option to receive your meals bi-weekly or even weekly.
Another con with South Beach Diet is with their auto delivery cancellation policy. If you try to cancel prior to paying for your second shipment, South Beach Diet will charge $125 for the auto-delivery discount you received on your first shipment. However, you may cancel any time after the second shipment with no charge whatsoever.
South Beach Diet New Keto-Friendly Program?
South Beach Diet has recently launched a new keto-friendly diet program. According to South Beach Diet, "The keto-friendly version is "designed to be a low-carb, high-fat dietary pattern consistent with a keto diet".
Courtney McCormick, a clinical and nutrition manager for South Beach Diet said: "Our goal is to make a keto-friendly lifestyle approachable for consumers who are looking for a place to start."
I think its great that South Beach Diet put together a keto friendly diet. How good is this specific program, it is too early to tell? I must say that having all the tools, information, keto-friendly foods provided and deliver is definitely a good way to start.
Please note that potential customers have the option of not following the South Beach Diet keto-friendly program but could opt out and continue or sign up to South Beach Diet regular diet plans.
South Beach Diet vs. Nutrisystem
South Beach Diet and Nutrisystem are very similar in terms of plans, tools, add-ons such as counseling, menu customization, etc. However, counseling is only available with Nutrisystem's Core, Uniquely Yours and Uniquely Yours Plus plan. Whereas, South Beach Diet includes free counseling with all of their plans.
Also, customers will receive ready-to-go (non-frozen) meals if you subscribe to either Nutrisystem Basic or Core Plan. Frozen entrees will only be part of your food menu with Nutrisystem's two biggest plans – Uniquely Yours and Uniquely Yours Plus. South Beach Diet gives customers frozen entrees no matter what plan they sign up to.
Nutrisystem Core, Uniquely Yours and Uniquely Plus plan give customers the option of food or menu customization for free. So, if you are on Nutrisystem Basic plan, you'll need to pay an additional $28 per month to get menu customization. South Beach Diet includes free menu customization for all of their plans.
South Beach Diet and Nutrisystem are fairly close in price. South Beach diet plans are priced a bit higher than Nutrisystem's – this is because South Beach Diet includes services in their plans that you must pay extra with Nutrisystem.
As far as the nutritional foundations of the South Beach Diet and Nutrisystem. South Beach Diet plans are low-carb, high-protein and low-sugar. South Beach take a phased approach to their plans. Nutrisystem focuses more on portion control, balanced nutrition and frequent eating. Nutrisystem meals are created around the "Glycemic Index".
All in all, both diets are good and are ranked in our diets & weight loss meal delivery services. You can't go wrong with either, the South Beach Diet meal delivery service and Nutrisystem meal delivery service are two of several weight loss programs that we recommend to our readers.
South Beach Diet Cost?
South Beach Diet costs will vary base on the plan you have chosen. You will be billed on an auto delivery monthly basis. The meals are delivered right to your door, four weeks at a time. Shipping is free, and the meals are delivered based on the needs of the phase you're in.
South Beach Diet Costs: (Women)
South Beach Diet Costs: (Men)
South Beach Diet Costs: (Diabetics)
Where Can I Purchase the South Beach Diet?
You can order at the official South Beach Diet website here. When you visit SouthBeachDiet.com, you can choose auto delivery and meals will be sent to you every four weeks. The meals will be specific to your needs, which will change by phase. You can choose to add snacks for an extra fee, and shipping is always free. Below are the latest south beach diet sale offers.
Latest South Beach Diet Coupons and Deals:

What Do You Think?
Have you tried the South Beach Diet? Let us know. Share your South Beach Diet reviews, success stories, challenges, and tips in the comments below!
South Beach Diet
Conclusion
Overall, the South Beach Diet is one of our top recommended diet programs. Their plans are affordable and the meals are low-carb, high-protein and low-sugar.
The South Beach Diet is ranked highly in terms of the best commercial diet programs. As well diet programs that produce quick and rapid weight loss in the safest way possible.
Other pros includes no calorie counting, no tracking of points, scientifically based and practice days which teaches you healthy eating on your own (which is very important for long term success).