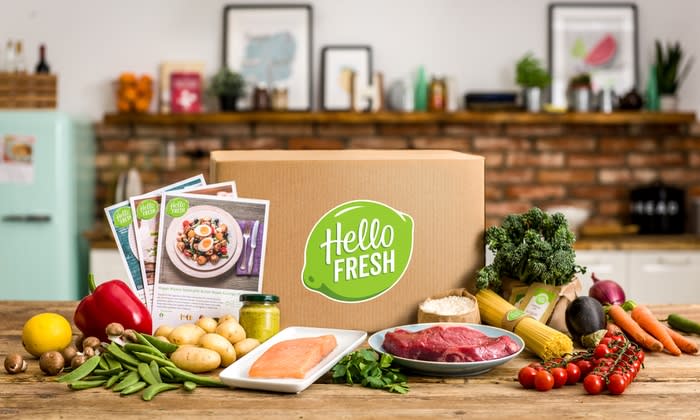 Hello Fresh is one of the best-known meal services. The service touts healthy, simple meals, many of which were developed by chef Jamie Oliver during his partnership with the brand.
Others have been developed by the company's in-house dietician to ensure that the meal kits include healthy choices. Offering flexible weekly delivery, Hello Fresh is a convenient way to eat more home-cooked meals.
Hello Fresh spotlights their relationships with a number of small, US-based farms. They buy mushrooms from To-Jo mushrooms, a fourth-generation family farm in Pennsylvania.
Their poultry comes from Murray's Chicken, a sustainable meat farm that raises free-range chickens that are raised without antibiotics, hormones or growth drugs.
Avocados for many meals come from Del Ray Avocados, a farm that has operated in San Diego County since 1969.
How
Hello Fresh

Works

Hello Fresh allows you a degree of customization in the meal kits that you receive each week. After registering with the site, you can work through a simple dialog to choose which plan you want, how many meals a week and which meals you would like to try making.

The service offers three basic plans to fit different diets:
The Classic Plan. This comes with meat and fish recipes and allows you to choose from around six different recipes.
The Veggie Plan. This plan includes vegetarian recipes only; subscribers receive three recipes each week.
The Family Plan. This plan is designed around kid-friendly meals. It includes three recipes to serve two adults and two children.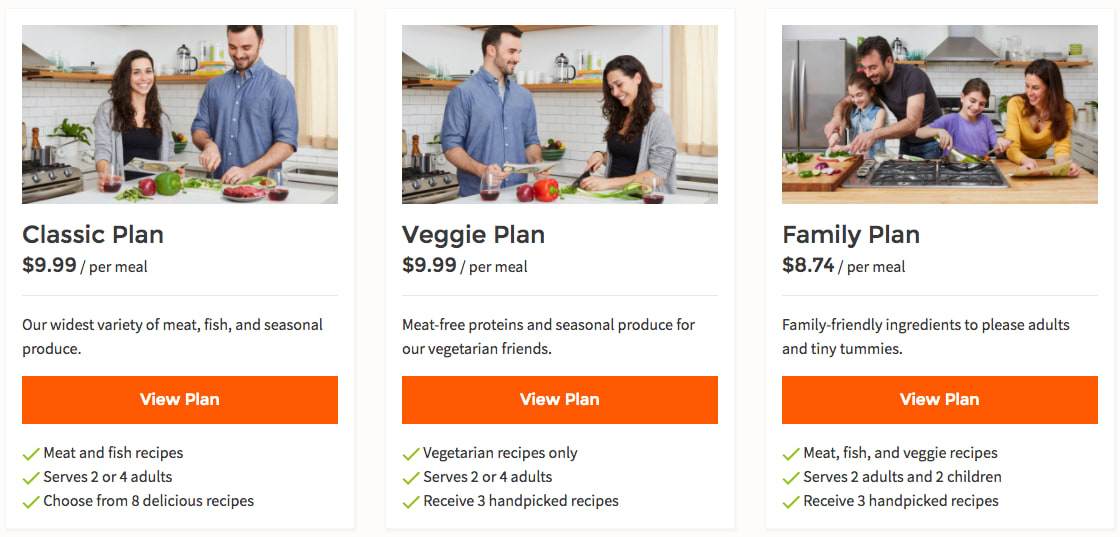 ***View & Compare Hello Fresh Plans Here
Those who choose the Classic Plan have options for special dietary requirements. Meal choices each week include options that are beef, seafood or pork free.
While they do not make specific accommodations for allergies, all ingredients are sent in separate sealed packets.
This allows you to omit or replace any ingredients that you do not want to use or cannot have. Potential allergens are listed on the website.
All meals include a full list of ingredients. You can see the nutritional breakdown of every dish on the Hello Fresh website.
The first two plans allow you to order meals for two to four adults. You can choose to have anywhere from two to five meals delivered each week. Delivery costs are always included. If you ever want to skip a week, simply visit the website by Wednesday of the previous week to skip the delivery. The service automatically renews until you cancel it.
Hello Fresh's service is very streamlined compared to others in the meal delivery niche. They offer a limited number of meals through an easy interface. There are no additional — and sometimes confusing or unnecessary — perks such as snack kits, lunch kits or accessories. They do offer gift cards that allow you to buy someone delivery of a single meal from any of the three plans.

***Click Here to Learn More About Hello Fresh Gift Cards
Meals are shipped in coolers with ice packs, isolating wool and cooling material to ensure freshness. They make deliveries on Wednesday, Thursday and Friday for all customers and also on Saturday, Sunday, Monday and Tuesday in several areas. Deliveries usually occur between 8 am and 8 pm.
Recipes are devised around ingredients that will, in most cases, stay fresh for about a week when stored properly. When there are ingredients such as fish that may not last as long, they will mention that the meals including them should be made first.
Hello Fresh comes with nearly all the meats, vegetables and seasonings you will need. According to their website, you will only need to provide salt, pepper, oil, sugar and butter. Recipes offer a lot of variety throughout the week. The Classic Plan recipe choices for the week following the writing of this review include:
Lemony Pan-Seared Chicken with Pesto, Peas and Potatoes.
Cumin-Spiced Steak with Scallion Dressing and Spinach Couscous Salad.
Turkey Chiles

Rellenos

with

Poblano

Peppers and Chipotle Sauce.
Shrimp Pad See Ew with Broccoli, Mushrooms and Peanuts
"Little Ears Pasta"
Parmesan-Crusted Bone-In Pork with Roasted Carrots and Asparagus.
Breakfast Chorizo Egg Polenta Pancakes.
Hello Fresh

Reviews and Testimonials

Most reviewers mention Hello Fresh's convenience first. This meal kit delivery service saves you the shopping and planning and only requires a bit of time to cook.

The portion sizes and the freshness of the ingredients were highlighted in a number of reviews. Kelli Foster wrote on TheKitchn, "I enjoyed the variety of meals I received from HelloFresh. Each one had fresh ingredients and produced well-flavored, ample-sized meals.

Katie Kelly Bell reviewed a number of meal kits for Forbes and said HelloFresh was among the favorites on both taste and simplicity. "They do a nice job of juggling the right amount of flavor and complexity with the busy-life factor (I often only have the bandwidth for a meal that requires just a squeeze of this and a dash of that). "

Hello Fresh features comments from a number of happy customers on their website. Customers praise the ease of preparation and the healthfulness of the ingredients.

While most published reviews are positive, a few commenters on various sites expressed concern with the freshness of the included vegetables. Representatives from the company commented back to each soon after offering to resolve any issues.
The Pros and Cons of Choosing
Hello Fresh
Hello Fresh fans have many good things to say about it. The pros of choosing this meal delivery service include:
Large portions. A number of reviewers were pleasantly surprised to find that this meal service comes with plenty of food.
Easy to prepare. The ordering screen shows the prep time of each meal, which is usually around 30 minutes. Many reviews praised the ease of preparation.
Wide delivery area.

Hello Fresh

delivers throughout the continental United States and also in some areas of Europe.
Easy to follow recipe & instruction cards. When you receive your shipment, each meal will have its own recipe and instruction card – directions are easy to follow!
Nutrition Information such as calories, sugar, fiber, protein, cholesterol, sodium, etc. are provided
Hellofresh provides gluten-free, dairy-free, or nut-free options.
Every service also has its downside. The cons for Hello Fresh include:
There are inconsistencies in the website. In at least two areas, it touts a selection of 10 recipes for the Classic Plan. However, the order screen specifies six; scrolling through the meal choices the week this was written revealed seven options.
Those on the Family and Veggie plans have few meal choices.
No meal options for singles. On the website,

HelloFresh

 suggests ordering meals for two and either inviting guests or eating more than one iteration of each meal.
Large amounts of packaging. As with most meal kits,

Hello Fresh's

kits include small packets containing each ingredient.
Where & How to Order from
HelloFresh
To order, simply visit the official Hello Fresh website here. You can sign up for a HelloFresh account with either your email address or your Facebook account.
Then, follow the simple dialog to choose which meal plan you want, how many people you are serving and how many meals you want to have delivered each week.
Choosing your weekly meals takes just minutes, saving you time that would otherwise be spent picking up ingredients at the store or looking for new recipes.
What Do You Think?
Does Hello Fresh look like the meal delivery kit for you? Have you already checked it out? If so, comment below. We'd love to hear more about your experience.