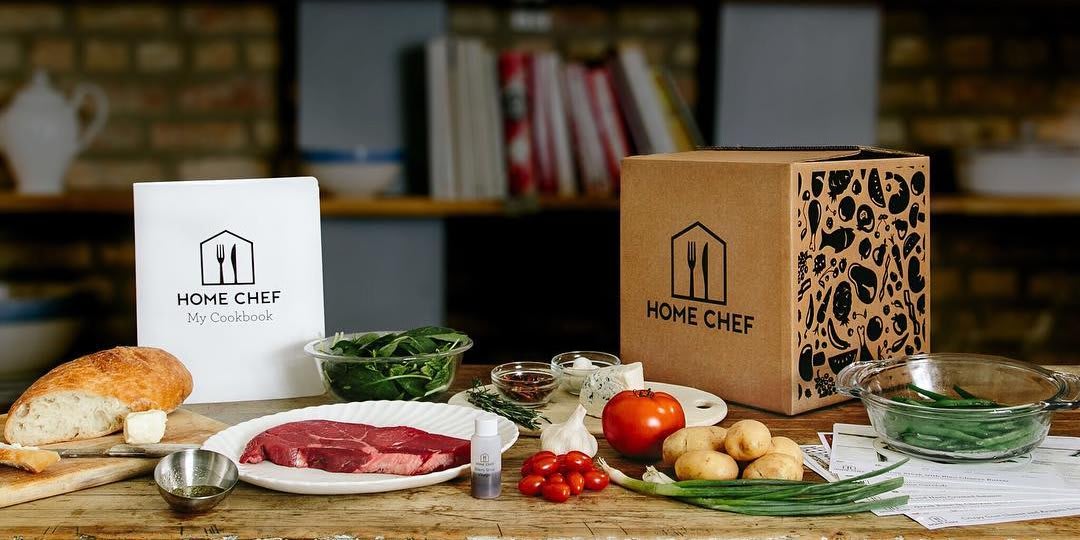 Whether you are a novice cook or an old hand in the kitchen, meal service companies like Home Chef offer a chance to move beyond your food comfort zone.
In a world that is starting to see the consequences of fast food and restaurant eating, these businesses are bringing back the home-cooked meal but making it easy to master and time-efficient.
Just ten years ago, home cooking meant recipe hunting, shopping lists, long lines at the grocery store and still, you always seemed to be missing something important once you finally got cooking. Is Home Chef the solution consumers have been looking for, though?
The promise companies like Home Chef offer is two-fold:
They provide you will all the know-how you need to make a gourmet meal
They deliver all the ingredients necessary right to your doorstep
That means no more searching for just the right recipe or getting home and realizing you forgot that one critical ingredient. Home delivery services are turning cooking into an adventure that ends with some really good food.
Of course, Home Chef is just one of a number of companies jumping into the meal delivery game. How does it stack up against the competition?
A Little About Home Chef
Based out of Chicago, Illinois, Home Chef is a meal delivery service company that works on a subscription-based system. Founded in 2013 by Pat Vihtelic, they promise to provide everything a person needs to make delicious meals at home.
Home Chef advertising focuses not just on good, healthy food but on creating moments to remember. It's a journey that takes each dish from:
Online to
Doorstep to
Kitchen table
The company states they offer recipes that are simple and intuitive, so you don't have to be a gourmet chef to have an interesting and satisfying home-cooked meal. CEO Pat partnered with an actual chef to create the various recipes offered to subscribers and ensure they are laid out in a step-by-step fashion.
Today, company Home Chef employs a number of professional chefs to continue that tradition along with more than 700 other employees that work together to maintain this comprehensive system.
Each meal kit comes with:
Recyclable packaging
Pre-portioned ingredients
Instructions that anyone can follow
The menus rotate to give subscribers a variety of options that include both breakfast and dinner service. The company also sells the kitchenware that you will need to make their dishes, just in case you don't have your own tools.
How Home Chef Works
Home Chef is a subscription meal service that delivers fresh and portioned ingredients with easy to follow recipe cards to your doorstep on a weekly basis.

When you sign up for an account, you are presented with a $10 Welcome Bonus At Home Chef that you can redeem for future orders.
Then comes the Meal Preferences! In this section, you can choose and customize the options that are currently being offered. Here are the following questions and choices you will see:
How many meals would you like to cook each week? 2, 3, 4, 5 or 6.
How many people are you cooking for? 2, 4 or 6
Which of the following do you prefer to eat? Meat, Seafood & Vegetables
Do you have any dietary preferences? (Optional) Low Calorie & Low Carb
There are other questions in the meal preference section that are optional but may be extremely helpful. For example, if you prefer not to have certain meats, don't like shellfish, nuts, want to avoid certain food due to allergies or gluten, etc. you have the option of customizing this section to your liking.
Home Chef website & backend is very user-friendly! You can edit the number weekly meals or servings, skip a week or pause your account.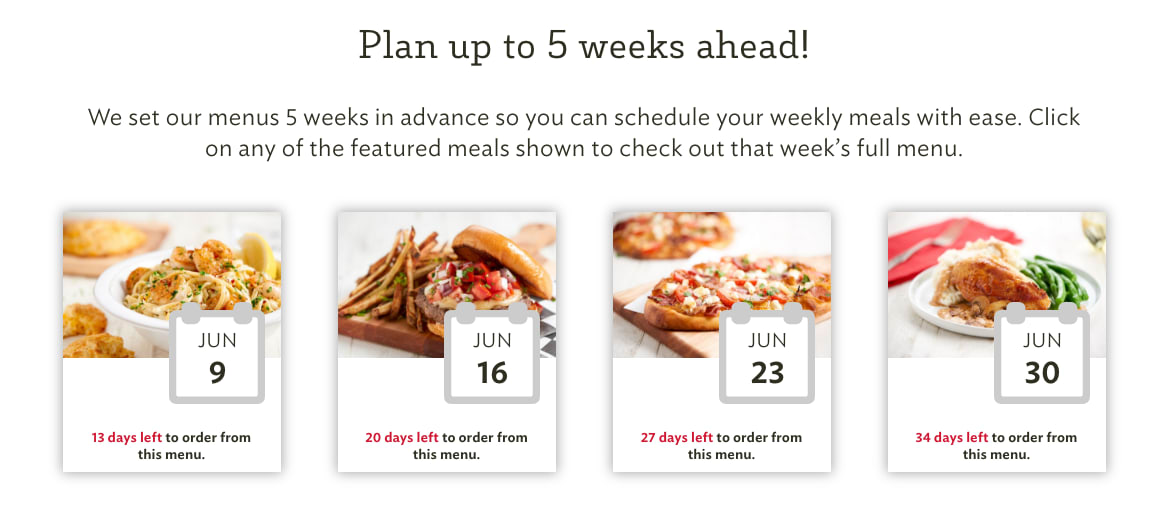 ***Learn more at the Official Home Chef website.
Note: You have a variety of meal options (up to 10+) that you can choose from each week (Plus additional add-ons such as smoothies and fruits). You can also swap or change the meal options and the number of meals as well. You can specify the day that you will like your shipment to arrive!
You may want to pick a day that you will be home. I think one of the biggest complaints about Home Chef is with customers reporting receiving their box with ingredients that are already going bad or melted ice packs.
This can be avoided by ensuring that you picked a day that you will be home and have an idea of the time that FedEx usually delivers in your neighborhood. (Home Chef uses Fedex)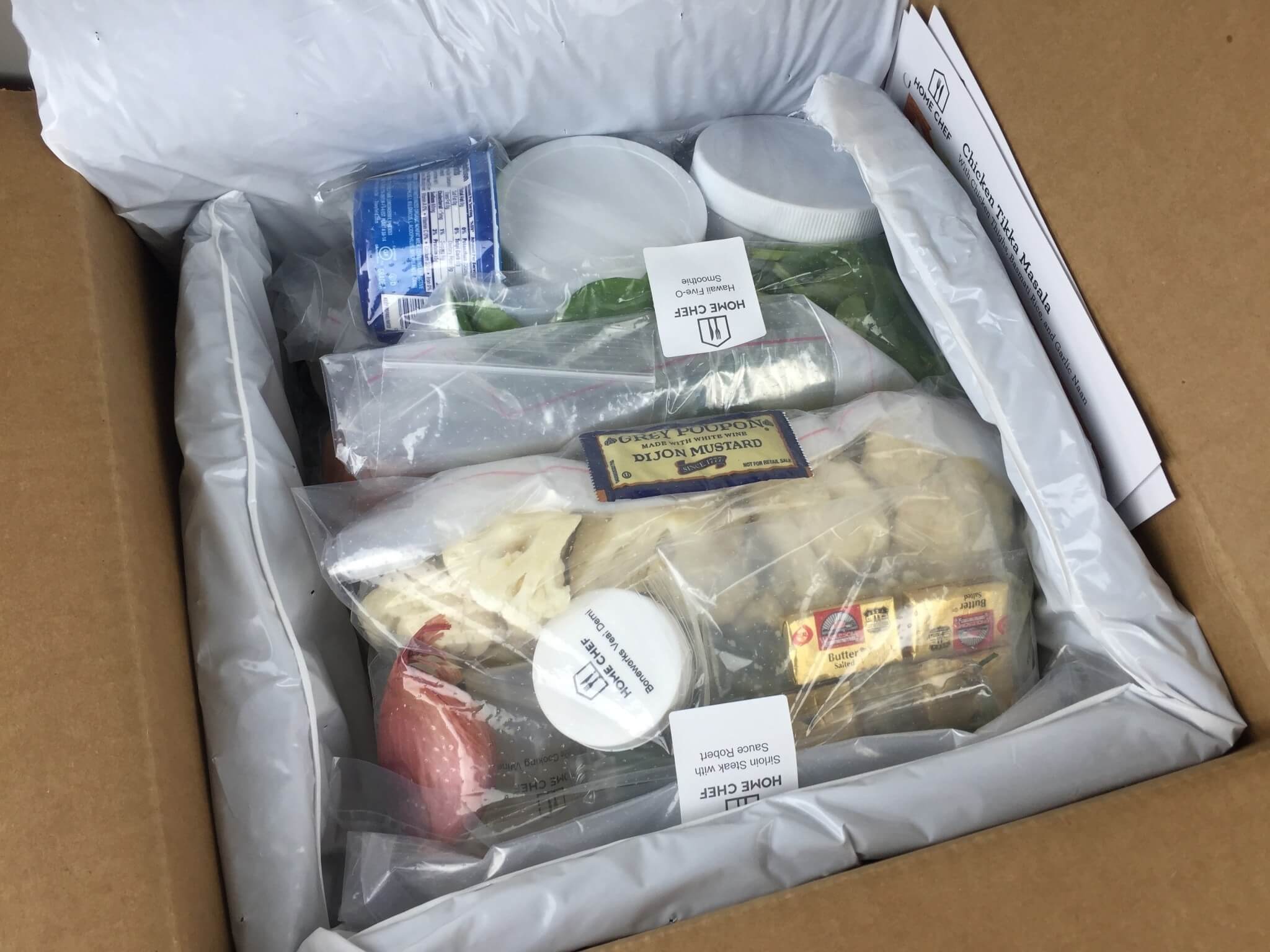 With the exception of your everyday household ingredients such as cooking oil, salt and pepper, the box will include everything that you need to make your meals, including spices. The ingredients, with the exception of the meats, will be sorted by recipes and packaged together in a plastic bag.
Reduce, reuse and recycle is a motto that they live by, proven by their eco-friendly packaging. The liquid items and the dry spices are packaged in reusable and resealable containers for storing and later use. The food is packed in either recyclable or biodegradable packages or containers. Even the cooling products are water-soluble cool gel packs.
Home Chef

 Reviews and Testimonials

The feedback from consumers who have tried this service varies from wildly enthusiastic to not that good. One woman who was happy with her purchase stated Home Chef had introduced her to family cooking again. It helped get her husband to try new dishes, too, so she was quite pleased.

A less positive review found the food products to be substandard. The ingredients were poorly packed and the produce rotten as a result. This customer had to go out and buy products to complete the dish. The one constant with many reviews was the value of the recipes provided by the company. The participants felt they were imaginative and easy to complete, despite some other obstacles.

A third reviewer claimed she received the same recipe two weeks in a row, which sort of defeated the purpose of using a meal delivery service. On top of that, the food was bland and not that exceptional. The best she could do for taste was two and three stars.

There were a number of complaints regarding the company's customer service practices, as well. Many stated they felt that Home Chef didn't really care whether their subscribers were happy with their meal kits or not. One consumer used the phrase "Complete lack of effort" when describing the overall experience with this company.

In their defense, Home Chef does appear to take feedback to heart. A representative from the company did respond to all the reviews, whether positive or negative.
The Pros and Cons of Home Chef
Pros
There are many pros to consider with Home Chef, but most have to do with the business model as opposed to the specific service. For example:
Home delivered meal kits
Easy to make recipes
Good variety of meal options
Serves both breakfast and dinner meals
Several different meal options to choose from: Over a dozen meals are offered each week.
Quick & Easy Cooking: 30 minutes or less preparation.
Easy to follow recipes with step-by-step instructions with clear pictures.
Clearly, this company wins points for having interesting meal offerings, too. For example, their menu has enticing selections such as:
Wood-fired BBQ Chicken Pizza
Chicken in Oregano-Tomato Cream

Tex-Mex

Turkey Taco Salad
The service allows its subscribers to plan up to five weeks in advance using their automatic delivery option. If your kitchen is missing a necessary tool, you can also order it right from the same website.
Cons
Home Chef takes a hit for providing less than fresh ingredients. It is a con listed in many of the customer reviews. Other known issues include:
Poor packaging
Bland recipes
No meal options for singles.
Less than helpful customer service
Home Chef has a marketing team that is right on top of things, but it is hard to tell how they utilize the feedback. The responses to negative reviews failed to offer any real solutions like a refund or discount for the next delivery – only a promise that they would try to do better.
Once implemented, the automatic delivery system seems to be difficult to deactivate, too, because you must time it just right. If you miss the deadline to cancel, you are stuck with another delivery. This goes in line with many complaints about poor customer service practices.
How To Purchase Home Chef
Home Chef is a subscription service, so it starts with enrollment – you can sign up at the official Home Chef website here. During sign up, you are asked some questions about what you like to eat.
For example, are you vegetarian and do you have any food allergies to consider? You have the option to pick a low-carb or a weight-conscious diet, too.
Once you have your basic food preferences down, the next step is to pick a plan. They go anywhere from two meals a week to six. On average, expect to pay at least 10 dollars a meal at their current pricing.
You also designate the number of people eating each meal – the minimum is two. Free shipping starts around 45 dollars per shipment. If your purchase doesn't add up to that, you pay a flat shipping fee.
You can also choose add-ons like:
Smoothies
Breakfast Meals
Seasonal Fruit baskets

They tack on between five and 10 dollars per serving. The add-ons are a great way to meet that 45 dollars free shipping standard if you're close. The cost of each shipment is automatically deducted from your card, but you can stop one if necessary.
To skip a shipment, just go online and access your delivery calendar, but do it fast. You must cancel by 12 PM CST on the Friday prior to the scheduled delivery.
Home Chef is just one of many meal delivery services available to food-loving consumers. Each one has a list of pros and cons to consider. This one seems to stand out for their creativity but not so much for their quality or customer service.
While other delivery models rely on cold gel packs and cardboard separators when shipping, Home Chef is making a more environmentally-friendly choice by using recycled cotton-enhanced textile fibers, which may explain some of the bad reviews, too.
What Do You Think?
Have you tried Home Chef? If so, we'd like to hear about your experience with this company. Give us your review. How did you like the food and did you have any problems with their shipping process?