Even for the best of us, exercising can be drudgery, and trying to summon the willpower to put on our jogging shoes, pick up the weights, or to use the elliptical can be a daunting task.
The hallmark of the Beachbody workouts is to decide and to commit, but some of us get lost in the day-to-day follow through on our commitment.
Shaun T's latest offering, CIZE, helps to alleviate all of that workout angst by keeping your mind so focused on learning how to dance that you lose track on the fact that you're getting an awesome workout.
The dance sequences were developed by a professional choreographer, Shaun T, and he breaks them down so that anybody can lean them. With the CIZE workout, you'll be getting a workout program that will help you tone your muscles as you dance your way into good shape.
Who Can do the

CIZE

Workout Program?
The CIZE program is easy enough for someone who has not worked out for some time and who is not in the best of shape. It is also great for people who:
Have trouble gaining the motivation to workout
Are interested in learning how to dance
Are bored or tired of doing the same workout routine
Want to have some fun while getting in shape
This program can be done by those who are young or old, in good shape, or who are just getting back into shape.
In addition, it is for those who know how to dance, and as it is also for those who have never danced before. This program is an appropriate workout regime for just about anybody.
What is Included in the

CIZE

workout?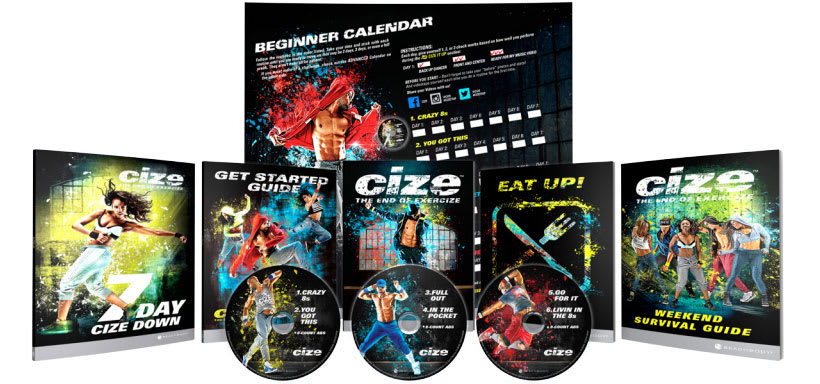 3 DVDs featuring 6 sizzling dance classes
A 30-Day Get Started Guide
Focused meal plan to help you get the best results
A fitness calendar for beginning and advanced users
An abs workout designed to sculpt your physique featuring music by LL Cool J
Around the clock online support
A survival guide on what you can eat and what you should avoid when out with friends
7-day menu that includes low-calorie, delicious meal plans, grocery list, tips for weight loss, and handy snack ideas
Your Six Dance Courses On 3 DVDs Include:
Crazy 8s: Set to Hands in the Air, recorded originally by Timbaland, you will turn up the heat with 35 minutes of scorching dance moves.
You Got This: Groove to Treasure recorded originally by Bruno Mars, and learn more dance steps.
Fill Out: This class turns up the intensity in order to torch those calories and to increase your fitness and stamina. You'll get sweaty to Lose My Breath, recorded originally by Destiny's Child.
In the Pocket: This program ratchets up the pace, and it will push you to the limit. Recorded originally by Ariana Grande, Problem at the End is your soundtrack to this phase of the workout regime.
Go For It: By now, you are able to throw down some serious moves, and this video will bring some more challenging elements into the mix. Designed to be fun and energetic, you will be working out to Pass That Dutch, originally recorded by Missy Elliot.
Living in the 8s: Featuring Chandelier by Sia, this song is the impetus for an emotional dance routine, and it provides a stunning finale to the series. You will have made some serious strides toward good health, and you will have picked up some enviable dance skills in the process.
Eat Up! Meal Guide
Working out and moving your body will only get you part of the way to your fitness and health goals. The rest will happen in the kitchen. Beachbody has prepared a convenient and easy guide to plan nutritious meals that will help you to see the results that you've always wanted.
You will learn about proper portion control, and you will be feeding your body so that you will not be hungry or feel deprived. You will be equipped for building the strong, fit body of a dancer.
Calendar for Beginners and Advanced Users
You can track your progress using the Calendar that comes with your CIZE exercise program. It will give you a sense of accomplishment, as you are able to work toward finishing the program each and every day.
You can rate your skills for the day in one of the three categories: that of a backup dancer, being ready to dance front and center, and the epitome of being ready for my own music video.
The Advanced calendar will guide you into choosing a workout sequence that will be more challenging and that will push you to more progress. You can also use the calendar for inspiration, as you look back at how far you have come.
***Cize Workout Calendar & Schedule (Beginner Version)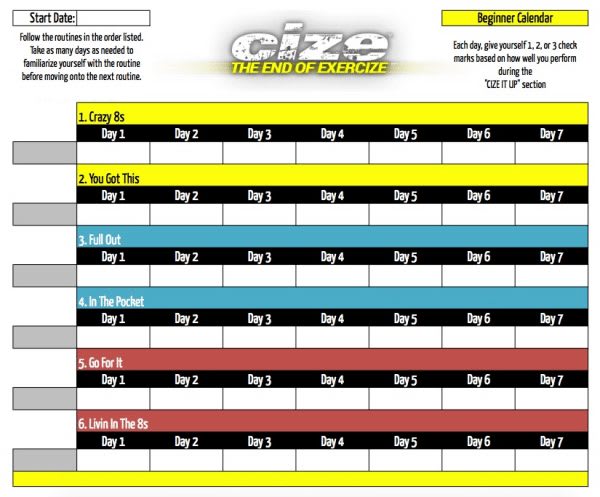 ***Cize Workout Calendar & Schedule (Advanced Version)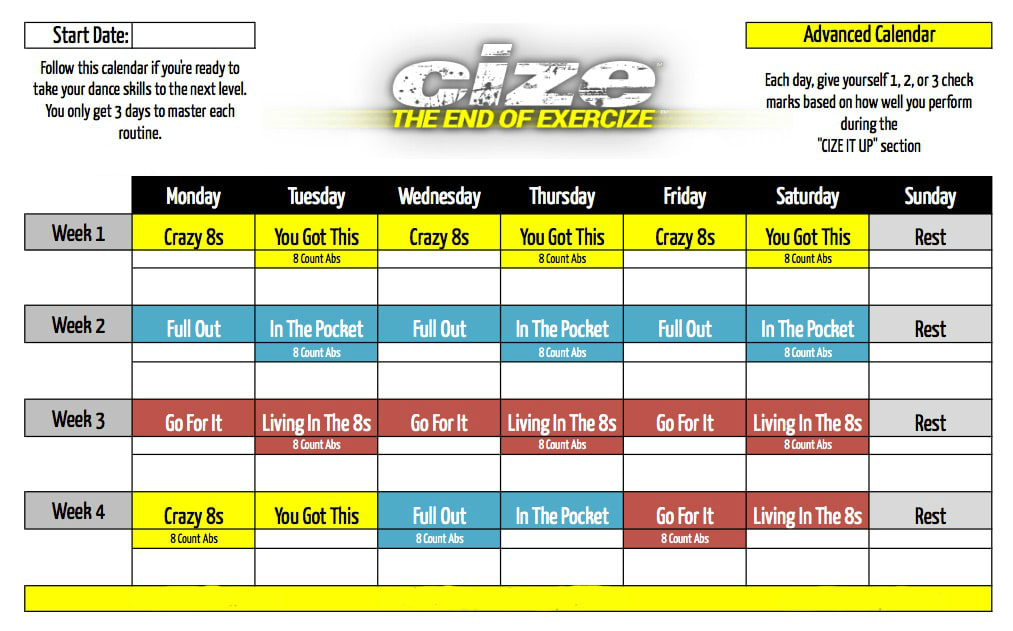 8 Count Abs Workout
Working out, learning to dance, and getting in shape is not complete without putting the sculpt on those abs. Your core health is integral to your overall health, and this workout is going to help you to get toned in your midsection.  You'll get your abs tightened while having fun and dancing to Headsprung by LL Cool J.
Around the Clock Online Support
Often, the motivation for doing a workout can wane, and get a word of encouragement when you need it can help you to keep going. CIZE Workout users are able to log on and interact with other users 24 hours a day and seven days a week. You can gain wisdom from those who are further along than you, and you can encourage those who are a step behind.
Weekend Survival Guide
No one can live in a bubble while doing an exercise routine, and you don't want to undo all your hard work while enjoying a night out on the town. Your survival guide will equip you with the tools you will need to pick the foods that will help you to stay on track with your eating plan. You can relax, unwind, and eat a meal without the guilt, and you can break out your new dance moves at the club with your friends.
7 Day CIZE Down 
If you want to see quick results, the 7 Day Cize Down is for you. This facet of the program can help give you that weight loss boost that you need to fit into those sexy jeans you're a few pounds away from wearing. This tool includes:
Low-calorie meal options
Meals that will suit a variety of tastes
Recipes to make delicious, familiar foods
7 days of planned-out meals
Dishes that are easily made
Grocery list to help you at the store
Easy substitutions
Helpful pointers on how to make the most of this program
Ease of Using Cize
How Long do the Workouts Last?
The workouts can be rather short, and you can adjust them to suit your needs. The first workout routine is just 8 minutes, so you can get the blood pumping and your heart rate up without feeling overwhelmed. You can repeat the routine until you've learned it, and the dances will become more challenging as you move through the program.
Will This be Challenging Enough?
The dance moves are designed to be easy enough for a beginner to learn while providing a great workout at the same time. Half of the routines could be considered easy with the other half falling into the category of being more challenging to complete. Physically, this will require you to push yourself, but it will not be of the intensity of Beachbody's other workouts P90X and Insanity.
Can This Program Be Repeated Indefinitely?
Probably not. Because you are learning dance steps, you likely will not want to repeat this program indefinitely, as you would certainly grow bored. It is, however, a program that you can keep in your workout library and return to over time, as it is fun, and it provides a great workout.
How Much Does Cize Cost?
Cize costs $59.85 plus $12.95 for shipping at www.beachbody.com, and you have two ways that you can pay. You can pay upfront all at once, or you can opt for the payment plan of $19.95 each month for 3 months.
One money-saving aspect of this program is that you do not need to purchase any special equipment. You can dance, for free, in the comfort and privacy of your living room.
*You may need to take into consideration any extra money that you may need to spend to buy groceries that are normally outside of your normal eating habits. Though this likely is not exorbitant, it should be counted as part of the cost.
Cize Reviews & Results
Can You Lose Weight Doing The Program?
The CIZE page on Beachbody.com/cize/reviews contains CIZE reviews and the following testimonials, although results may vary:
A 24-year-old female lost 100 pounds after 10 months
A 51-year-old female lost 62 pounds in 90 days
A 36-year-old male lost 50 pounds in 90 days
And Many More!
Cize has received good reviews – receiving a ranking of 4.4 out 5 from 190+ users! The average weight loss is about 20 lbs.
Overall, Cize is one of the highest-ranking workout programs in the market at the moment. However, there are some cons in which we will list in the section below.
Cize Pros and Cons
Pros
You can be at any fitness level and use this program
It is more cost-effective than other exercise routines
You don't need to go to the gym, and this will save you both time and money
It isn't just another mindless routine, so it shakes things up and relieves boredom
The workouts do not take up much time, so they are easy to fit into your schedule
Cons
You have to enjoy dancing or at least be willing to learn how to dance
It may take some time to learn all of the steps
The number of routines is limited
It will be hard for those who do not have the ability or the desire to learn how to dance
It will require patience to master the dance routine
Not balanced on both sides (One side of your body gets more attention and movement than the other)
How to Buy Cize Workout?
You can easily purchase CIZE at the official website at Beachbody.com/Cize. Beachbody also gives you the option of paying for the program in payments of $19.95 a month for three months.
Your Feedback?
We want to hear your thoughts about CIZE, including any questions, concerns, or comments you may have, and we can't wait to hear your testimonials, experiences and to see a CIZE review of your own.
Share it with us and our readers in the comments below!