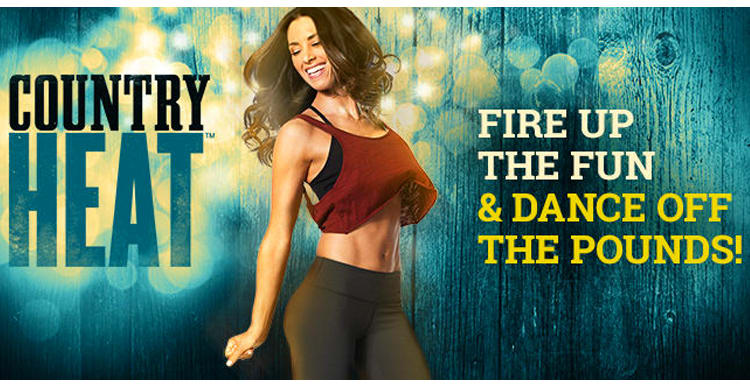 This new workout by Beachbody is the newest phase of the dance routine workout programs. Country Heat was created by Autumn Calabrese and the program is different from other dance workout programs in two distinct ways.
Country Heat employs country music as the mode to make you want to move and lose weight
Many of the moves used in the workout video routines incorporate steps that are similar to line dancing
Studies show that if you like your workout you are more likely to stick with it. Moreover, you will see results due to your consistency. Country Heat is designed to make you move and have you love how you move. Line dancing is a genre that engages your mental faculties in order to execute.
The makers of Country Heat have choreographed workouts that will be challenging enough to be effective. That is – you will not get bored with overly simplistic choreography. At the same time, the program is fun and easy to learn, you just have to apply yourself.
Continue reading this comprehensive Country Heat review so that you will be well-equipped to make a great decision for your healthy workout routine.
Is Country Heat For Me?
The answer to the question: "Is Country Heat For Me?" That depends, if you are looking for a high impact workout program, I recommend passing on Country Heat (Check out PiYo or 21 Day Fix). The thing to keep in mind is that this exercise program was designed to be unlike any exercise program you have ever encountered before. What you will find to be astounding is that you will not feel like you are working out.
You will not dread pressing play on your DVD machine. You will feel challenged by low-impact workouts but will be amazed as the pounds literally fly off of your frame.
For these reasons, Country Heat is for the following:
Mature persons who are over the age of 65
People who are looking to spice up their exercise regimen
People who may just be returning to an exercise regimen following a medical injury
People who are just beginning to do something about their fitness
People who love to learn hot and exciting dance steps and lose some weight along the way
People who are looking for a low-impact workout program
If I Order the Country Heat Program What Do I Get?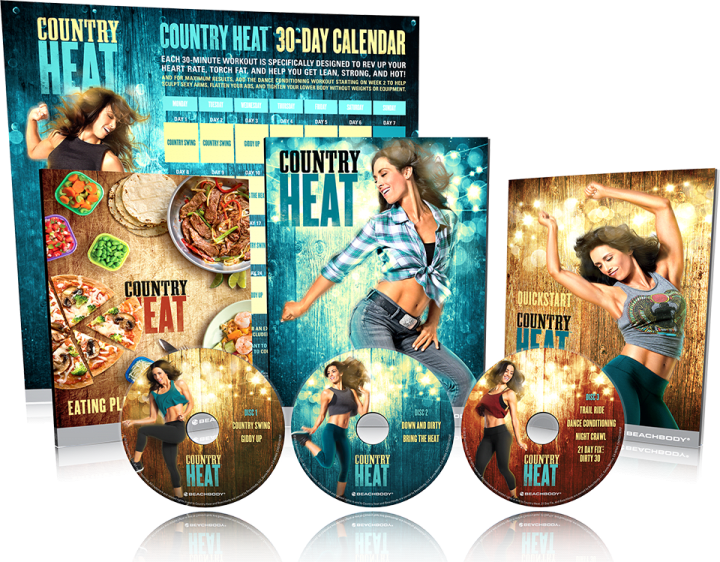 When you order the Country Heat program this is what you will receive:
Six, sizzling, low-impact Country Heat workouts on 3 DVD'S
An Eating Plan
A Quickstart guide
A 30-Day Calendar
A bonus workout – "NIght Crawl Line Dance Workout"
Free online support from a mega team of fitness experts who will encourage and support your weight loss goals. This free online support is available at ANY TIME – 24 hours a day 7 days per week.
1.  Six Workouts on 3 DVD's
This is the foundation of the program. Autumn is an outstanding fitness expert and choreographer that has put her time and talent into the Country Heat program. Autumn guarantees you will find the program to be a valuable tool for getting you to your fitness goal with fun and enthusiasm to boot.
She will guide you to success with her workout regimen which is designed to keep you engaged and losing weight. It is formatted in such a manner that all you have to do is look at your 30 Day calendar, which is included to determine what your daily workout agenda will be.
As stated all of these workouts are low-impact but a mega burst of energy.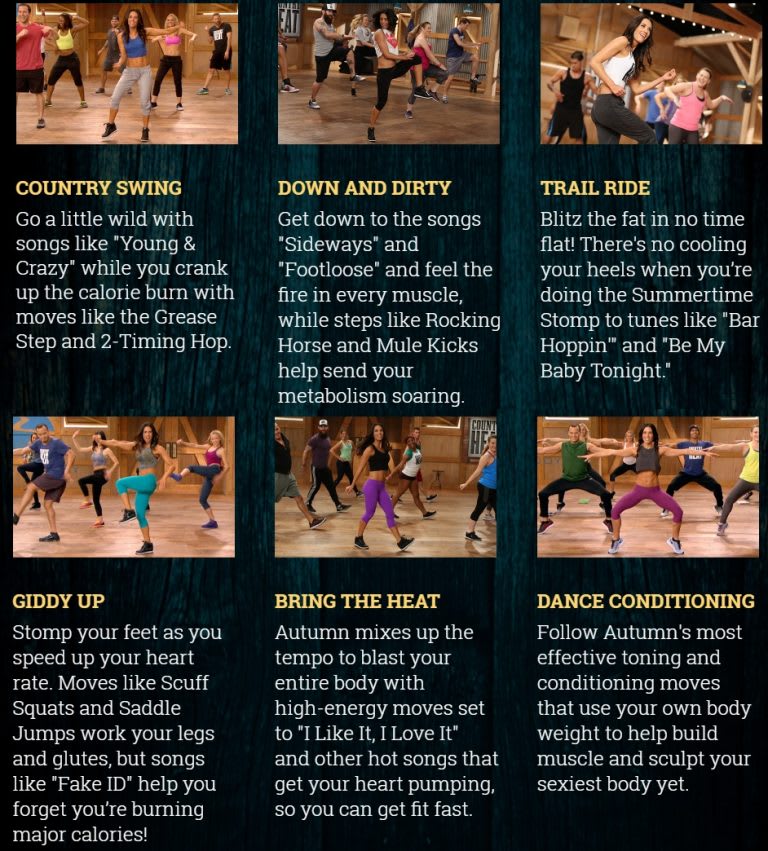 "Country Swingin" incorporates steps such as the "Grease Step" and the "Two-Timing Hop". One of the compilation tunes on this workout is "Young and Crazy".
"Down And Dirty" is the next workout you will encounter in the program. Some of the tunes to tighten with are "Footloose" and "Sideways". You will be sweating busting great moves like the "Rocking Horse" and "Mule Kicks".
When you switch on the "Trail Ride" workout routine, "You will be grooving" to awesome country music songs like "Bar Hoppin" and "Be My Baby Tonight" as you do expertly choreograph moves like the "Summertime Stomp".
The "Giddy Up" workout routine is not about horsing around but you will get a great glute and leg workout. The show-stopping country tune, "Fake ID" is just one of the songs that will cause your heart rate to speed up – in a healthy way of course – as you kick the "Scuff Squat" and "Saddle Jump" moves.
Uh-oh, it's time!  Autumn has you "Bring The Heat" in this workout of the same name. If you like the song " I Like It, I Love It" you are already two steps ahead of the curve as you utilize moves that are big on energy.
Lastly, the "Dance Conditioning" workout is a unique way to sculpt and tone your body by using the resistance of your own body weight.
These workouts are replete with step by step, slow and easy visual and audio instruction on how to execute the moves. so you never feel like you are out of step with the program. Modifications on the moves are included as well if you want to take it easy at first or prefer a less intense, modified workout.
2.  Eating Plan
Autumn gives you a delicious plan of action for the foods you consume while you manage your Country Heat weight loss program. As it works in conjunction with the workout routine you will find that you are not missing out on many of the foods you love. You will learn how to still lose weight while being able to still eat many of the foods you enjoy.
3.  Quick Start Program
This guide will give you the right momentum builders to start the Country Heat program right away and keep yourself in line with the program all the way through. Sometimes people get confused about a new regimen to the point that they do not feel comfortable and they quit before they begin.
The guide will let you know how to stay on target throughout the process.
4.  30-Day Country Heat Workout Calendar & Schedule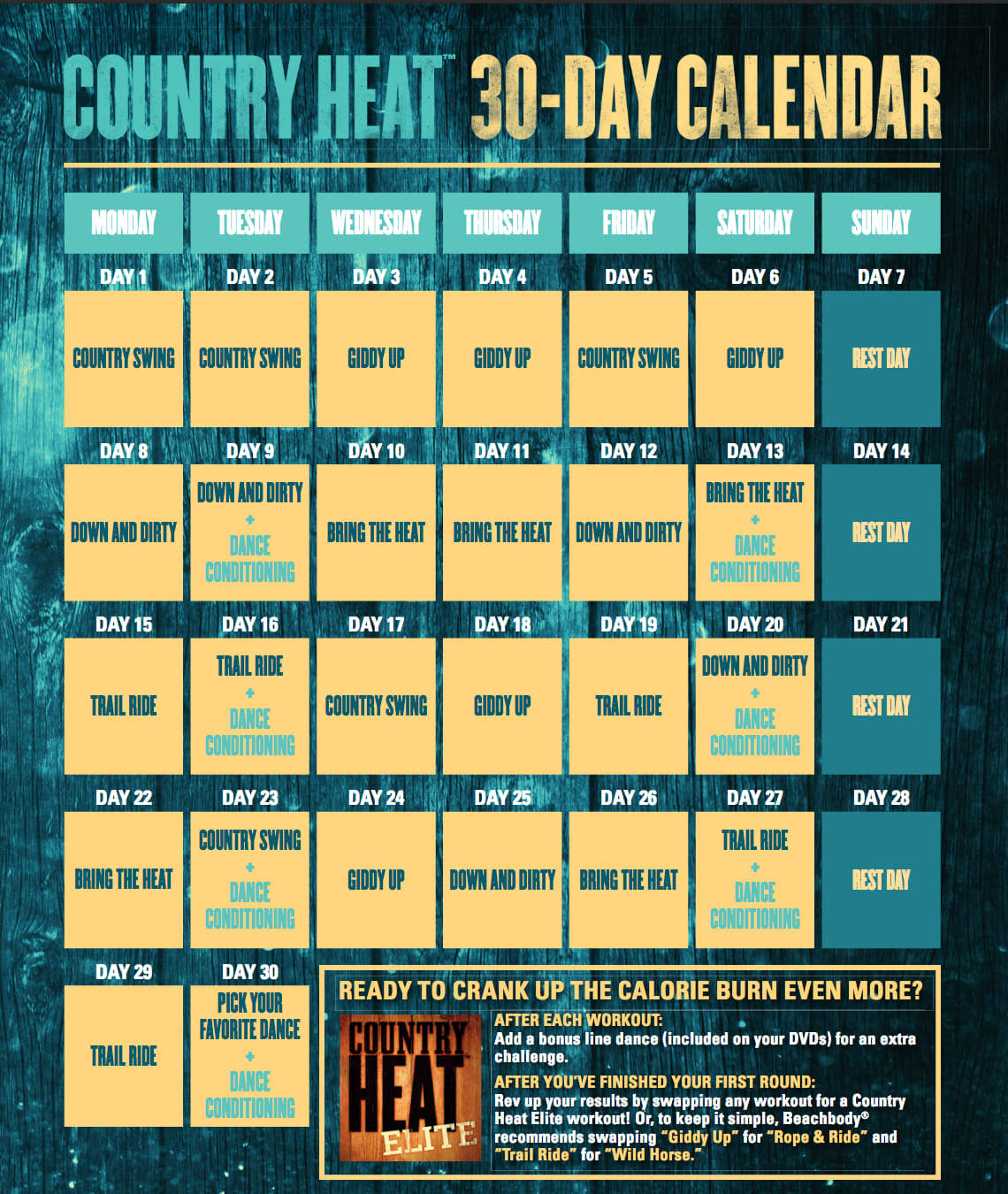 This calendar takes all of the guesswork out of your regimen. Each day you check the calendar to see exactly which routine should be done today. Autumn designed the calendar to keep you raring to go so that Country Heat does not become repetitive or ho-hum.
Before you know it you will be up to Day 30 having had a fun ride losing weight dancing to songs you love.
5. Night Crawl Line Dance Workout
Simply put someone fell in love with this workout – a country music singer who decided to write a special song for the program. Autumn designed a workout to fit the music and now you have this incredible bonus DVD. You will be amazed at the results you get out of this special collaboration.
6.  Free 24/7 Online Support
If you have ever tried to lose weight before you know how difficult it can be. This program has a built-in support system that you can tap into whenever you are feeling the need to talk about the program, have any questions or simply need advice on how to better utilize the regimen for your benefit. This added bonus comes in handy so you don't feel like you are alone on your fitness journey.
Country Heat: Ease of Use
Length of Workouts
Autumn outdid herself here. The longest workout you will find in the Country Heat program is 30 minutes. The producers took into account your busy schedule and a thing called life. The short but effective workouts make the program easy to follow and stick with.
Simplicity of Workouts
These routines are very easy to learn and simple to follow. They have been designed with modifiers if you need to begin the program slowly without too much exertion. In each routine, there is an instructor who will be doing a modified version of the moves.
The workouts also incorporate complete breakdowns of the moves so you can learn how to execute each one perfectly.
Are We Allowed to Press "Repeat"
If you decide you want to continue with the program past the 30-day point, by all means, press "repeat". Some of the testimonials were from people who did the program three times. You will not plateau if you continue to follow the eating plan and workout schedule.
You will continue to notice weight loss, and enjoy how the weight is coming off by continuing on the program.
The Bottom Line: How Much Does Country Heat Cost?
The only other purchase you will have to make after your Country Heat purchase is a new wardrobe! It's true but Country Heat will give you everything you need for a healthier you at two monthly payments of $19.95, (plus shipping and handling).
You can also choose the solo payment option.
That makes your total financial investment $39.90 plus shipping, handling and applicable sales tax depending on your location.
Country Heat also features a 30-day Money Back Guarantee. If you don't love the program you can send it back and your money will be returned less shipping and handling.
Your grocery bill may change depending upon your regular eating habits. However, since Country Heat is based on a portion control system of the foods you already enjoy, changes should be minimal.
County Heat Reviews & Results
Country Heat boasts that is great for both losing weight and toning muscle. Certain routines are geared for a better muscle sculpting result while all of the routines are designed for cardio output aka as weight loss.
This is what it all comes down to. Does Country Heat deliver a hot body?
A look at the Country Heat by Beachbody website shows the following:
A 45-year old woman lost 18 lbs in one month
A 50-year old woman lost 26 lbs with 90+ days in
Another women mention dropping 20 lbs but do not mention her age or the amount of time it took her to lose the weight.
Another Country Heat user lost 3-4 pounds with a few days left on the workout calendar. However, she did notice a big difference, she had definitely burned fat and gained muscle doing this workout "My whole body feels tighter".
Note: We cannot verify the authenticity of the claims made by customers on the Internet. Therefore, the only way to ensure the program works is to give it a try yourself. If it doesn't work for you, take advantage of Country Heat's 30-day money-back guarantee. Also, results will vary from person to person. Take into consideration the activities/exercises, calories/food, stress, etc will all affect individuals differently. 
Important: This workout seems to be all good with not many cons and all pros. The only drawback may be that it may be limited to those who want a high impact regimen. One very important thing to note about Country Heat is that it is really geared towards people who don't like working out, or who are just starting out so if you are one that is used to getting a hard workout in and sweating a lot (You may want to pass on Country Heat).
Overall, the country heat reviews we have researched are mainly positive. There were a few negative reviews which mainly involved users receiving defective DVDs an/or workouts being programmed in another language, etc.
That is why we highly recommend not purchasing Country Heat or any other workouts or Beachbody exercise DVDs through marketplaces such as eBay, Amazon, etc.
Always ordered through the official Beachbody website which ensures you are getting an authentic Country Heat Workout program and the support of Beachbody and so many other perks that this company offers.
Pros and Cons of 

County Heat
This program comes with both benefits and some disadvantages which include;
Pros
It is ideal for starters. The program can be used by anyone regardless of their age or body type
It is a low impact workout. There are no jarring moves like jumping, and the movements are natural and flowing
The workouts are quick. The maximum duration spent for each workout is 45 minutes
Increased body flexibility. Thanks to the yoga in the program, your body will have greater flexibility.
Modifiers – Great to use for those that haven't exercise for a while or possibly those with minor knee & lower back related issues or even individuals who may have suffered from a herniated disc in the neck.
If you are a fan of country music, you will definitely enjoy Country Heat! A wide selection of songs for all ages.
Cons
Unbalanced workouts. In a few videos, you will realize that the right side of the body gets more attention than the other.
Fast transitions. This makes it hard to keep up with the changes, and it gets more complicated for some workouts – even worse when there are no cues when transitioning.
For users that like getting a hard workout in or possibly looking for a high impact regimen, then Country Heat is not the best option due to the fact that is a low impact exercise program.
If you lack rhythm and have little to no dance experience you may struggle with Country Heat in the beginning but it will get better – just have to hang in there.
You never learn or build an actual dance routine. You will learn two steps, repeat them multiple times, and then move on to the next set of steps. However, you are still active, learning and dancing. Although it is not a big con, I will have still like to see some dance routines incorporated into Country Heat.
How to Buy Beachbody Country Heat Workout
It is recommendable to purchase Country Heat from the Beachbody official website
Cost of Country Heat base kit = $39.90
Cost of shipping and handling = $9.95. Express shipping is also $9.95 with Rush shipping being $19.90.
You have the option of purchasing Country Heat in one lump sum of $39.90 or being billed for 2 months at $19.95 for each month.
Your Feedback?
We will appreciate if you get back to us and let us know what you think about Country Heat. If you have used this program before, tell us if it was effective for you and if you loved it.
Share it with us and our readers in the comments below!