Garden of Life, a company that manufactures and sells Non-GMO, organic, raw whole food supplements, has a popular product they market as a nutritious meal replacement.
Their Organic Raw Organic Meal Replacement Powder is aimed at everyone: from professional athletes to weekend recreationists to stay-at-home parents, office employees, and students — whoever wants a healthy meal fast. It's loaded with superfoods, vitamins, and minerals.
Sounds awesome, right? The over 6,700 Amazon customer reviews about it since 2014 — Amazon's choice in the Meal Replacement Shakes Category. So, it's obvious many people have already put their forks and knives down and grabbed their cups.
But before everyone jumps on the hype train, let's examine the reviews and the product itself to find out whether it really is all that Garden of Life claims.
The Benefits, Ingredients, Minerals, and Vitamins
Convenience
Carrying plastic food bags or containers of healthy food like vegetables and yogurt in your handbags, briefcases, backpacks, or even bare hands day-to-day is a good idea, but too often, impractical. You are usually don't have the time to prepare it and we may not see a microwave or a stove all day. With Organic Raw Organic Meal Powder, you just need a few minutes to: pour water into a cup, mix the powder in, and… voila! You have a healthy meal.
Ingredients
Superfoods are nutrient-packed foods — rich in vitamins and minerals. The 44 superfoods in Organic Raw Plant-Based Protein Powder are organic grass juices, fruits and vegetables, and healthy fats.
Garden of Life's products is all Non-GMO, meaning they contain no genetically modified organisms. This is the kind of pure nutrition you get after enduring the time-consuming process of extracting the nutrients from vegetables and fruit with a juicer. Each serving contains less than a gram of sugar, is low in sodium (150mg per serving), fat (1g unsaturated), and carbs (8g). That sounds very healthy, indeed.
A secondary but important ingredient is the 1.5 billion CFU probiotics and enzymes. Per WebMD, "Probiotics work by balancing the levels of microorganisms in the intestines. They drive down the numbers of harmful bacteria. They also seem to boost the body's immune system."
 Garden Of Life Raw Organic Meal "Vanilla" Nutrition Label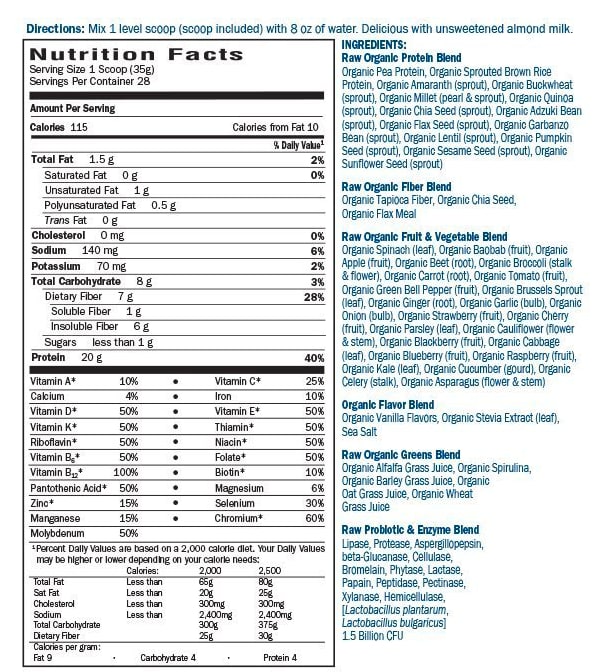 ***Click to enlarge to view full nutrition label
Nutrition
Here's a per-serving nutrition breakdown:
115 to 130 calories per serving (count varies by flavor)
44 superfoods
20 grams of protein
21 vitamins and minerals
5 grams of fiber
That's a ton of healthy ingredients for calorie count roughly equal to that of a small granola bar.
Protein
The quality of the protein is front and center in the Garden of Life product description: "clean Certified USDA Organic and Non-GMO Project Verified protein. " When taken after a resistance training workout, quickly digestible protein can aid in building lean muscle mass. But everyone benefits, not just athletes and bodybuilders.
Protein is listed as a mandatory nutrient by the Food and Drug Administration, and the 20g per serving amounts to a whopping 40% of the daily value for a 2,000 calorie diet for adults and children ages 4+.
Fiber and Vitamins
The high fiber content — 5 grams — amounts to 20% of the daily value for a 2,000 calorie diet. Fiber slows down digestion, helping to suppress appetite. The 7 vitamins and 14 minerals per serving range from 6% to 50% of daily values. They help the body function and boost the immune system and energy levels.
Garden of Life Meal Replacement Shake Key Facts
Flavors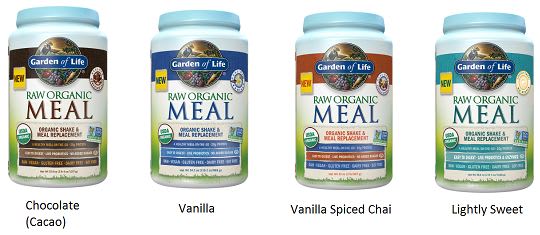 Below is a list of the four flavors and the calorie amount for each:
Vanilla Spiced Chai: 115 calories per serving
Chocolate Cacao: 120 calories per serving
Lightly Sweet: 130 calories per serving
Vanilla: 115 calories per serving
Taste Profile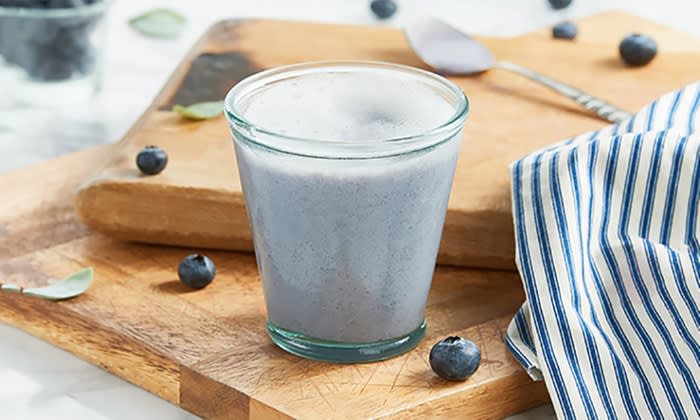 Do customers say it has a great taste? Garden of Life claims their shake is "delicious" and "yummy tasting." They don't mention anything about conducting taste tests. With 3+ years of reviews on record, we don't have to take their word. Many customers would disagree and many would agree. Here are the opinions of four verify customers on the tastes of various flavors:
"This tastes fine with only water, which is another great plus for this Chocolate RAW Meal powder."
"It has a nice vanilla flavor that actually tastes better than most "health shakes" I've tried before."
"The vanilla tastes like sweet peas mixed with milk and a little chalk thrown in for good measure. I had to psyche myself up to drink that every time. The chocolate flavoring makes it much more tolerable because it covers up the pea taste."
"I ordered the chocolate. First, by itself- 8oz of water and 1 scoop of the powder, it tasted HORRENDOUS."
Dozens of other reviews indicate a taste that is hard to get used to but eventually becomes tolerable, a taste they like a lot, and a bad taste they can't stand.
How does Garden of Life Meal Replacement mix?
Here are some customer opinions on mixing:
"After stirring and stirring, the powder whipped up nicely but was still gritty. "
"The texture is indeed gritty, but not in the same way that nearly every other powder is."
"It's gritty, it can be thick…"
Garden of Life doesn't claim the powder is easy to mix in the product description or on the label. The label simply directs customers to mix a scoop into 8 oz of water.
Possible Side Effects & Allergy Warnings:
Great news for all allergy sufferers! This shake has no gluten, soy, dairy, tree nuts, filler ingredients, artificial colors, flavors, sweeteners or preservatives. Everyone can try it. Per the labeling the powder is:
– gluten-free
– Star-K kosher
– vegan
– dairy free
– soy free
Special Considerations:
Unlike whey protein powders, this contains no dairy, gluten, or artificial flavors. One fine point on the no-soy claim: While it isn't an outright ingredient, there is Vitamin K in it, and Vitamin K is derived from fermented soy.
Foods high in fiber take longer to digest because fiber is an indigestible carbohydrate. The 5 grams of fiber per serving. Per WebMD: "Fiber is an indigestible carbohydrate. Abruptly increasing the amount of fiber you eat can cause gas, bloating, and constipation. Nutritionists recommend slowly increasing the fiber in your diet to allow your body time to adjust. "
Garden Of Life Meal Replacement Reviews & Testimonials
First off, Amazon verified purchases of Garden of Life give this product an overall 4-star rating out of 6,000+ customers. Reading through the customer reviews of Garden of Life, you will find most of the comments state that Garden of Life is one of the best meal replacements at keeping you full and is one of the healthiest shakes out there (Organic).
However, many do complain about the aftertaste with a few of the flavors – chocolate being the most subjective. Some of those reviewers said the taste wasn't a big deal and the aftertaste went away but some just couldn't bear it.
Overall, the reviews for Garden of Life shakes are positive for taste, texture, ingredients and price. Back to the taste profile, it seems the majority of reviewers who do love the taste had to mix it with almond milk, strawberries, frozen fruit or vegetables, etc. and some who mix it with just water does not like the taste. Since taste is subjective, it is normal to find a wide range of opinions about any shakes.
The reviews for consistency are inconsistent and can be associated with whether a blender is used or if the product is strictly mixed with a spoon. Personally, with all of the meal replacements shakes that we have reviewed – we have never fully got a good consistency when just mixing with a spoon. We always recommend to our readers to purchase a shakers bottle with a grid when using powder meal replacement shakes – you'll always get a good texture and consistency.
Pros & Cons
Pros:
High fiber content means your body will be cleansed if you take it consistently
The flavor seems to grow on you as you take it more
Ingredients benefits: delivers a high-protein punch per calorie (same as weighing but with more fiber, so your appetite is quelled longer)
High protein content a benefit for athletes, hikers, muscle-builders, etc.
High protein burns fat, engages metabolism and together with resistance training, builds muscle
One of the lowest prices for an organic meal replacement shake
Organic
Cons:
Texture is "sandy/grainy"
Taste is "chalky"
Some like the taste but many say it's just tolerable and a few say its bad
"Taste Takes some getting used to"
The high fiber content means you may feel bloated and gassy for the first few days you take it
SO many ppl. Mix it up with other ingredients it seems they are masking the flavor
If you have liver or kidney disease drinking this shake together with other high-protein foods for a high-protein could be harmful
How to Purchase Garden Meal Replacement Shakes
Garden of Life Meal Replacement Shakes can be purchased online from any of the online retailers offering the product, for instance, Amazon. Also, Garden of Life products is available in many retail stores across the united states. Check https://www/gardenoflife.com/content/store-locator/ for more information on where to buy the product.
Or you can simply visit Amazon.com/gardenoflife/shakes, Garden Of Life is a prefer & verify seller over on Amazon. You can rest assured that you are buying from a reputable retailer with a money back guarantee. You can also check out verified reviews of Garden of Life from verifying purchasers over at Amazon as well.

What Do You Think?
So, what do you think about Garden of Life Meal Replacement Shakes? Is there any other detail you think we should have included? Let us know by dropping your thoughts in the comment section below. You can also share your personal experiences of Garden of Life with us and our readers in the comment section below.