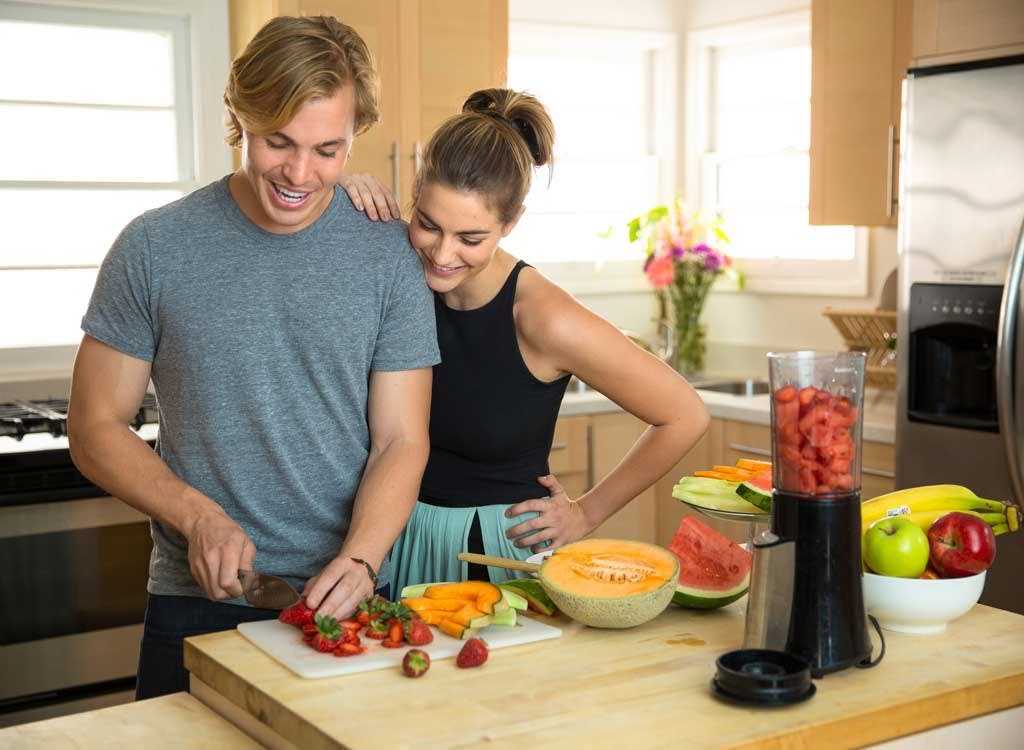 Nutrisystem is probably one of the most well-known names in weight loss and if you're thinking about getting on a diet plan – it's worth giving their programs a deeper dive. 
To help with your recon, we've put together a full review of the Nutrisystem for men weight loss program. We'll cover what it is, how it works, does it work, what's included, and what is it all going to cost. In this review of Nutrisystem's for men, we'll cover all of those details and more. 
*** Nutrisystem is offering our readers a special 50% Off promotion! Click here to get this limited time offer!

Do You Need a Diet Program Designed For Men?
But first, let's start with one important question – is it necessary to use a diet that's just for men?
There are some physiological differences between men and women that affect their bodies, and how they lose weight which means they can benefit from using a slightly different diet strategy. 
Specifically, testosterone plays a role in fat metabolism and helps men to burn fat more efficiently. Additionally, muscle tissue burns calories faster and typically men have more muscle mass than women. That increased muscle mass also means a man's basal metabolic rate is usually higher than women's. 
TL;DR – men tend to burn more calories than women, even when they aren't doing anything. 
So, if it seems like men have an advantage in the weight loss game, they kind of do. But that doesn't mean it's easy. Contrary to what memes may tell you, it takes more than cutting the creamer out of your coffee or having one less scoop of ice cream after dinner for a lot of men to shed significant pounds. 
Because men's nutritional needs are different than women's they need to approach weight loss differently. Specifically, when it comes to protein intake, which is essential for strength and vitality. 
A program created specifically for men is going to help achieve the right nutritional balance to work with a man's biology to help develop lean, strong bodies while fulfilling higher basic caloric needs. 
How Does

Nutrisystem

for Men Work?
Nutrisystem for Men is a diet delivery program that offers pre-planned, pre-portioned meals created around the Glycemic Index. Here's a breakdown of the fundamentals: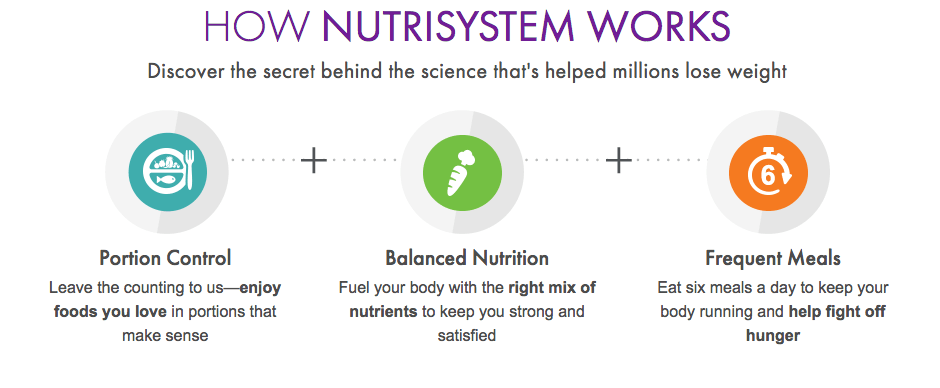 Prepared Meals: A 28-day supply of food is delivered every month ready-to-heat or ready-to-eat so there's very little prep involved. However, they will require some additional; grocery staples like milk, fruit, and veggies for completely well-rounded meals. 
Portion Control: One of the main features of Nutrisystem is portion control. Portions are scientifically calculated, to keep you feeling full and to provide enough energy to stay active throughout the day. The pre-measured meals eliminate the need for measuring and math. 
Meal Frequency: To help control hunger and snacking, Nutrisystem encourages smaller meals throughout the day. The program set participants up to eat 6 times a day without having to count calories. This feature goes hand-in-hand with portion control. Smaller meal sizes mean dieters can eat every 2-3 hours without worrying about overconsumption. 
Balanced Nutrition: Nutrisystem also incorporates balanced nutrition that helps dieters get the vitamins and minerals they need, without unhelpful calories. By offering healthier versions of favorites like cinnamon rolls, pizza, and burgers participants can eat foods they enjoy in a way that is still conducive to weight loss. 
When it comes to nutrition and ingredients, the glycemic index (GI) is central to the Nutrisystem for men program. The GI is primarily a measurement of how various carbohydrates impact your blood sugar. Nutrisystem's meal plan includes a menu that is high in lean protein and while minimizing foods in the high GI range and emphasizing "good" carbs, like veggies and whole grains that the body digests more slowly.
That probably all sounds great. But, let's be honest what you're here for is probably to answer one big question. 
Does Nutrisystem for Men Work?
The most common questions among those who are considering the Nutrisystem diet meal delivery service tend to be "does Nutrisystem for men work" or "Will I lose weight on Nutrisystem for men"?
According to Nutrisystem, it's possible to lose up to 18 pounds and 8 inches overall in the first month alone, with weekly average weight loss of about 1-2 pounds. 
That claim is based on a collaborative study that compared changes in body weight and body circumference measurements among Nutrisystem program users vs. participants following a self-directed diet (i.e. Dietary Approaches to Stop Hypertension, DASH) for 4 weeks. The study also evaluated continued changes in body weight and circumference measurements resulting from the Nutrisystem program over an additional 8-week period. 
In the study, the average weight loss came out to be 5.4 lbs in the first week with the average weight of participants being 207.3 lbs. And the average weight loss was 15.5 lbs. and 8 inches total, with inches lost from waist, hips, thighs, arms, and chest in the first month.
In addition to that study, research published in the Annals of Internal Medicine found that compared to a control group, who only received nutritional education and counseling, participants in the Nutrisystem program lost 3.8% more weight over 3 months.
And all of this data is great, but what you're probably wondering what real users think 
Are There Any Success Stories From Men That Have Tried Nutrisystem?
Nutrisystem For Men Reviews & Results
Studies are useful, but they always seem a little clinical. Fortunately, there are also stories of real men, who have had hit or exceeded their weight loss goals, that support those findings. 
For Instance, the Nutrisystem site chronicles experiences like these: 
Chris, a 35-year-old traveling sales rep, and father of three lost 52 pounds in 4 months

Brian, a former marine lost 45 pounds in under 6 months 

Mike, a husband, and father from Utah lost 55 pounds in 7 months.

Lydon, a Florida native, lost 60 pounds in 7 months
Each of these men has their own unique stories, but it's clear that what they all had in common was a commitment to losing weight and sticking to the Nutrisystem for men program. 
Ultimately, the Nutrisystem for men diet is ideal for people who are looking for convenience. Specifically, many users have cited pre-portioning, pre-planning, variety, frequency, and simplicity as keys to their success. There's minimal decision making and prep and the snacks help you keep you away from junk food. Plus, not having to count calories is a very popular feature, as is the variety of food which includes a lot more options than kale and smoothies. 
Finally, practically speaking, when you always come home to find fresh whole meals it helps minimize the chance of overeating with last-minute take-out. 
Naturally, the results for each individual will vary based on their starting weight and overall adherence to the program. But the common thread in these stories is that success takes determination and discipline.  While that's true of any diet, with Nutrisystem the first week is constructed to induce an initial "burst" of weight loss. Quick results can help motivate you to stick with it. 
Make sure to check out the Nutrisystem success stories page, it's full of users sharing their journeys, struggles, and personal stories – along with helpful tips.
Now, with all that said – it also helps to pick the right plan for you.
What Are The Nutrisystem for Men Plans Like?
The Nutrisystem for men program is categorized into four main diet plans. Here's an overview of the facts of each, and who they're best for.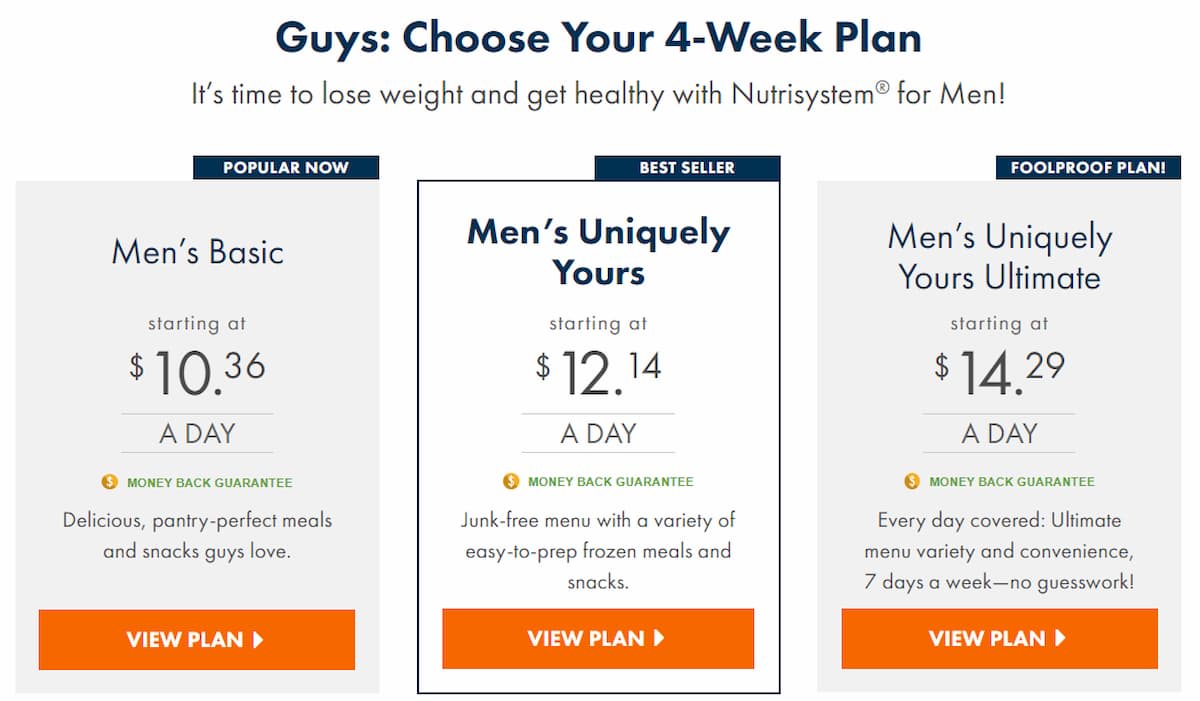 ***View & Compare Nutrisystem for Men Plans
Nutrisystem for Men Plan Breakdown
Men's Basic – Described as  "Delicious, pantry-perfect meals and snacks guys love."
Features: 
Week 1 meals structured to "reboot your body"

Easy-to-follow 4-week plan

5 Nutrisystem® breakfasts, lunches and dinners 

10 snacks each week (2 per day)

NuMi App Support

Phone and online support

Free shipping
Ideal for guys who are just looking for a little structure but also a chance to flex their culinary creativity. With food provided for 60% of the week, there will be a bit more shopping and self-cooking needed on the Basic plan. It's also best for those who don't need an expansive menu to choose from. (Read: not the best for picky eaters). Basic includes ready-to-go meals, but it does not include frozen meals. 
Customizing the Basic menu costs an additional $25 a month and with all "Basic Plans", counseling is an additional $19.99 per month (optional). 
Men's Uniquely Yours – Described as a "junk-free" menu with a variety of easy-to-prep frozen meals and snacks."
Features: 
Week 1 meals structured to "reboot your body"

Easy-to-follow 4-week plan

5 Nutrisystem® breakfasts, lunches and dinners 

10 snacks each week (2 per day)

NuMi App Support

Phone and online support

Free shipping
Unlimited phone, LiveChat, and/or email access to Nutrisystem counselors and dietitians who specialize in weight loss to answer questions and offer support through challenges.
Ideal for men who want a balance of structure and flexibility, but more freedom of food choice and professional consulting. 
Uniquely Yours includes everything in the basic plan PLUS, a broader menu variety that includes frozen meals and snacks in addition to ready-to-go meal choices. 
This plan is also triple-matched to your body type, goals, and food preferences to capitalize on your body's natural fat-burning mechanisms. 
Men's Uniquely Yours Ultimate – Described as "Every day covered: Ultimate menu variety and convenience,7 days a week"
Features all the menu variety of Uniquely Yours, PLUS:
7 Nutrisystem® breakfasts, lunches, dinners, and 14 snacks each week

Maximum convenience with the least amount of meal prep

Unlimited phone, LiveChat, and/or email access to Nutrisystem counselors and dietitians who specialize in weight loss to answer questions and offer support through challenges.
Ideal for guys who want to lose weight with maximum convenience, total support, and zero guesswork. All of the weekly meals and snacks covered and there is unlimited access to dieticians and coaching. Like Uniquely Yours, the Ultimate plan is triple-matched to leverage your body's natural fat-burning abilities. 
All of the main Nutrisystem for Men plans (Basic, Uniquely Your and Uniquely Yours Ultimate) are also available in versions created for diabetes along with a stand-alone specialty plan just for vegetarians. Vegetarians can also look forward to plenty of options with over 90 vegetarian-friendly foods and frozen meals to choose from. 

To get the details on other Nutrisystem plans check out all of our Nutrisystem reviews.
How to Customize Nutrisystem For Men
The reality is, no diet will work unless it is built to work with your specific profile that includes your body, your goals, your lifestyle, and your food preferences. 
We mentioned that Uniquely Yours and Uniquely Yours Ultimate plans both include Nutrisystem's "Triple Match" approach which is designed to "harness your body's natural fat-burning ability"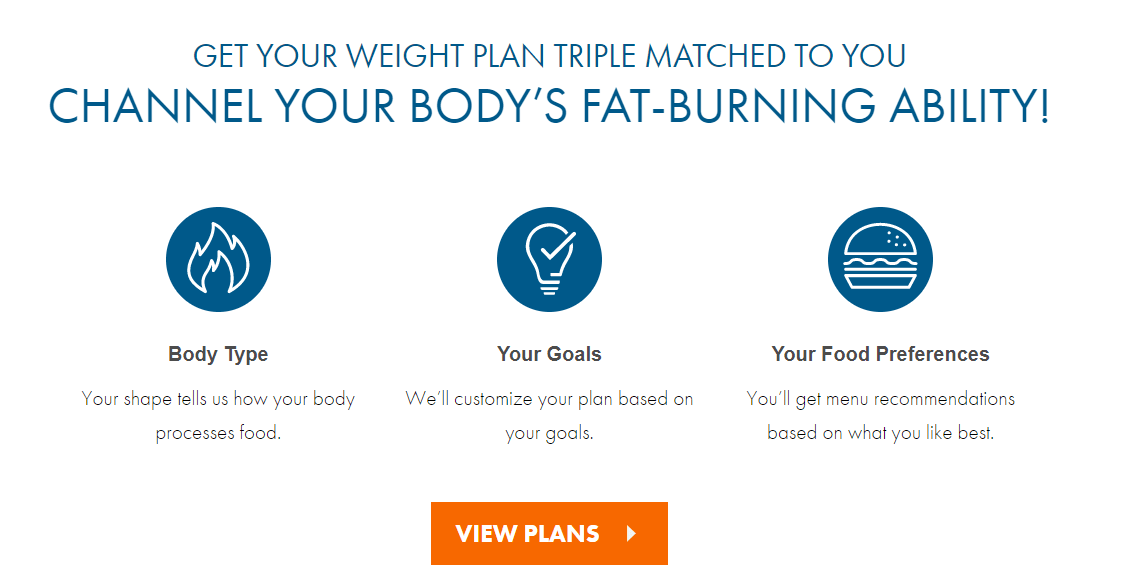 With those plans, you'll have the option to "Personalize It" in the "Menu Options"  and get a special "Uniquely Yours Plan" that's matched to you three ways:
Body Type: Your shape, and how you carry weight, helps inform how your body processes different types of food, which can impact your best menu options.
Goals: To customize the plan based on your personal weight-loss goals.
Food Preferences: For menu recommendations tailored to the foods you like best. When your deliveries are filled with your favorites you'll look forward to meals and enjoy what you're eating which can help you stay on track.
The triple-match approach requires only that you answer a few key questions to get your personalized meal plan, grocery guide, and recipes that align with all three points. It's important to note that the basic plan does not include the triple match option. 
For all plans – the first week of food is not customizable. 
For subsequent weeks, however, you can customize your meals by "My Choice: I'll Pick My Meals" during checkout. This is the best option if you have some sense of what you want. If you're new to the program and want to try a variety of things, choose the popular "Chef's Choice" that is a sampling of best-selling items like chicken parm, mac & cheese, and meatloaf. 
The menu customization is built to be user-friendly so you can easily add or swap dishes and adjust the number of food items.
Once you are done choosing all of your food items for breakfast for example – you'll see a green bar with the word "Ready" as shown below. You can review these options and make any necessary changes before checking out.
What To Expect Your First Month on Nutrisystem for Men
As we mentioned, the Nutrisystem for men diet is built to get you off to a strong start that will help keep you motivated moving forward. 
Your first package will arrive with something called the "One Week Reboot" kit. This kit is made up of specially selected Nutrisystem foods, shakes, and snacks that are curated specifically to help spur your initial weight loss.

Your first week of meals will include:
Chocolate Nutrisystem shakes

A specially selected Nutrisystem lunch

A Nutrisystem snack for the afternoon 

A specially selected Nutrisystem dinner. 
The seven shakes you'll receive are meant to serve as your morning snack during this first week, so make sure you set these aside. The shakes are chocolate flavored and formulated with protein and probiotics to diminish belly bloat and support digestive health. 
You'll discover that each item is color-coded, and it helps to familiarize yourself with the system early.

The color system is as follows: 
Orange labels = Breakfast

Blue Labels = Lunch

Red labels = Dinner

Purple Labels = Snacks
During your first week, it is advised that you take a hiatus from working out because your meal plan is a little more calorie restrictive in week one than the subsequent weeks. 
Pro Tip – Keep Reboot kit separate from the rest of your food and stick to the food in the kit during week one. You'll get more freedom after the first 7 days, but your first week's food is designed that way for a reason. 
Food for weeks 2-4 are also included in your first month's shipment, and are termed "Steady Weight Loss". To help you lose weight consistently in a healthy way, by burning fat instead of muscle to keep the weight off long-term. 
What Is The Food Like on Nutrisystem for Men?
The Nutrisystem menu includes over 160 items, many of which you'll find comfortingly familiar.  The major difference is that the frozen and ready-to-go meals and snacks are healthier, portion-controlled versions of foods you probably love like pizza, burgers, chili, pasta, meatballs, and more. 
Snacks and desserts include things like popcorn, cheese puffs, cookies, muffins, and even sundaes among several other options. 
The recipes for sides and flex meals consist of ingredients and grocery recommendations that are filled with low GI carbs, fiber, and protein to help keep you feeling full.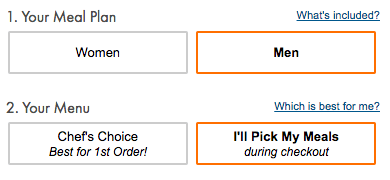 As we noted, when you check out you'll have the option to choose the "Chef's Choice" menu or make your own food choices. If you're in a hurry, indecisive or not a picky eater – "Chef's Choice" will save you some time and mix things up for you.
If you want a little more control over your menu, choose "My Choice" and if you're not sure what to pick, each food item has individual reviews and ratings, with most foods earning 3 – 4.5 stars. So, if you want to know what people think of the chicken bacon ranch pizza, you can find out. Other Nutrisystem users also offer helpful tips for grocery guide modifications they made to help inspire your approach. 
In Nutrisystem FAQS, you can see what type of food items will be sent out if you have chosen the Chef Choice menu. Take a look at a few sample items below!
Nutrisystem for Men Sample Menus
Below are some samples of the foods that men can choose as a part of their plan.
Breakfast Sample (Partial)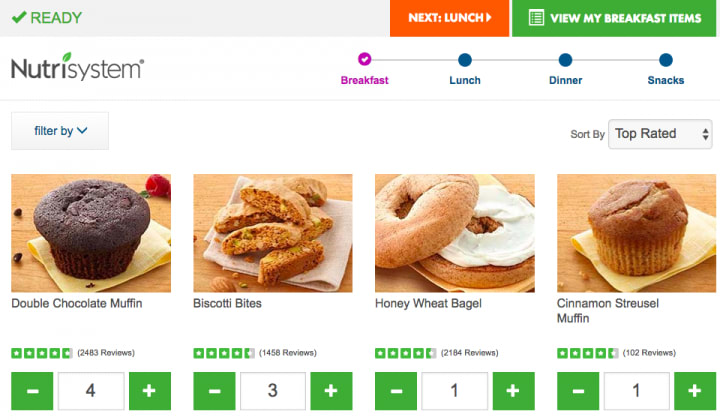 Nutrisystem for Men Menu Dinner Sample (Partial)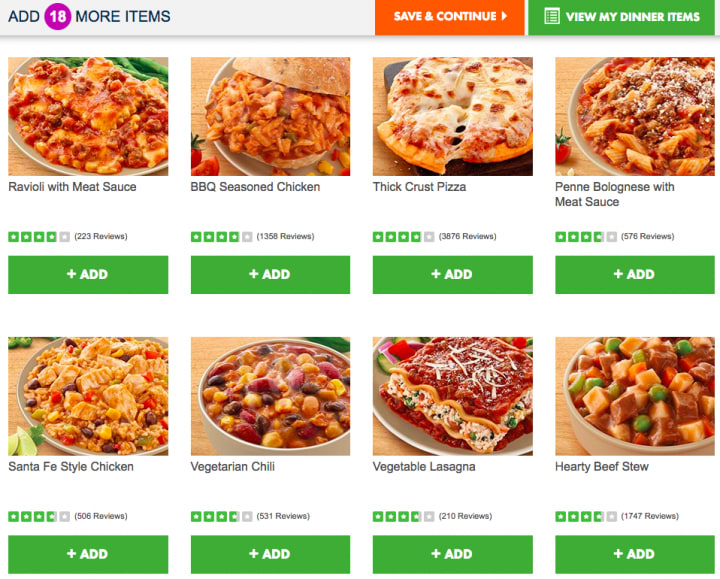 Will I Be Preparing & Cooking My Own Meals?

Nutrisystem allows meals or snacks that you prepare and cook for yourself called "Flex Meals". In most plans, you'll be incorporating two healthy breakfasts, lunches, dinners, and snacks each week. These flex meals are separated throughout the week (not to be done all on the same day.) 
While approximately 60% of your daily calorie needs are covered by pre-portioned meals and snacks, you'll also need to add things like fruit, vegetables, low-fat dairy, and some proteins. To help you get exactly what you need when you're at the store, Nutrisystem offers a grocery guide that groups all of your additional foods into three categories – PowerFuels, SmartCarbs, and Vegetables. Here are a few examples of each. 
PowerFuels – Lean meats, seafood, nuts, and low-fat milk

SmartCarbs – Fruit, hummus, brown rice, whole-wheat pasta, and bread

Vegetables – Pretty much all the veggies, except corn and peas which are SmartCarbs
Some grocery items are meant to complement your ready-to-eat meals while others are intended to help you prepare your own healthy flex meals. Not only are flex meals important to rounding out your weeks, but they are also a crucial part of learning how to choose, measure, and make healthy meals on your own to sustain weight loss as part of an overall lifestyle change. 
How Many Meals Will I Be Eating Daily With the Nutrisystem for Men Diet?
Men will be eating 6 times a day on the "Nutrisystem for Men" plan.
The 6 meals include breakfast, lunch, dinner, two snacks, and fruits/vegetables.
Note: You'll need to purchase your own fruits and vegetables.
What Kind of Support Will You Get With Nutrisystem for Men?
All plans come with access to the Free NuMi Weight Loss App. The app provides a place to track food, activity, and progress toward your goals. It also provides weight loss challenges, discounts, recipes, and expert tips. You'll also get unlimited support phone and online support from dieticians and counselors to get advice or help guide you through a rough patch. 
Do You Have To Work Out on Nutrisystem For Men?
Physical activity is important to a healthy overall lifestyle. But, it is not a requisite for losing weight on Nutrisystem for men. When it comes to dropping pounds, food trumps fitness and it's entirely possible to create the necessary calorie deficit to lose weight by changing your diet without working out. However, regular physical activity is important to a healthy lifestyle and many users find renewed energy after using the program and start exercising more. 
Nutrisystem encourages customers to engage in 150 minutes of moderately intense physical activity each week while working towards their weight loss goals, except for the first week. During week one participants are advised to avoid working out. 
The Pros and Cons of

Nutrisystem

 for Men
Every diet has it's pros and cons, and non of ur Nutrisystem for men reviews would be complete without this list. You've probably picked up on a lot of these already, but here's our list of the pros and cons of Nutrisystem for Men. 
Pros:
Super convenient – delivered food cuts down on cooking and thinking about what you should eat. 

Meals are portion-controlled, so there's no measuring or calorie counting

Huge variety of food, with over 160 different food choices 

All plans include opportunities to snack and eat dessert

Week One reboot provides fast initial results

Encourages safe, healthy long-term weight loss

Flex meals help users develop the necessary skills to sustain weight loss

Specialty diets for males and females, diabetics and vegetarians

Can accommodate all age ranges and body types from teenagers to elderly adults 

The NuMi App is an extremely helpful tracker for logging your food, drinks, activity, and weight loss progress.

Plans for men and women mean couples can do the program together
Cons:
Dining out should be limited

Smaller portion sizes can be an adjustment 

Many meals will require vegetable supplements to be satisfying

This is a personal diet, so you won't be eating the same foods your family is eating. 

Alcohol consumption of calorie-heavy beverages like wine, beer, and sugary cocktails is limited. 

Basic plans do not provide frozen meals and offer limited customization and support. 

No in-person support services (face-to-face) and dieters expected to ask for help when they need it.
What Does Nutrisystem for Men Cost?
Nutrisystem for Men costs will vary according to the selected plan, with billing every month. If you sign up for auto-delivery, it will significantly reduce your monthly cost and will include free FedEx shipping.
For each 28 day plan, Nutrisystem  for men diet plans costs are:
Basic (regular and diabetic) 

$509.07 for a one-time shipment (full retail value)

Uniquely Yours (regular and diabetic) –

$599.98 for a one-time shipment (full retail value)

Uniquely Yours Plus:(regular and diabetic) 

$709.07 for a one-time shipment (full retail value)

Vegetarian:

$599.98 for a one-time shipment (full retail value)
However – those prices go down drastically when you use auto-shipping and the 50% off offer available to our readers. 
Do We Recommend Nutrisystem for Men?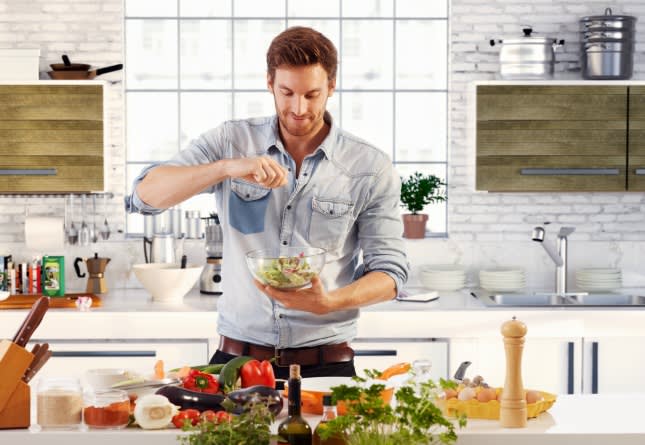 Now for the $10,000 question  – Yes, we believe that Nutrisystem has created an effective program that has been proven to work. Of course, your success will come down to your commitment and dedication to creating and sustaining a healthier lifestyle. But, Nutrisystem does provide you with all of the tools to get you started 
One of our favorite things about Nutrisystem is its longevity. Diets come and go in this space, some trends and fads spring up and die out almost as quickly (baby food diet, really?) but Nutrisystem has been going strong since it launched in 1972. It's pretty safe to assume that if they've been around for over 45 years, they know a thing or two about weight loss. 
It's also not hard to find people who have had their own Nutrisystem success story. Just by the numbers, there are 9,526 reviews on their site 88% of which are 3 stars or above and the overall average score is 4.1 stars. There are also tons of reviews for each food item, some have thousands – the Turkey Sausage & Egg Muffin has over 7,500 reviews and 4.5 stars. 
The downside is that Nutrisystem is on the high-end in terms of cost, though some of that is offset by reduced grocery shopping. If you've tried other diets and been unsuccessful, Nutrisystem can be well worth the investment.
Hopefully, Nutrisystem considers coming down in price to make it more affordable for everyone. However, Nutrisystem does offer deeply discounted coupons daily to offset the price. 
All in all, Nutrisystem has a great combination of science and tools to lead you through a successful weight loss journey.
Where to Buy Nutrisystem for Men:
Nutrisystem plans are all available on the official website at www.nutrisystem.com. You'll find detailed information on all of the available packages, prices, and menu items. It also features tips and articles about exercising and mentally preparing for weight loss.
Featured Nutrisystem for Men Coupons & Deals:

Nutrisystem for Men
Conclusion
Overall, Nutrisystem for men an excellent diet plan for men who want convenience and structure. With numerous pros like the expansive menu, Flex meals, the Numi App, and the scientifically formulated recipes, Nutrisystem provides the tools and resources that, when combined with commitment and dedication, can lead to a very successful weight loss journey.