When it comes to developing that beach body, there are different strategies that people try. Sure, everyone reaches for the weight room, tries to do a few sit-ups, and maybe run a few miles; however, without a plan, this isn't going to get people very far.
Furthermore, without doing these exercises the right way, people could get injured. It is important for people to stick to a plan if they want to see results.
Beachbody's Body Beast workout is one of the options for people who are looking to drop fat and build muscle.
This is one of the most intense workout plans on the market and while the workout will use many of the tools that people are familiar with, such as weights, it demands that people have an open mind and bring all of their motivation to the table as people move out of their comfort zone.
This intense workout schedule was built with the goal of results in mind and is not for the faint of heart.
There are different Body Beast reviews of the workout online; however, these results tend to focus on the results of individual people.
Different people are going to see different results depending on their starting point, dedication to the workout regimen, and ability to perform the exercises correctly.
The aim of this review will be to examine the details of the Body Beast workout regimen to find the facts that matter. Those who are still undecided about the Body Beast workout will find some important information here.
Who Should Use The Body Beast Workout?
The Body Beast workout program is not designed for people who have never worked out before. The true beginner is going to have a hard time staying on track because of the dynamic workout style of this program.
With such workouts as "supersets" and "giant sets," those who haven't lifted weights are going to struggle to keep up. Furthermore, people who don't lift weights correctly could hurt themselves.
On the other hand, this doesn't mean that someone has to be an expert to become engaged in the program. Without a doubt, people with just a little experience lifting weights will be able to keep up with the program with the right motivation.
There are a few categories of people that will benefit from this workout style:
Experienced fitness individuals looking to add body definition
People who are looking to build muscle
Individuals who are looking to get back into shape
People who are trying to develop a reliable fitness at home program
An Overview of Beachbody Body Beast Workout
The Body Beast workout is designed by a fitness professional named Sagi and uses dynamic fitness to drop fat and build muscle.
All of these workouts are designed with dynamic fitness in mind, meaning that fitness is going to be approached from a variety of angles with results in mind. The workouts are built with different sets, repetitions, resistance, and short periods of recovery in mind. The set training is far from the easiest route but it will help people melt away fat and build muscle bulk.
The workout schedule has people working out six days per week for around thirty minutes to an hour each day. The total plan lasts 90 days and includes a diet component as well.
What Comes With The Body Beast Workout?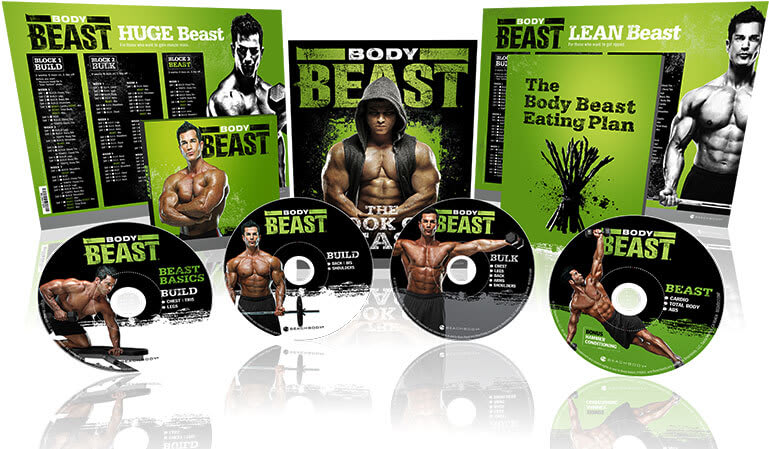 The Body Beast Workout includes:
1. 12 Dynamic Set Training Workout Videos Split on to 4 DVDs divided into 3 blocks
2. The Body Beast Eating Plan
3. Detailed Training Workout Calendar & Schedule
4. Sagi's Book of Beast
5. Body Beast Total Body
6. 24/7 Online Support
Split Into Three Blocks
The Body Beast training program is split into three different blocks.
Block 1: Block one will discuss four different workouts, focusing on the upper body, starting with relatively basic workouts that most people will be able to perform. This is a good starting point, especially for people who haven't lifted weights in a while and are looking to get back into shape. The four different workouts are going to focus on:
Chest
Triceps
Back
Biceps
Legs
Shoulders
The DVDs will motivate people to stay on track and on schedule with their workouts, starting a new block every month. The first month is called the "build" month.
Block 2: During the second month, the workouts are going to get more intense. The weight is going to increase with the idea of "bulking" in mind. People are going to notice that this workout is going to push them a little bit harder as they try to shred fat and build muscle
Block two is going to expand the workouts to five different workouts that will focus on:
Back
Chest
Shoulders
Arms
Legs
Individuals will be pushed during this block as they try to bulk up their muscle.
Block 3: The final month of the 90-day workout routine is called the "Beast" month. This is where the workout style earns the name Body Beast. The workout routine is going to expand on the workouts presented in the prior two months while adding two new workouts:
The added "beast" in front of the workout name should tell people everything they need to know. These are intense workouts designed to push people to their very limits to get the results that they're looking for.
What is the Eating Plan?
There's a reason why visits to the doctor and fitness professional always seem to combine diet and exercise. The Body Beast meal plan helps people design meals with the goal of losing fat and building muscle in mind.
The meal plan comes with customized meals, recipes built for bulk, and power shakes that will pack nutrients into a smaller snack. The idea behind the meal plan is to build muscle and shred fat.
The Body Beast Workout Calendar & Schedule 
The workout schedule comes with the workout DVDs and eating plan and breaks up the workout into a day by day planner.
Body Beast workout calendars will show people exactly what they're supposed to be doing on a daily basis, helping people to review what they did that day and get ready for the intense day of fitness that is ahead.
Note that the Body beast schedule lasts for 90 days and is broken down into three phases:
Build Phase
Bulk Phase
Beast Phase
There are two main workout calendars that come with Body Beast which are "Lean" and "Huge". Both meant for different goals.
Body Beast "Lean" Workout Calendar
First, Body Beast "Lean" workout calendar is meant for those that don't want to build too much muscle mass and looking to stay lean.
Note: You won't build too much muscle mass compared to the "Huge" body beast schedule below.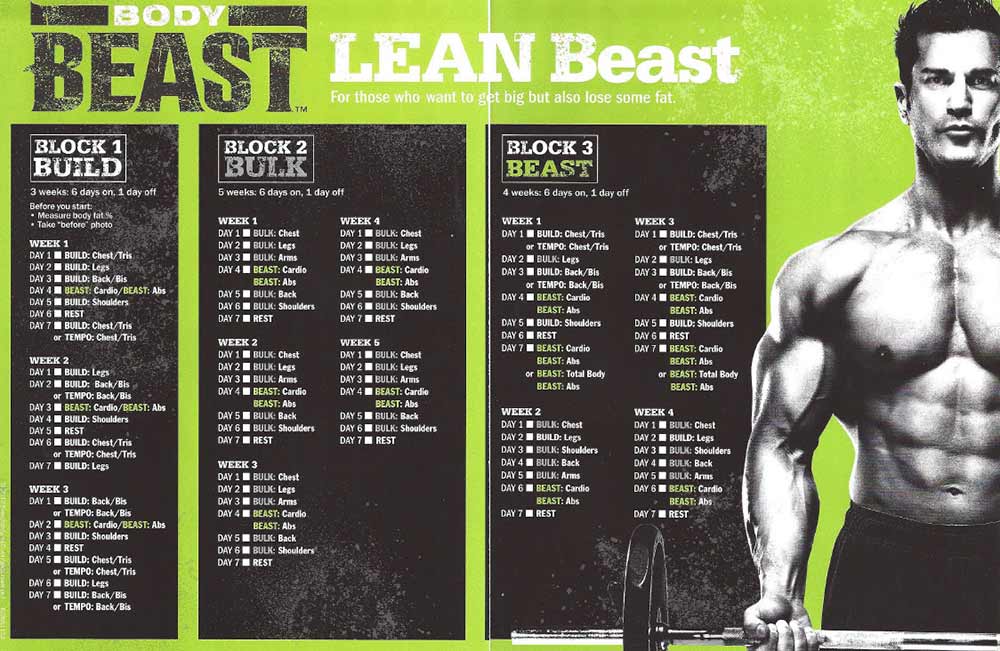 Body Beast "Huge" Workout Calendar
Second, is the Body Beast "Huge workout calendar. Which is for those looking to put on as much muscle mass as they possibly can within the 90-Day period.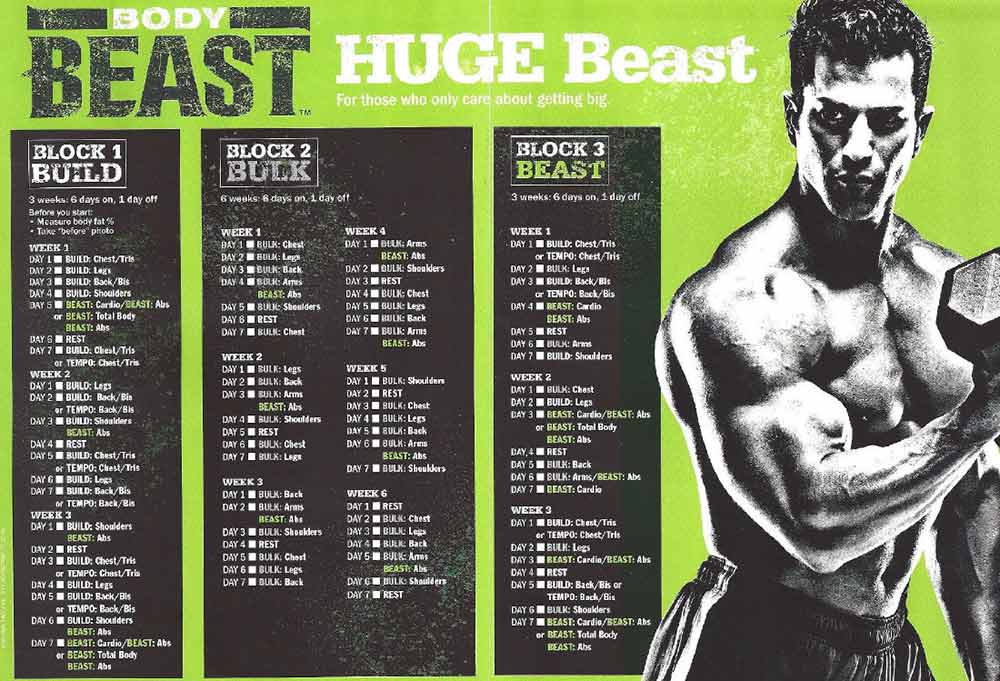 Note: You should choose & stick to a workout calendar based on your goals and the results you will like to see.
A few tips that I can share is to remember proper nutrition and to keep the correct form when performing the exercises. 
Sagi's Book of Secrets
This book comes with the set and includes some tips and helpful advice on how to get the most out of the Body Beast workout, focusing on burning fat and building muscle. In addition, the book also helps people to stay motivated who may otherwise struggle to stay on track.
The Extras
Body Beast Total Body: The Body Beast Total Body bonus DVD is an extra workout set that focuses on every muscle group in the body. While most people may split up their workout days into different muscle groups on every day of the week, the total body workout hits every muscle in around 38 minutes. For those who are truly looking to take their fitness to the next level, this workout will leave everyone exhausted, dripping in sweat, and satisfied with their workout.
24/7 Online Support: When people are working out at home to a video, they may have questions and struggle to find answers without a professional in the room. This online support system helps to remedy this problem. Those with questions about their workouts can speak to qualified fitness professionals online 24 hours per day, seven days per week. In addition, people have access to Sagi, the fitness expert.
How Convenient is the Body Beast Workout?
The Body Beast workout is easy to follow. The shortest workouts last around 30 minutes and the longer workouts may go for around an hour. People will need to have equipment in their homes, such as weights or a floor mat; however, those who are motivated enough to try this workout routine likely have this equipment at home.
The workouts are relatively simple but they are not for people who have never worked out before. They ramp up in intensity pretty quickly and people who lift weights incorrectly are at risk of hurting themselves. The online support system is a great way for people to ask questions about their workouts.
Can it Be Body Beast Repeated?
One of the benefits of the program is that is can be repeated. People can also alter the workouts slightly to increase the weight if they had good results on the first pass. Furthermore, people who get out of shape can return to the DVDs to get back in shape at a later date.
Beachbody Body Beast Reviews & Results
People who have used this program report losing weight, toning and bulking. The following testimonials can be found at www.beachbody.com/bodybeast/reviews:
Mark M. lost 48 pounds in 90 days using Body Beast
Shannon lost 24 pounds (Doesn't state how long it took her to lose that amount)
Scott a young guy in his early twenties gain 20 pounds of muscles during his duration of Body Beast.
And Many More!
Body Beast has received good reviews – receiving a ranking of 4.7 out 5 from 40+ verified users and buyers!
Overall, Body Beast is one of highest ranking muscle mass building workout programs in the market at the moment. However, there are some cons in which we will list in the section below.
Body Beast Pros and Cons
Pros:
The Workouts are Short & Effective: Because the workouts are as short as thirty minutes, it doesn't take long to get this workout in.
Money-Back Guarantee: It is always a plus to see a company with faith in their product.
Works All Muscles: Body Beast delivers! The plan works for all muscle groups.
One of the Best Workout Plan for Bulking: If you are looking to bulk, gain more muscle mass, strength building – then Body Beast will not disappoint! Probably one of the best workout programs for bulking on the market.
Free Body Beast Mobile App: Pictures and descriptions of every move. Also, includes a workout tracker that keeps a tab on your measurements and overall progress. And a calorie calculator based on your individual goals, recipes, workout history, and more.
Cons:
Requires Equipment: People are going to need to invest in basic fitness equipment such as weights and floor mats.
You may want to consider getting yourself an EZ curl bar as well plates (the plates are not only used for the bar but also for plate lifting exercises). I recommend heading over to Amazon.com/exercise/equipment and investing in the recommended equipment.
No Stretching Information: People need to remember to stretch before starting such an intense workout set or they could get injured.
Not Recommended for All: Those who haven't worked out before, need to learn how to lift properly before engaging in this DVD set. Also, if you're not into weights, you may want to consider another workout program.
Falls Short On Cardio: You may have to do some customization or modifying to get more Cardio or consider using Body Beast in conjunction with another workout program such as Insanity.
Better Warm-ups & Longer Cool Downs: Body Beast can use some tweaking when it comes to their warms ups and the cooldowns are somewhat too short.
How to Purchase Beachbody Body Beast Workout
You can purchase Body Beast at the official website at Beachbody.com/bodybeast. Beachbody also gives you the option of paying for the program in payments of $39.95 a month for three months or a one-time payment of $120 plus (12.95 for shipping and handling).
You won't have to dish out $120+ for Body Beast! Beachbody is offering our readers an exclusive sale on the Body Beast workout. You can purchase Body Beast today for less than $40 or two monthly payments of $19.95. See complete details at www.beachbody.com/bodybeast/40sale.
What Do You Think?
We'd love to hear about your experiences with Body Beast! Have you use the workout to lose weight, toned, bulk, etc. Did you find Body Beast to be effective?

Share it with us and our readers in the comments below!