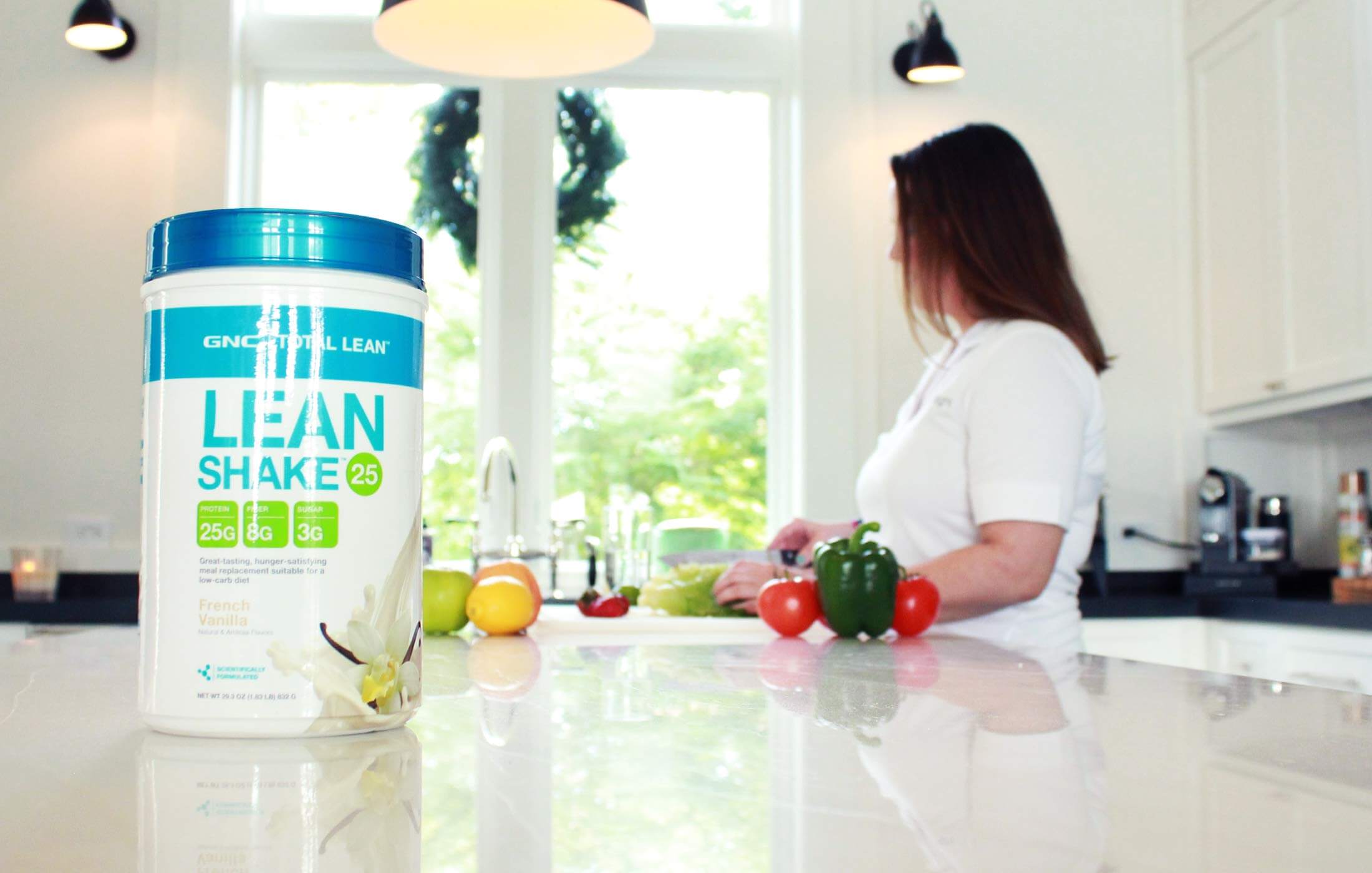 Exercise and wholesome nutrition go hand in hand; when working out, your body expends lots of resources that will need replenishing.
If you'd like to incorporate a nutritious meal into your exercise program, but you have endless commitments that leave you no time then GNC Total Lean Shake is what you need. You won't need to skip or even take those unhealthy snacks ever again.
What's GNC Total Lean Shake?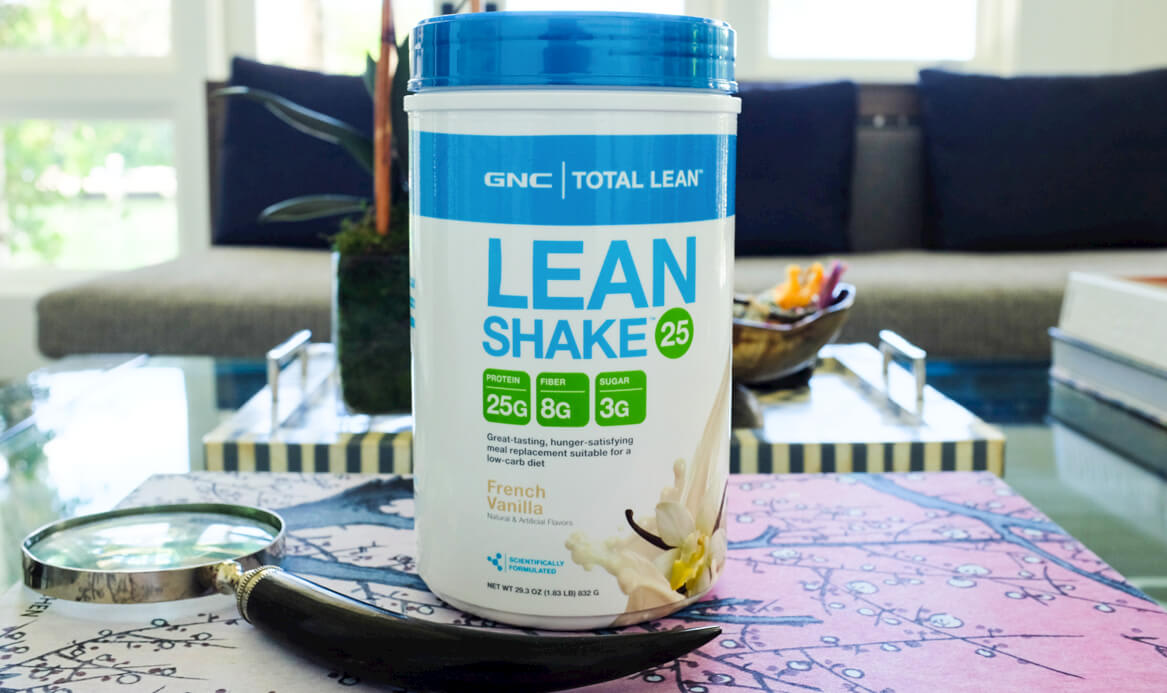 GNC total lean shake is a product designed for use as a replacement for meals for those that are busy, weight management, weight loss, etc. Similar to other meal replacement shakes, GNC Total Lean shakes should be taken one to two times a day (We highly recommend not going past 2 shakes a day).
Benefits of GNC Total Lean Shake
The meal contains many nutrients such as minerals, vitamins, and carbohydrates necessary for the shedding of fat and building of muscles.
It's a low fat and calories which makes it ideal for weight loss
Highly convenient especially for those who have tight schedules to prepare proper meals.
It's the surest way to help curb overeating, and unhealthy eat habits by keeping you always full thanks to the protein content, high fiber content that slows down the digestion creating bulk and the complex carbohydrates.
The meal replacement shake allows you to track your nutrient intake per day.
Rather than gather a vast array of fruits, vegetables, and whole grains, the meal brings them all under a single drink.
Main Ingredients in GNC Total Lean Shake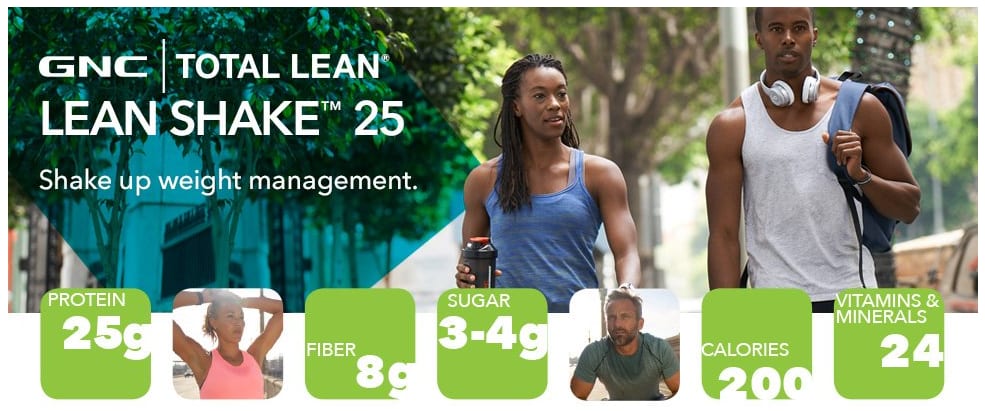 Each serving contains the following and it may vary according to the flavor; 
Calories – 180-200 (calories from fat 25)
Total fat- 2.5g (saturated fat 1.5g
Total carbohydrates – 15g
Dietary fiber – 9g
Soluble fiber – 7g
Sugars – 2g
Protein – 25g
Sodium – 260mg
Potassium – 50mg
Minerals & Vitamins
The meal offers over 20 vegan-friendly minerals and vitamins with each serving various important roles throughout the exercises and for the whole body at large. They are as follows;
Vitamin A
Vitamin c
Vitamin E
Thiamin
Riboflavin
Niacin
Vitamin B6
Folic Acid
Vitamin B-12
Biotin
Pantothenic
Phosphorus
Iodine
Magnesium
Calcium
Iron
Zinc
Selenium
Copper
Manganese
Chromium
Molybdenum
The Chromium contained in the meal replacement aids in the regulation of the blood sugar levels in the body.
Potassium helps in the development of healthy bones and muscles, keeps the blood sugar level in check and also regulate the blood sugar levels.
Calcium is essential for stronger bones and teeth promoting resilience and preventing injuries during the workouts.
Vitamin B-12 helps to improve the energy levels and the overall immune system essential for excellent workouts.
Riboflavin also elevates the energy levels granting you enough power to keep exercising.
GNC Total Lean Shake Flavors & Calories Count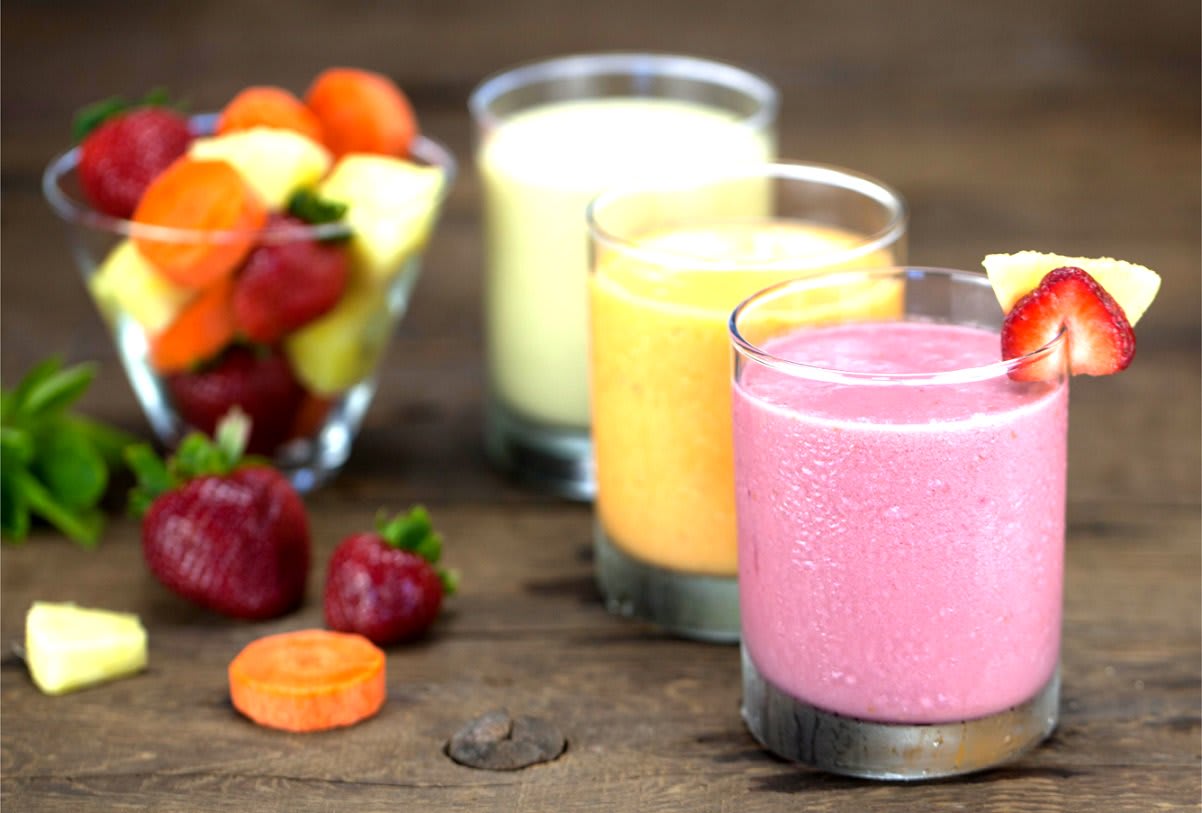 The shakes come in a variety of flavors to suit the different preferences of users. They include the following:
French Vanilla (Calories: 200)
Natural Vanilla (Calories: 200)
Natural Chocolate (Calories: 190)
Rich Chocolate (Calories: 200)
Cookies " Cream (Calories: 200)
Chocolate Peanut Butter (Calories: 200)
Banana (Calories: 200)
Mixed Berry (Calories: 200)
Orange Cream (Calories: 200)
Swiss Chocolate (Calories: 180)
Snickerdoodle (Calories: 200)
Vanilla Bean (Calories: 180)
GNC Total Lean Shake Nutrition Label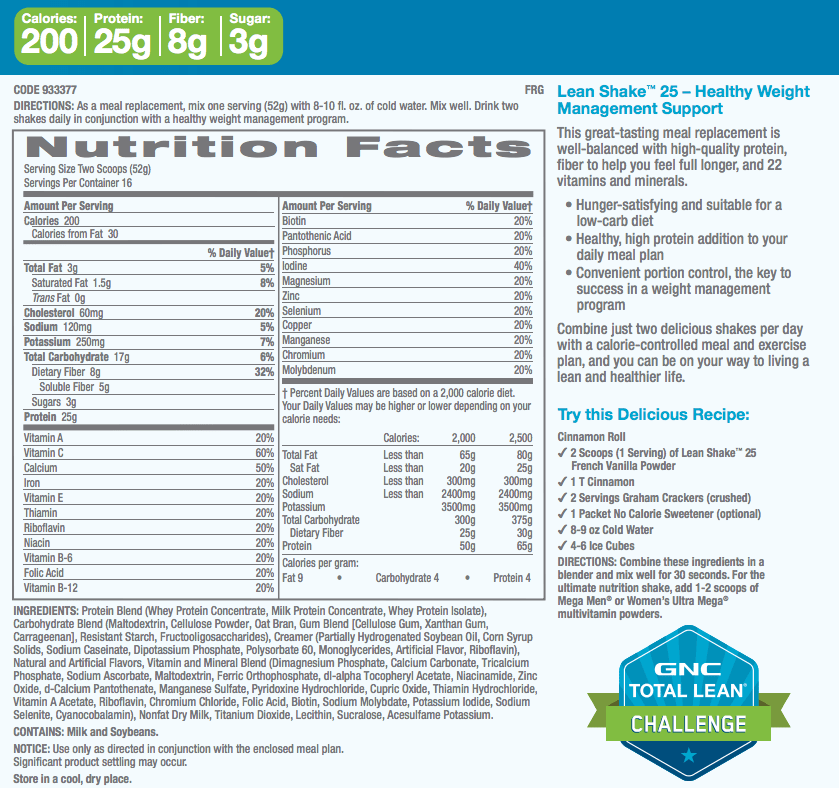 *** French Vanilla Nutrition Label – Click here to View & Compare All Flavors
How is the taste of total GNC Total Lean shake?
Most users find GNC Total Lean Shake pretty tasty. Besides, mixing is straightforward as all you need is to add water, milk or your favorite beverage and you're good to go.
How to Mix GNC Total Lean Shake
Just like other meal replacement shakes, you mix one or two scoops with the 8 ounces of water, milk or any other of your favorite beverage.
Initially, you can test your body's reaction to the formula by using a half to full scoop. Then you can increase to two scoops as you get used. Although the meal shake is quite tasty in its original form, it would taste even better if you mix it using a variety of fruits and vegetables. In that case, you'd require a blender for easy mixing or even a shaker with a grid to break up possible clumps and to make the shake smoother.
To be fair, GNC Lean Shake is relatively consistent. However, we noted a few complaints regarding the thickness. Some consumers think that the addition of a little more powder would make it thicker and creamier.
Also, there are those who complain of the chalk-like taste left in the mouth after the consumption of the meal replacement shake.
Consumers Satisfaction: Many users of GNC Total Lean Shake report feeling full, energetic, and their recovery rates improve.
Note: There are so many factors that affect how long your hunger will be curbed. This includes your current weight, your activity level, how many other calories you are using to supplement with, and how much water you are drinking. On average, you can expect one of these shakes to keep you full for two to four hours.
Having the right snacks can help to elongate the timeframe that you stay full. If you have high caloric needs, either due to a high body weight or a high energy or fitness level, you may need to supplement the shake with additional protein, such as a hard-boiled egg, nuts or an apple and peanut butter to ensure you are taking in enough calories so that your body does not go into starvation mode. Otherwise, supplement with fresh fruits and vegetables to help you stay full longer.
As pointed out, the meal shake contains 9g fiber, which plays a vital role appetite suppression keeping you full for longer.
Also, the meal shake contains whey protein isolate, which contains less saturated fats but plenty proteins compared to other proteins. High protein meals make one feel full for long durations as it requires much more energy to digest when compared to carbohydrates.
Besides, it has low cholesterol and fat meaning that the body will focus on burning the excess fat instead of the one that you've just ingested.
Possible Side Effects & Allergy Warnings
GNC Total Lean Shake comes with potential side effects mainly associated with the ingredients used and the drastic reduction of the calories. They include;
The odds are high that your body is used in high caloric diets. GNC Total Lean Shake is a low-calorie diet meaning that your body will most likely experience a sudden decrease in the calories content. As such, it may not be sufficient if you happen to have a demanding job or you have a routine workout program.
What results is tiredness and fatigue throughout the day? We recommend that you start by replacing only one meal per day and then increase the intake gradually as you adapt.
Also, diets low in calories will likely result in constipation or even diarrhea if it goes to the extremities.
Besides, the meal has high in fiber content which may cause cramping, dehydration and eventually constipation. It is advisable to increase your water intake to counter the impact of a drastic increase in fiber intake.
Rapid beating of the heart brought about by the vigorous exercises.
You may experience gas resulting from the breakdown of the food into energy for the body. The high fiber content in the meal is to blame for the gas and bloating. However, thanks to the easy-digestion enzymes in the meal, the degree of bloating is lowered immensely.
GNC Lean Shake contains artificial ingredients such as the sweetener dextrose, an unnatural sugar added to improve the taste. That sugar is not healthy as the goal here is to cut the burn fat and build muscles naturally.
Worth Noting
The product is plant-based and GMO-free, meaning that it doesn't contain products that have ingredients containing no genes that may pose risks to the human health.
It's gluten-free implying that it has no proteins contained in wheat and other related products associated with the digestive discomfort and intestinal damages.
The lean shake is marked as soy-free meaning that it doesn't contain any lactose and is a crucial source of essential fatty acids. What's more, it contains no cholesterol and has minimally saturated sugars.
GNC Total Lean Shake Reviews & Testimonials
One consumer claimed that after taking one of these shakes, it keeps him satiated for hours and hours.
Another customer claims that he has noted remarkable improvements including faster healing of muscles, less appetite for junk food, lost a couple of pounds, less stiffness in the morning and experiences very minimal or no bloating.
A few consumers complain about the horrible taste of the drink, particularly vanilla shake. It appears like the less preferred of all the flavors.
Another customer goes on to assert that while the taste isn't great, he has lost a few pounds using GNC Total Lean Shake.
GNC Total Lean Shakes Pros & Cons
Pros
It contains quick-to-absorb proteins. Compared to other hard food, the proteins in this meal shake gets digested fast.
Highly convenient as it doesn't require much preparation and can be carried for consumption on the go.
9 grams of protein and over 20+ minerals and vitamins
It's a perfect source of low-calorie foods
Comes with money-back guarantee
Prevents you from improper eating by keeping you full all the time.
Contains low sugar and calories which helps you shed weight while at the same time keeping your blood sugar levels manageable.
Variety of Flavors
Cons
Aftertaste and chalky taste with some of the flavors
Presence of artificial ingredients such as the sweetener dextrose
Some of the flavors do not taste like the actual flavor
May need to add more than the recommended scoops to get a good consistency and thickness.
How to Purchase GNC Total Lean Shake
GNC Total Lean Shake can be purchased on Amazon or you can stop by your local GNC.
On Amazon, one bottle will cost you up to 39.99 dollars depending on the flavor plus free shipping. The vanilla flavor is the cheapest and costs 34.99 dollars.
Total lean shake costs 39.99 dollars for both vanilla and chocolate flavors. Buying on Amazon.com/gnc-total-lean will save you a few bucks while you still enjoy the free shipping on your product.
What Do You Think
Have you utilized GNC Total Lean shakes to aid your weight loss and muscle building program? We'd be impressed to hear from you.
Please, share your opinions, recommendations or reviews with other readers in the comment section.