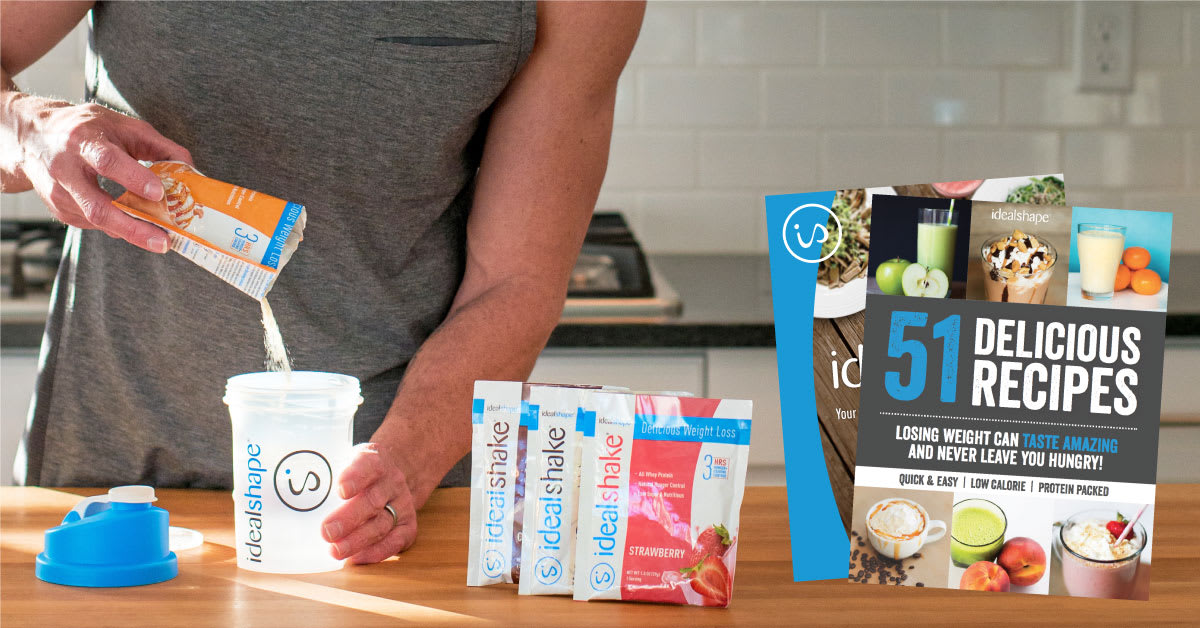 "Diet and exercise" – it sounds so simple. But as anyone who has tried to lose weight (or just be healthier in general) can tell you, actually dieting and exercising isn't easy. For many people, it is one of the greatest challenges of their life.
The key to success is having a plan and sticking to it. Exercise and dieting both require structure and dedication. Many people have structured their diet around the consumption of meal replacement shakes as a way to lose weight.
While there is no quick and easy solution, meal replacement shakes can be effective. Replacing a meal cuts calories, and shakes can be a good way of getting essential nutrients, minerals, and protein.
This review will focus on IdealShake, a meal replacement shake made by IdealShape LLC. Overall, the conclusion of this IdealShape review will be based on the shakes profile, satisfaction level, and their biggest pros and cons.
IdealShape Ingredients

IdealShake is loaded with vitamins, minerals, and protein. Unlike some competitors, this shake truly can serve as a healthy and satisfying meal replacement.
Each shake has nearly two dozen essential vitamins and minerals while having less than 110 calories and only 1-2 grams of sugar. The vegan shakes are sweetened with the natural sweetener STEVIA while the standard meal replacement shakes are sweetened with sucralose.
Each shake also has 11-12 grams of high-quality whey protein and 5 grams of fiber to maintain muscle development and satiate hunger. The full nutrition facts can be found here.
Vitamins and Minerals
The vitamins and minerals included in IdealShake are:
Sodium. Essential for the regulation of blood pressure and the nervous system.
Potassium. Aids muscle health and is good for blood pressure.
Vitamin A. Improves eyesight, skin health, the immune system, and boosts red blood cell production.
Calcium. Great for bones. Also helps the body with muscle movement and nerve communication.
Vitamin D. This vitamin supports the immune system and improves bone health.
Thiamin. Also known as Vitamin B, thiamin supports nerve, muscle, and heart function.
Niacin. Niacin boosts the body's production of healthy cholesterol.

Folate

. This mineral reduces feelings of tiredness and fatigue.
Biotin. An essential mineral for nail, skin, and hair health.
Phosphorus. Supports bone health.
Magnesium. Magnesium helps keep blood pressure normal and bones strong. It is also important because it regulates heart rhythms.
Copper. Increases energy and helps the body recover from damage. High copper intake is correlated with the prevention of premature aging.
Vitamin C. Adequate consumption of Vitamin C is essential for the immune system, and may also help to prevent cancer by reducing free radicals.
Iron. This mineral supports blood and nerve health and reduces feelings of tiredness and fatigue.
Vitamin E. A powerful antioxidant.
Riboflavin. Also known as B2, this vitamin is used to metabolize fats, carbohydrates and protein.
Vitamin B6. Used to break down and digest protein.
Vitamin B12. Plays a key role in the functioning of the brain and nervous system.

Pantothenic

Acid. This vitamin, also called B5, has long been used to treat a variety of diseases.
Zinc. Supports the immune system.
Chloride. Chloride is essential for digestive health.
Slendesta

®

These shakes are not only nourishing, but they actually contain a proprietary hunger-blocking blend that helps to curb users' appetites for up to 3 hours as well. The key to this blend is a patented potato protein called Slendesta. This weight-loss ingredient is extracted from potato skins.

It works by causing the release of a natural hormone called Cholecystokinin, which the human body uses to digest protein and fat after a meal. When this hormone is present, a person won't feel hungry because they will feel like they've just eaten.

According to IdealShape, "there is a significant body of evidence supporting Slendesta's weight-loss efficacy." However, a study by the European Food Safety Authority concluded that "a cause and effect relationship has not been established between the consumption of Slendesta® Potato Extract and reduction of body weight." The scientific evidence regarding Slendesta aside, many have successfully lost weight while using this product.
IdealShape Flavors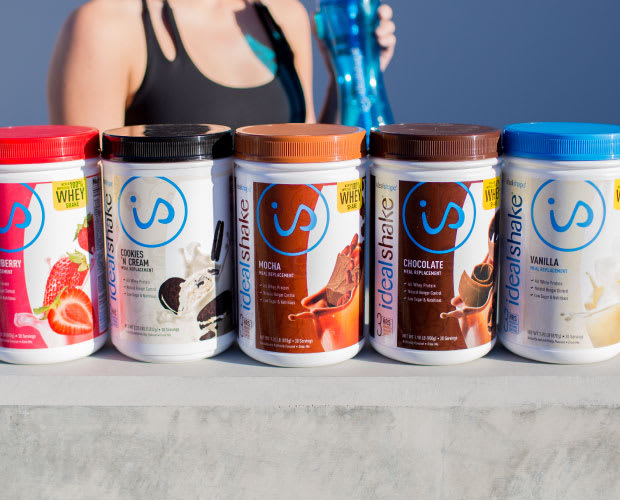 IdealShake comes in fifteen flavors: *** Click Here to Read Full Nutrition Facts
Chocolate (100 Calories)
Vanilla (100 Calories)
Strawberry (100 Calories)
Mocha (100 Calories)
Chocolate Peanut Butter (100 Calories)
Cookies and Cream (100 Calories)
Salted Carmel (100 Calories)
Chocolate Cream Pie (100 Calories)
Orange Cream (100 Calories)
Cinnamon Bun (110 Calories)
Mint Chocolate Chip (100 Calories)
Key Lime Pie (100 Calories)
Egg Nog (100 Calories: Newest Flavor)
Banana Cream Pie (100 Calories: Newest Flavor)
Chocolate Coconut (100 Calories: Newest Flavor)
*Note: IdealShape flavors mention above may not all be available due to the demand and availability. We update this section when new flavors are announced. 
IdealShake Flavor Rankings
These rankings are based on our opinion and taste buds, of course. You personally may enjoy or prefer other flavors over the others. It all boils down to preference.
Note: Our taste test of IdealShakes was done with water.
I was surprised at how good IdealShakes tasted with water. There were specific flavors that stood out from the rest but overall they were all good.
IdealShake Reviews:
Chocolate: I first tasted chocolate! Now, everyone will tell you that I am not a fan of chocolate shakes, even as a kid I didn't like or drink chocolate milk. However, when I first tasted IdealShake Chocolate, it was delicious and I end up drinking half of the shake during testing. Overall, the chocolate flavor was my favorite and it is the best flavor mix with just water.
Chocolate Peanut Butter: Chocolate Peanut Butter is another flavor from IdealShape. It really does taste like chocolate peanut butter cups. However, one con that I had with this flavor was the aftertaste –  It was strong, like pure cocoa! Now, I will assume that the taste will be much better with almond milk or just regular milk in general. Overall, IdealShape did a great job with this flavor.
Salted Caramel: When I heard about the flavor "Salted Caramel", my stomach starts to turn immediately. However, I was surprised at the taste; it was good but the not best. It wasn't overwhelming though – it was just right. There was nothing else IdealShape could have done to make this shake better. Will I drink it again? Probably not! Once again, it's all about preference. Overall, Salted Caramel is good and for those that love caramel will probably love this flavor.
Orange Cream: IdealShape did a fantastic job with the "Orange Cream" flavor, it truly tastes like an orange cream popsicle. If it tastes this good with just water, I could only imagine how it will taste with milk.
Vanilla: Vanilla was one of my favorites, it was very good and true to flavor. Probably one of the most versatile flavors there is. When I tried this flavor, it tasted like vanilla ice cream, literally. I started thinking about the possibilities of adding fruits and other ingredients to make this shake even better. So, overall, IdealShape did a great job with this flavor.
Strawberry: In general, Strawberry is probably my favorite flavor shake but not with IdealShape. I couldn't really taste the strawberries and it was very light in color compared to other strawberry shakes. It's not bad whatsoever and I will definitely try this flavor again.
Cookies 'N Cream: Cookies 'N Cream was really good and taste just like an oreo shake. It may not be as versatile as other flavors but the taste profile was good. I also love the fact that you could actually see bits of cookie crumbs.
Mocha: Mocha was okay as far as taste. The consistency is what caught my attention; it is probably the best consistency flavor out of all IdealShakes. I am not a big coffee drinker, so Mocha really didn't hit home with me. Now if you enjoy coffee, you may actually enjoy Mocha.
Other flavors included Cinnamon Bun, Mint Chocolate Chip & Key Lime Pie. We haven't tested these flavors yet but plan to do so very soon. If you would like to share your experience with these flavors or any other, please feel free to do so in the comments section below.
Overall, IdealShakes are very good and are one of the best-tasting meal replacement shakes in the industry. Here are the rankings of the flavors that we have tested.
Chocolate – 9.5/10
Vanilla – 9.3/10
Cookies 'N Cream – 8.4/10
Orange Cream – 8.2/10
Strawberry – 8/10
Chocolate Peanut Butter – 7/10
Chocolate Cream Pie – 7/10
Salted Caramel – 6.9/10
Mocha – 6.7/10
Cinnamon Bun – N/A
Mint Chocolate Chip – N/A
Key Lime Pie – N/A
Egg Nog – N/A
Banana Cream Pie – N/A
Chocolate Coconut – N/A
Taste and Consistency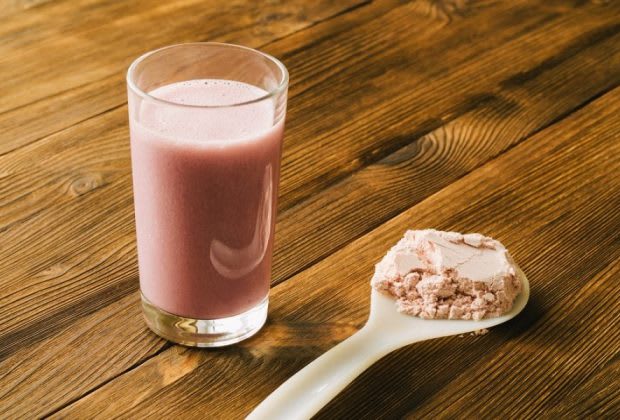 IdealShake has a sweet, creamy taste – it is basically a healthy dessert. It comes in a powder, so the texture of the shake depends on how it is prepared.
Some users put it in a blender with ice and other ingredients; others simply stir it into a glass of water or milk. The variety of flavors and different ways it can be prepared make IdealShake a versatile product.
There have been a few reports of customers saying it's a little too watery. However, I personally didn't experience this at all while trying IdealShake –  even trying it with water, low-fat milk and almond milk. (We try milk with only Chocolate & the Vanilla flavor)
Although, water did make the shake less thick than the other options – it wasn't watery or too thin. Maybe those customers use a bit too much water or not enough powder. If you have any related or similar experiences, please feel free to share it with us and our readers in the comment section below.
I also love the fact that IdealShape has a free ebook with over 50 smoothie recipes that you can try. The book was created by Kami, a certified nutritionist.
Overall, Ideal Shakes consistency is great, mixes extremely well with water or milk. One tip that I can possibly share with you is to experiment. For example, if you use ice cubes, maybe try switching up and adding frozen fruits instead – delicious and make a big difference!
I also recommend using the IdealShape Shaker. It has a grid to break up the clumps when mixing. I found it much easier to use then stirring the powder in a glass with a spoon. It also comes out much smoother and the consistency is much better.
*** IdealShape is offering our readers 15% Off & A Free Shaker Today! Click here to activate special offer!
And if you don't have a blender, I recommend getting one. You can find affordable blenders at your local store or at an online retailer that carries small appliances.
Possible Side Effects and Allergy Warnings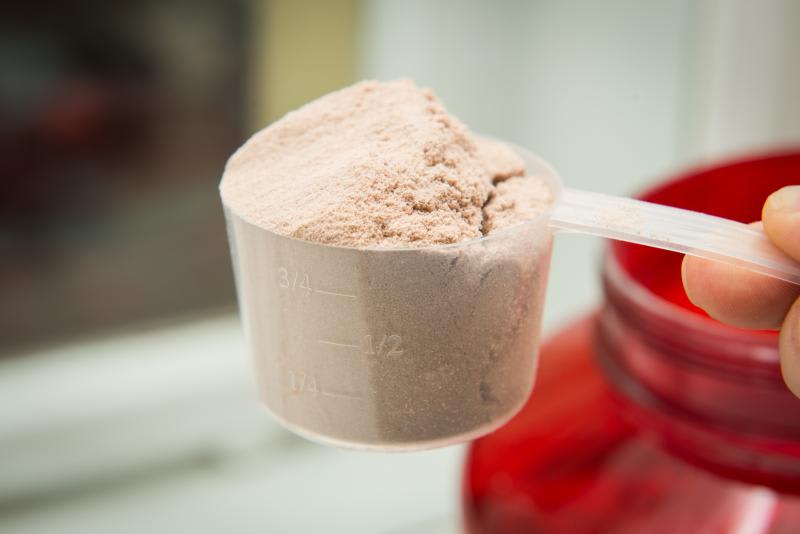 Anytime a person undergoes a change in diet, their body will take time to adjust. As a result, some users have reported minor stomach pains upon first consuming IdealShake. This discomfort is typically temporary and goes away after a few a couple days of continued use.
If you are replacing large meals with IdealShake in an attempt to lose weight, your body will also take time to adjust to the reduced calorie intake. This could cause you to feel fatigued. If you drop too far below your daily healthy calorie requirements, this fatigue could worsen. IdealShake is meant to replace some meals, but not all meals. You should still maintain a healthy diet while using IdealShake.
IdealShake has about 80 mg of caffeine (about the same as one cup of coffee). This caffeine comes from green tea and coffee bean extracts.
Allergy Warning
If you have food allergies, you should carefully review the ingredients before ingesting. IdealShake contains whey protein, milk and soy lecithin. It is manufactured in a facility that processes milk, soy, eggs, nuts, and wheat. All flavors of IdealShake are gluten-free, except for Cookies and Cream.
Pros and Cons of Using
IdealShakes
As with any product, there are pros and cons to IdealShake. Some of these include:
Pros
The powder form of

IdealShake

means that it can be stored on the shelf and it will stay good for a long time.
IdealShake Samplers are individually packaged. You don't need to scoop the powder out of a container or worry about getting the right mixture. The individual packets are great for testing and are also convenient to take with you when you are on the go.

IdealShake

is loaded with vitamins, minerals, and protein. Unlike some meal replacement shakes, this product has exceptional nutritional value. And because they are high in protein – especially if mixed with milk, soy milk, or almond milk – they can help you gain muscle as you lose fat.
It is naturally sweetened. Drinking

IdealShake

is like drinking a healthy dessert. And, because it is sweetened with all-natural

STEVIA

, you can enjoy it without adding sugar to your diet.
Tons of flavor variety.
It has

Slendesta

. As discussed above, there isn't a scientific consensus that this hunger-blocker actually leads to weight loss. But it certainly won't hurt in the effort. At worst, it is a single ineffective ingredient in an otherwise nutritious product. At best, it works as intended; suppressing your hunger and helping you lose weight. On balance, we'd rate that as a positive.
With a cost-pre-shake of about $1.50,

IdealShake

is very affordable.
Low calories and a good amount of protein
Cons
Because

IdealShake

comes in a powder, it can taste grainy when mixed only with water.
It is very sweet. For most people, this is a nice positive, but if this isn't your preference you may need to dilute the shake or mix it with something that is unsweetened (like milk or soy milk).
Contain Artificial Sweeteners ***(Update: Idealshape recently added a few new Ideal Shakes to their lineup called "IdealShake Superfoods Blend" which is sweetened with stevia)
IdealShape Reviews & Testimonials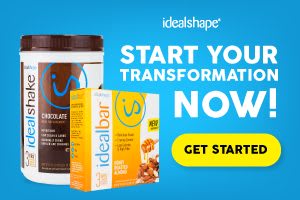 A summary of the results users reported while using Ideal Shape shakes:
Consumers lost around 5 lbs. in the first 2-3 weeks. After the duration, it seemed as if the results depended on whether the person exercised or not.
Those who continued to drink the shakes instead of one or two meal during the day, but did not exercise lost weight at a slower rate.
Those who exercised and drunk the shakes lost weight faster.
More weight was lost with increased intakes. However, remember we strongly recommend 1 to 2 shakes a day.
IdealShape has recently added a dedicated "Success Stories" section to their website. I think it's great that IdealShape allows users to share their journeys & stories. I personally believe is helpful and beneficial to future customers to be able to acquire real-life advice, tips and see actual results!
Do We Recommend IdealShape?
After reviewing a variety of meal replacement shakes, Ideal Shakes are one of our favorites shakes. It is among the cheapest in the industry. The taste is also important, and we can honestly say that Ideal Shake is the best-tasting meal replacement while still managing to keep a low sugar content. You'll have to enjoy it in order to continue using it, RIGHT?
Although Ideal Shape is our top recommended meal replacement shake, their customer service department needs improvement. I would suggest them to improve the way they handle shipping delays or mixed or wrong shipments. Since more people are avoiding sugar, they should also produce a line of shakes without artificial sweeteners (Update: IdealShape have recently added new Idealshakes that are sweetened with stevia.
Ideal Shake contains 15 grams of quality whey protein, which is an effective appetite suppressing fiber, minerals, and vitamins, no added fillers, binders, preservatives, or stimulants. It is also very easy to mix.
I can conclude that the price is ideal, the taste and consistency are excellent, and the amount of calorie is just right. IdealShape provides you with the required tools to achieve your goals in addition to the shakes. I give this meal replacement shake a full recommendation!
Where to Buy IdealShape: IdealShakes
IdealShake can be purchased on the official IdealShape website. From the website, you can find packages for $39.99 for 30 individual servings (about 900 grams total), or 60 servings for $89.95 and many more.
IdealShape also runs daily promotions such as Buy 2 Get 1 Free, Bonuses, etc. At the moment, they are currently offering consumers a chance to test their shakes with IdealShape Samplers – where you can get sample packs of their IdealShakes (All flavors Included) at a low price!
IdealShape Deals & Specials
What Do You Think?
Do any of you have your own IdealShape reviews, tips, questions that you will like to share? We would love input from our readers. Share it with us and our readers in the comments below!

Meal Replacement Shakes

 FAQS
How Many Daily Shakes Are Recommended?

We

 recommend having 1-2

IdealShakes

per day.
When is the best time of day to have a shake? Shakes can be had at any time; however, drinking shakes in the morning will give you the greatest benefit. The best practice is to break up your meals into 3 to 5 smaller meals each day, supplemented with 1-2 shakes. Many people also consume shakes as pre or post workout meals.
Is drinking too many shakes a day unhealthy? Yes, it is unhealthy to replace too many meals with shakes. You always want to maintain a healthy daily calorie intake. For most people, this minimum is around 1200 calories per day. Because each

IdealShake

only contains around 100 calories, it is simply impossible to get all of the energy you need from the shakes alone. Moreover, overloading your body with vitamins and minerals is a bad idea. Stick to drinking 1-2 shakes per day to maximize the nutritional benefit.
Do meal replacement shakes help with muscle definition?

IdealShake

can help you lose weight, which will necessarily improve your muscle definition. It also contains whey protein, which can help your body grow muscle. However, you can't rely on any meal replacement shake alone to build muscle definition or muscle mass. If you are looking to enhance muscle tone, you should have a workout plan in place in addition to a meal replacement shake.
Are meal replacement shakes FDA Approved? The FDA does not approve any supplements or meal replacements. However, meal replacement shakes & supplements must meet DSHEA requirements and are packaged at FDA approved facilities. 

IdealShake

meets all the requirements of

DSHEA

and FDA regulations and is packaged in an FDA approved facility.