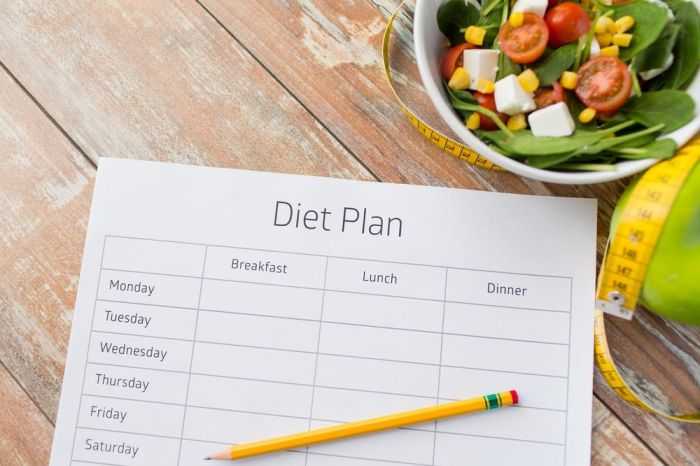 Weight management is currently a rising challenge in the world especially with the increasing lifestyle health issues like diabetes, hypertension, heart diseases among others.
Weight management mainly involves healthy eating habits and physical exercises, but many people get so engaged with the day to day lifestyle including jobs and enjoyment of comfort zones that they do not get the chance to do physical exercise. This means keeping a healthy diet is the simplest way to watch your weight and keep fit.
The focal point in weight management is to know what your body needs. This helps in acquiring healthy eating habits and reduces the chances of overconsumption and underconsumption and offers an elongated weight management solution.
For those not cut out for workouts and physical exercises and do not get time due to a busy schedule, Medifast and Nutrisystem programs are a good package towards a healthy living.
There are various reviews available for maintaining your weight but if you want an effective and efficient way to do that you can choose any of these programs that will work for you anywhere from home to work.
Medifast

vs

Nutrisystem
Nutrisystem and Medifast are diet programs that work for both males and females irrespective of age or size. They are best advocated by a doctor. Their weight loss program involves meals that contain a mixture of packed products and fresh foods.
Medifast helps you lose weight faster since it is a low-calorie program whereas Nutrisystem majors on creating healthy eating habits since it uses more fresh foods.
How Does The

Medifast Diet Work?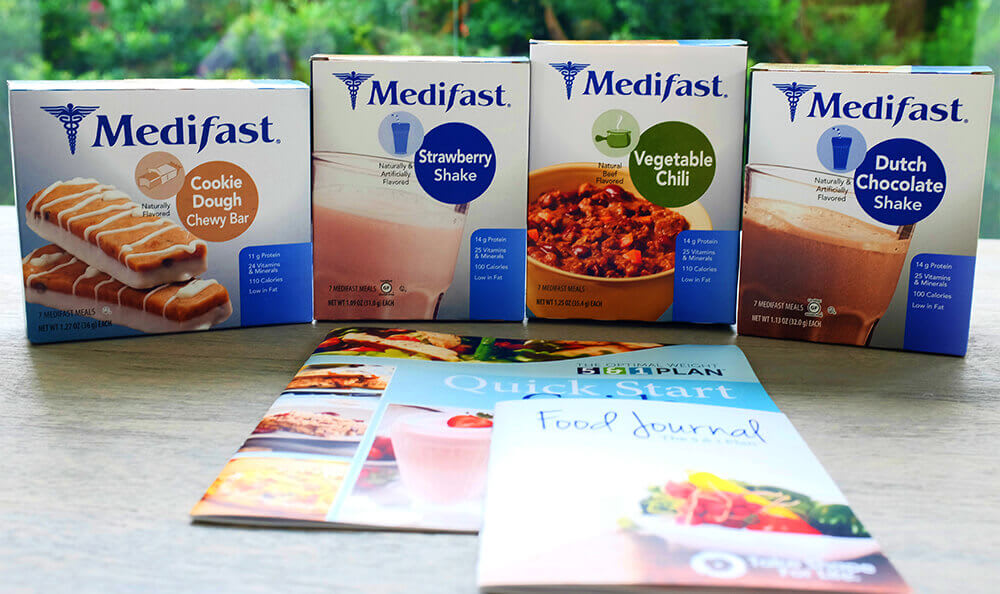 Medifast was created by a medic for fast weight loss. The meals are well balanced nutritionally and mainly contain 24 vitamins, proteins, and minerals. For Medifast, you eat frequently every few hours so as to avert hunger which occurs as your body burns fast thus losing weight.
They have more than 70 appealing meals to choose from. From soups, pasta, breakfast foods, bars to shakes and much more that are of a related design which makes them easily swappable.
The Medifast Go is a five and one diet plan that involves eating five controlled shares of Medifast meals followed by a Lean and Green meal. This is taken over the course of a day. Taking about 5 to 7 ounces of protein, two portions of healthy fats and about three servings of vegetables is what makes up the Lean and Green meal. This Lean and Green meal can easily be made out of fresh ingredients from your grocery store.
The Medifast diet plan has got up to two diet plans that were recently launched; the Medifast Go and Medifast Flex. The Medifast Flex formerly known as the Medifast Advantage is an update from the 4&2&1 plan. In this diet plan, you will be eating 4 Medifast meals, 2 lean and green offerings and a healthy snack i.e. 1 healthy snack.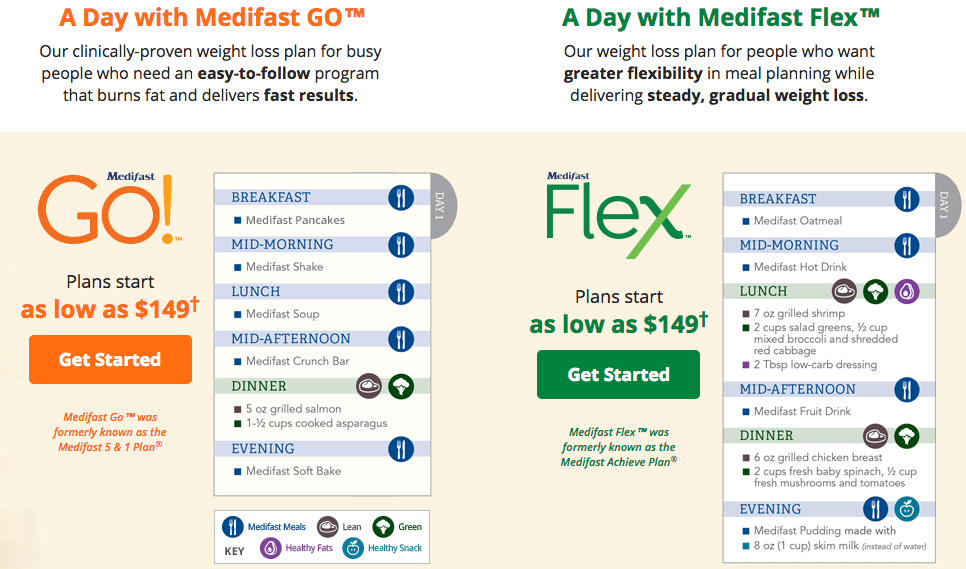 If a strict diet is followed as prescribed, a considerable amount of weight can be lost per week. However terrible the food might seem to taste to some individuals, it is advisable to stick to the diet. It's not for people who cannot take it in the long run.
Unlike the usual 3 meal a day protocol, the Medifast meal program incorporates 6 meals which include: Breakfast, mid-morning snack, lunch, mid-afternoon snack, dinner, and an evening meal.
Medifast meals are well fortified with vitamins and essential minerals to help in the weight loss process and also designed to ensure the body attains quality nutrition on a daily basis. There is a wide variety of foods to choose from to suit any persons taste. For instance: lean protein, vegetables, healthy fats and much more that can be obtained from Medifast cookbooks.
In the case of Medifast flex, there is a serving of fruits, yogurt or baked potatoes and other nutritional snacks available in Medifast snacks.
Medifast

 Prices
On purchasing Medifast foods the client doesn't have to incur any extra cost since the nutrition is balanced and the pricing is fair. All products are available on the company website but the pricing will vary according to the choice of meal ordered.
It will on average cost $160 for the meals and snacks for a period of two weeks. Compared to Nutrisystem prices, the Medifast package is pocket friendlier where Nutrisystem will set you back approximately $265 to $342 per month. The pricing, however, will depend on the purchase made and availability of discounts on offer.
Make sure to read our detail Medifast review for more general information specifically on Medifast and for a complete overall and breakdown.
Exercise and Fitness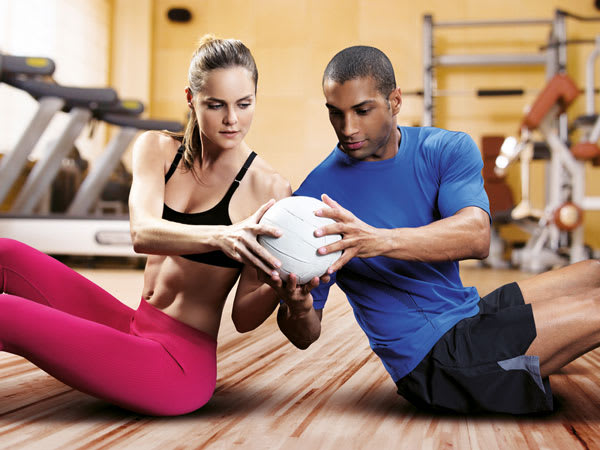 Doing workouts or regular exercises is not mandatory according to Medifast. However, people who work out on a daily basis or do it intensely are advised to reduce since they will be consuming low-calorie foods.
On the other hand, Nutrisystem has come up with DVDs to suit both men and women work out sessions. The workout time or program is not limited and it is left to the consumer to create their befitting time frames.
Pros and Cons of

Medifast
Pros:
The overall plan is easy to follow
There is a variety of foods to choose from. For instance: soups, shakes, and bars
Registered members get free standard shipping on some orders
Free blender bottles for mixing the meals.
Free online meal planner for

Medifast

customers and general support is also offered.
Cons:
Some individuals have complained of unsatisfactory taste in the meals
Long-term health and weight loss program are not promoted.
The meals are rather expensive on a monthly basis. It can cost up to $300 for one person.
Money-back guarantee is limited to 1 month.
However easy or hard the Medifast plan works for different people will vary with their motivation or commitment to it. Some people find it hard to follow some steps and sticking to a routine.
Side effects are experienced and will vary from one person to another since metabolic systems work differently depending on age and physical activity in general. An example of side effects is the feeling of hunger regularly due to the rapid weight loss which might cause complications in the long run.
Differences and similarities between

Medifast

and

Nutrisystem

Both weight loss systems work equally or fairly the same when used correctly.
Both options which include prepackaged foods/meals are well balanced with correct proportions leaving no room for error in dieting for weight loss.
An individual using

Medifast

will lose on average 10-30 pounds in the case of men and 7-24 pounds in the case of women for the duration of 5 months.
Those using

Nutrisystem

, men will lose on average 20-43 pounds while women will lose 14-40 pounds in a period of 6 months.
Prices of both

Medifast

and

Nutrisystem

are fairly equal on a daily basis going for only $10 per day not forgetting that some foods will have to be obtained from grocery stores.
Nutrisystem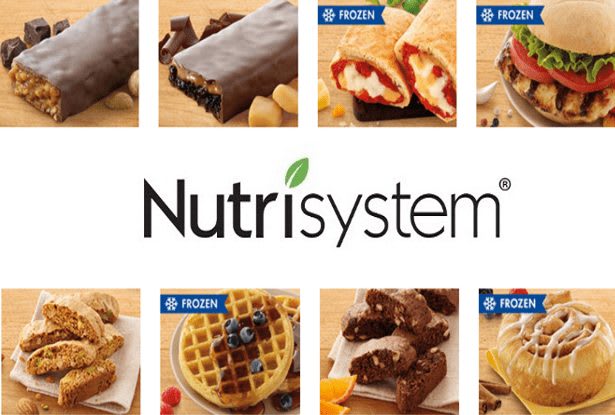 This program ranked highly on the list of the top diets. It is mainly based on an easy weight loss program that is effective and efficient and does not limit the foods you eat. The meal plan of Nutrisystem encourages the supplementation of provided meals with dairy and fresh produces.
If you have that history of dropping out from your diet program and need an easy to follow diet one that is delicious and encourages long-term weight loss then Nutrisystem is a good program to use for men and women.
The Nutrisystem diet provided contains key ingredients which are soluble fiber and omega-3 that help in promoting a healthy heart and make you feel full for a longer time thus controlling hunger.
Focuses of 

Nutrisystem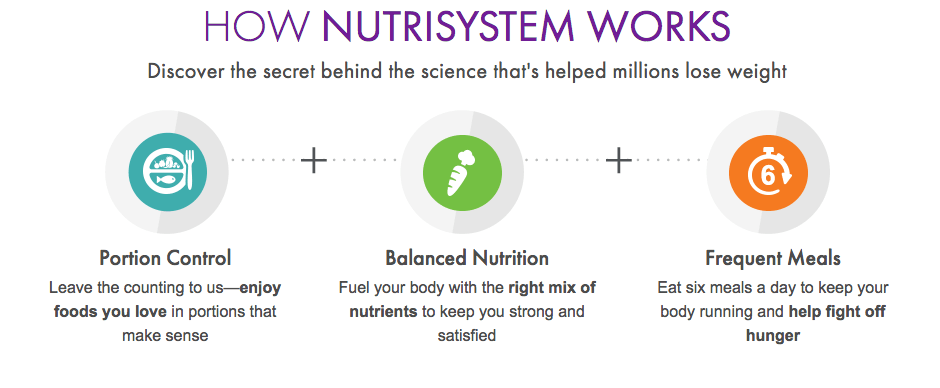 It focuses on the following:
Regular meal: it beats the tradition of eating three meals a day as custom but instead this system encourages you to eat 6 meals in small amounts in every 2 to 3 hours every day for energy and satisfaction. These meals contain packaged food and fresh foods from the grocery.
Portion control: their pre-packed foods and snacks are put in the right healthy portions in order to monitor the amount you eat. Many people think that eating healthy is a good way for weight watching and weight loss, what they tend to forget is that portions matter. If you eat healthily but in the wrong portions, you might end up getting unwanted results. It is said that portion sizes keep increasing, for example, the normal soft drink is approximately 50% greater than it was in the 1970s.
Nutritionally balanced: to achieve the perfect healthy weight and maintain it, you need to watch out not only for the right foods but for the nutrients in your meals as well. The Nutrisystem works with dieticians who plan the meals and ensure they are nutritionally balanced. The meals are delicious and they contain low glycemic carbohydrates, low fat, low sodium, high protein and 25g of fiber each day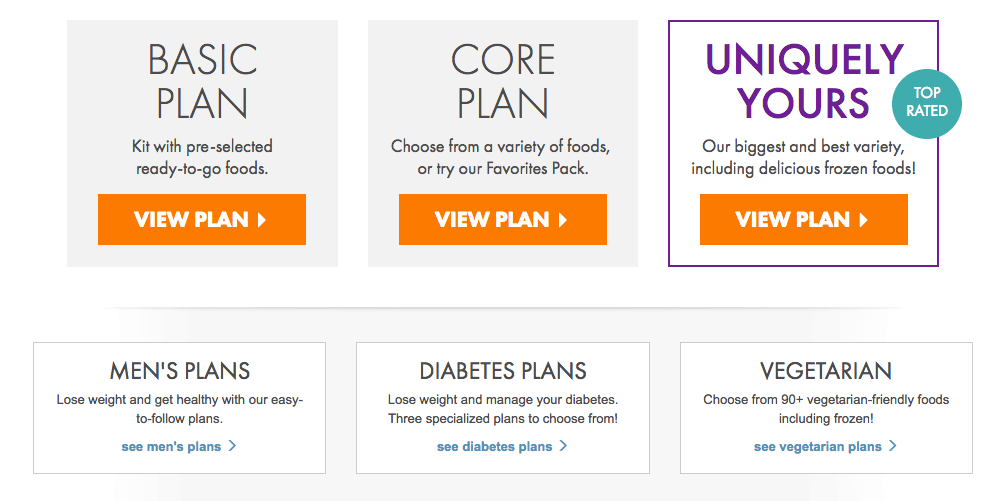 ***Note: Click here to View & Compare All Nutrisystem Plans
Common Ingredients In Nutrisystem
There are a variety of ingredients in the pre-packaged meals making them unique and delicious. The combinations of these ingredients that are well advocated by the dietitians contain the right nutrients which provide the following benefits:
•    Helps in weight loss and weight maintenance
•    Promote healthy living by providing the body with the nutrients it needs to flourish.
•    Suppresses hunger
They use low calories and low glycemic options. They avoid any artificial colors, sweeteners or flavors. They ensure that the four unwanted ingredients i.e. hydrogenated oils that contain trans fats, high fructose corn syrup, and aspartame used as an artificial sweetener and MSG that are known to be unsafe when consumed are not included in their list of ingredients this means they use natural healthy and nutritionally fit ingredients thus a healthy meal for healthy living.
Below are some of the common ingredients added and they include:
Flaxseed: This is a high-fiber vegetable that is rich in omega-3 fat, vitamin B1, B6, zinc, magnesium and also amino acids among others. They help in making digestion easier in addition to the fiber and protein it contains
Niacinamide: it is mainly used in cholesterol treatment, digestion and offers protection against toxins. It is vitamin B found in milk, eggs, grains, and vegetables.
Ferric phosphate: this is mainly found in red meat. It provides iron to the body.
Carrageenan and Xanthan: It is a thickener useful in thickening and binding ingredients thus enhancing consistency in foods, liquids, and oils. It is mainly extracted from seaweeds.
Beta-carotene: It is an organic coloring found in many fruits and plants which contain vitamin A and is an antioxidant. It helps in providing healthy sight, skin improvement and can be used to reduce inflammation.
For more information on Nutrisystem, check out our comprehensive Nutrisystem review page.
Pros And Cons of Nutrisystem
PROS
The diets are not limited they contain variety for all the members.
The meals contain well balanced nutritional foods that provide the right amount of nutrients for a healthy body. It provides the proper count of what should be consumed in terms of calories and macronutrients.
The program provides weight maintenance and the correct size of servings to its members.
They offer nutrition counseling to their clients 24 hours on the official website.
 This dietary program incorporates physical exercises too as part of its activities.
 It is simple and convenient since the meals come pre-packed and are microwaveable.
They provide meals in many varieties that can be divided into vegetarians', diabetics and the aged.
CONS
The dietary program is expensive. The pre-packaged meals that are good for 28 days are charged at a standard charge of $350 and the consumers have to buy the fruits and vegetables that support the pre-packed meals thus making it expensive for them.
It is not a permanent dietary program especially if the participant does not remain strict with what they consume after the program.
It is an individual pre-packaged meal and so it not family-friendly.
The above programs can work for different individuals and meet their needs as desired. The decision depends on you as an individual based on what will meet your needs comfortably without straining.
Medifast or Nutrisystem?
Medifast and Nutrisystem are alike the only difference is price and flexibility. Nutrisystem is a bit expensive but has a variety to choose from so it can be cheaper. It can also offer flexibility to order or prepare your own meal. But if you want less work of food preparations and an easy to follow routine to stick with, go with Medifast.
How to Purchase Medifast & Nutrisystem?
Medifast can be purchased from the official Medifast website here. The website goes over all of the available packages, prices, and menu items. It also features tips plus articles about exercising and mentally preparing for weight loss.
Nutrisystem can be purchased from www.nutrisystem.com. Nutrisystem has a variety of tools and guides to get started the right way. If you are not quite sure about how to start or where to begin – I strongly recommend taking advantage of Nutrisystem "Free Diet Analysis". All of these features combine to create a comprehensive program that works for all ages and genders.
Featured Deals from Nutrisystem & Medifast:
What Do You Think?
There are many reviews and articles like this one out there, some people are already enrolled in the above dietary programs. We would love to hear from you, your experiences and results and you can also share with other viewers too. Feel free to share with us and our readers in the comment section below.